The date for appeal in Shazia Masih's case has come and gone and feelings of disillusionment and hopelessness abound among all — civil society members, Centre for Legal Aid Assistance and Settlement (CLAAS), Society for the Protection of the Rights of the Child (SPARC) and other non-governmental organisations — who had rallied together, creating a united front seeking justice for Shazia. Ironically, the ostensible harbingers of justice, the lawyers, are themselves the arch nemeses in this case.
The cold hard facts: Shazia Masih, 12-13 years of age was employed at the residence of the former president of the Lahore Bar Association, Advocate Chaudhry Muhammad Naeem, as a full-time maid at a monthly stipend of anywhere between Rs 1,000 to Rs 5,000-6,000 — depending on who is providing the information. Shazia's family resided in a slum situated in Lahore's Samanabad area and barely made ends meet. On 22 January, 2010, Shazia Masih was admitted to Lahore's Jinnah hospital where she was declared dead at 2:15pm. The diagnosis: "Mental retardation drug reaction, septicemia," as stated on her death certificate. Resultantly her death became the subject of passionate speculation. A blame game started between her family and employers, and the media caught on to the story. An FIR was registered against Advocate Naeem and his family for 'murder (with common intention)' and the Children Employment Act, 1991.
The case proceedings were fairly brief. By January 25, 2010, the accused were arrested and Lahore High Court (LHC) Chief Justice Khawaja Muhammad Sharif had taken suo motu notice of the incident. But a storm was brewing. Lawyers — comrades of Advocate Naeem, were livid at the allegations against their well-connected and obviously affluent colleague and demonstrations were staged outside the police station where Naeem was remanded. During a meeting thereafter, the LHC Bar Association condemned the media and announced a boycott of the court proceedings scheduled to take place on January 27. Members of the bar, according to some reports, claimed that Shazia fell from the stairs to her eventual death and that the media had been unfair in their treatment of Advocate Naeem. Writer Ayesha Ijaz Khan in her article wrote of the threat made by members of the legal community that they would "burn alive" any lawyer who came forward to defend Shazia Masih.
Subsequently on February 14, the accused were granted bail by additional district and sessions judge, Shafique-ur-Rehman. Later, a second medical report confirmed septicemia as the cause of death. On November 22, 2010, additional sessions judge Ameer Muhammad Khan acquitted Advocate Naeem and his four family members of murder, stating, "There is no medical evidence that the death of Shazia was due to violence or homicidal, hence the accused persons are hereby acquitted from the charge."
The case was not, however, interred along with Shazia's remains. Questions linger about queries never asked by the media, gaps in the narrative and case study that remain unexplained, and pressure tactics that were allegedly employed to terrorise the victim's family.
The first question arises when reviewing Shazia's files, specifically her death certificate. Her "relation with the deceased" column on the certificate states "M. Haris" as her cousin. Why the son of her employer was listed as her cousin on her death certificate and why no one from her family was present or listed, remains ominous at best. Her last name on the certificate was Ansar instead of Masih, and the "mental retardation" diagnosis has not been proven to date.
Secondly, the Department of Forensic Medicine and Toxicology K.E.M.U. Lahore's report dated 11/02/2010 states, "The cause of death in this case is septicemia due to acute or chronic inflammatory disease of lung." This was presented by a doctor in court and served towards the acquittal. Most ironic perhaps is the big question that really begs an answer — whether septicemia, known more commonly as blood poisoning, could cause the injuries stated in her postmortem report. The post mortem, conducted over 45 hours and 35 minutes after Shazia's demise states, "Injuries no. 1 to 13 are caused by blunt means; while rest of the injuries are caused by sharp-edged weapon." The report further declares Shazia to be in poor hygienic condition with multiple scar marks on her back, fungal infection in finger nails, bruised areas (specifics are listed in the report), multiple abrasions and infected gaping wounds. This graphic and disturbing piece of evidence — i.e. the report — seems to have been flitted over during court proceedings, especially during the cross examination of the doctor in the witness box.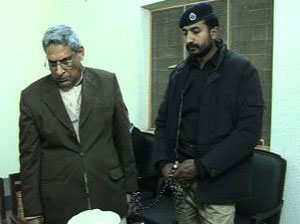 Additionally, one is compelled to ask why the advocate kept a sick child in employment rather than return her to her family after discovering that she suffered from a potentially life-threatening disease. According to the CLAAS website, "Accused Naeem told the police in his statement that Shazia was illiterate and misbehaved [with] everyone at his home. Most of the time she took food from [the] fridge by herself and she had been punished for this, he added. He also stated to the police that Shazia always did mischief and then was punished for them in routine." According to advocate Asad Jamal, who has been actively involved in Shazia's case after the acquittal and has been trying to convince the family of the deceased to file an appeal, Chaudhry Naeem's admission that Shazia was not well "meant that appropriate due care had not been taken when the servant was a minor who could not be expected to do it for herself." He says that a case for manslaughter by omission could be made in this instance in a court of law.
Thirdly, during the course of the trial, six out of eight witnesses turned hostile, thereby completely damaging Shazia's case. What remains contentious is why no effort was made to discover why they changed their statements, or to corroborate the statements with previous ones to establish authenticity and consistency. The answers may lie in the facts: Nasreen, Shazia's mother has gone into hiding. Bashir Masih was Shazia's stepfather, hence he is not legally entitled to file an appeal on her behalf. What remains compelling then, is why the state did not file an appeal on behalf of Shazia considering that legally the state is the only one in Nasreen's absence who can do so. Rashid Aziz, the national manager legal advisory unit of SPARC, a frontrunner in seeking an appeal for Shazia Masih says that he posed the same question to the prosecutor general's office and he was told that the case was not fit for appeal. In a telephonic interview with the former Federal Minister for Minority Affairs, Shahbaz Bhatti, just days before he was brutally assassinated, he told Newsline that it was his personal opinion that Shazia Masih was "tortured to death." He said he could not comment on the court's decision, but he had met Shazia's mother a few months ago and "gave her financial help — Rs 500,000 — to hire a good lawyer…" "They have a right to appeal of course, he added," and said he hoped the government would table a bill pertaining to child domestic labour, as it is an increasingly important issue in Pakistan.
According to Advocate Asad Jamal, "The trial was being conducted in a slipshod and apparently collusive manner… the acquittal was granted under section 265-K of CrPC (Criminal Procedure Code) without recording statements and cross examination of the accused." Further, " I believe that the acquittal of the accused at an early stage of the trial without proper recording of statements and asking relevant and the right questions was a grave injustice."
When Newsline tried to contact the CLAAS lawyers, who were at the forefront of the case as the complainant counsel, they refused to divulge case details, but a legal representative at their office expressed extreme frustration at the way the proceedings were conducted. She commented on the fact that Shazia's mother had backed down and disappeared from the scene. Rashid Aziz of SPARC reveals, "The trial should have gone to the High Court considering the pressure exerted by lawyers." He also expressed his concern that the trial may have been technically influenced.
The other matter of concern remains the role of money in Shazia's trial. According to advocate Jamal, "After the Punjab government and the federal government announced compensation, amounting to Rs 500,000 for Shazia's family, there arose issues over the distribution of this money." Hence, quarrels developed between family members in what appears to be a dispute over who the rightful beneficiary is. Presently, Shazia's stepfather Bashir Masih and his sons from his previous marriage have the money while Shazia's biological mother, currently separated from her husband, has disappeared from the scene.Advocate Jamal feels that the case should be taken to its "logical conclusion as it may break new ground in criminal jurisprudence in Pakistan and perpetrators of such acts will be deterred." However, he concedes, "I don't know if Shazia can get justice."
And if members of the judiciary with integrity or civil society do not pursue Shazia Masih's case, yet another horrific precedent will have been set.
Maheen Bashir Adamjee is an APNS award-winning journalist. She was an editorial assistant at Newsline from 2010-2011.
Next