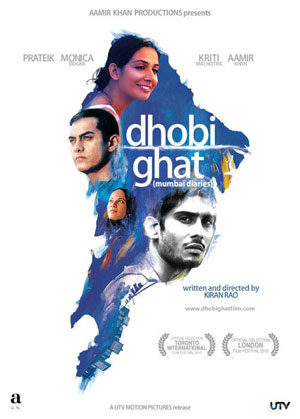 In all likelihood, Dhobi Ghat will disappoint the majority of Bollywood audiences for its lack of a racy storyline, spicy item numbers and overt displays of dramatised emotions. Instead, the movie lies low on all counts, ingeniously presenting itself as a melancholic ode to the city of Mumbai and its people. Kiran Rao, wife of the coveted Aamir Khan, who debuts with this movie, calls it her "love letter" and "homage" to the city she loves most — making for an apt entrance into Indian cinema.
Devoid of the pretentious opulence that is usually visible in commercial productions, the movie focuses on the lives of four Mumbai residents, old and new, each harbouring their own hopes and expectations from the city. Arun (Aamir Khan) is a celebrated yet troubled artist who, in a state of drunken oblivion, has a one-night stand with Shai (Monica Dogra), a charming investment banker from the US who's come to Mumbai to pursue her love for photography. They part ways the next morning, only to be brought together again coincidentally through the whimsical dhobi they both share, Munna (Prateik Babbar). An obscure love triangle is weaved as they all become a part of each other's lives, carefully treading the lines between friendship, desire and class differences. But the story that has the most impact is of the fourth character, Yasmin (Kriti Malhotra), whose poignant tale is told from the three video tapes Arun finds in his newly-rented apartment.
Rao captures the many nuances of Mumbai life convincingly in less than two hours. There is a certain quality of modesty that emanates from the dialogues of the movie, and while it may be intended to add to the overall "art film" effect, it starts sounding borderline awkward and insipid. Intriguingly, even Aamir Khan's acting seems to strike a gawky note. Perhaps a restrained performance was required of him so that other characters in the movie were not overshadowed by him — an aspect which was artfully maintained. Everybody was given their due importance till the very end. Prateik Babbar and Kriti Malhotra were particularly convincing in their roles — their facial expressions and gestures did more of the storytelling than their dialogues. Monica Dogra was charming, but the pairing with Aamir Khan lacked the chemistry that was required of the role. Haunting melodies composed by the award-winning Gustave Santaolalla pulsated in the background at pivotal points, complementing the scenes artistically and unobtrusively.
Keeping in mind that Dhobi Ghat isn't a film made with its eyes on the box office, it succeeds beautifully in what it sets out to do: personify Mumbai. The steady pace is slow, but never boring. Each character's story is endearing and arouses a natural sympathy in the viewer, which is not always easy to do. If you're in the mood for some soulful indulgence, you won't be disappointed. However if you're looking for typical filmi entertainment on a Friday night, you're better off skipping this movie.
Next