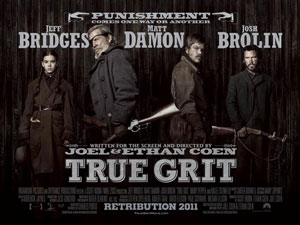 "Mr Cogburn, in your four years as US marshal how many men have you shot," asks a lawyer. "Shot or killed," grumbles Reuben Cogburn, to which the lawyer remarks, "Let us restrict it to killed so we may have a manageable figure." And that is how the first scene in the movie True Grit opens.
This movie charts the journey of US Marshal Cogburn, better known as Rooster — a brutish man of true grit who is harangued and coerced by a tenacious 14-year-old to avenge her father's murder — and the girl, Mattie Ross. This true hillbilly western is directed and written by Ethan Coen and Joel Coen — granted it is very un-Coen like. With its ruggedness, indecipherable Texas accents and cowboy hats, it is a true western comparable to none of the Coen brothers' previous projects, apart from, in some respects, the Oscar-winning No Country for Old Men.
Mattie Ross is an Arkansas girl who travels from her Yell County home to Fort Smith to identify her father and settle accounts. Though she is young, she is not a timid helpless girl. In one scene, she negotiates with a horse trader, Dakin Matthews, over a pony and some money owed to her. During a deviously clever discourse, Mattie corners the veteran trader into giving her, her due share. Of course that doesn't mean she has the power to go toe-to-toe with trigger-happy outlaws. Set in the 1870s, Mattie wears her dead father's oversized coat and hat and is clearly too big for her boots as she gears up to accompany Rooster into the Wild West to seek out and kill Tom Chaney (Josh Brolin), the man who shot her father.
An adaptation of Charles Portis' 1968 novel, also a remake of a John Wayne classic — where Wayne won a best actor Academy Award for his role as Rooster in 1969 — the Coen brothers have succeeded in giving this film their unique flavour. Jeff Bridges in the role of Rooster deserves an Academy Award for his performance. His barely audible, hoarse and drunken speech, down to his weathered and filthy western attire was spot on. His eye patch — that he wore on his right eye, unlike Wayne, who wore it on his left — added to his robust exterior, which barely cracks as his affections for his young travel companion grow. Mattie Ross, played by the young Hailee Steinfeld, in her airtight plait is exceptional in her portrayal of an impudent teenager, who is clearly out of her league, but too mulish to admit it or turn back. The film is interspersed with her naïve questions as the audience marvels at her tenacity in spite of the rough incidents she encounters. The Texas Ranger who accompanies the pair is a lawman named La Boeuf (Matt Damon) who adds comic relief in his conflicted banter with Rooster as he tags along in the adventure for his own purposes.
Filmed in Austin, Texas, True Grit is less about the revenge and more about the journey of one little girl, who forms a bond that is lifelong. And it is the cinematography by Roger Deakins that brings this western and her story to life.
Maheen Bashir Adamjee is an APNS award-winning journalist. She was an editorial assistant at Newsline from 2010-2011.
Next