Book Review: Tender Hooks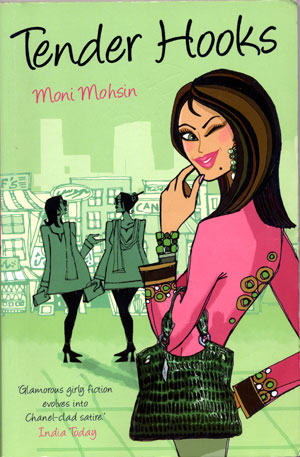 Finally, an irreverent, and even while being almost too close to home for comfort, outrageously funny book that three generations of women in my family could share, did and laughed uproariously through.
At first glance the premise and storyline of Moni Mohsin's Tender Hooks appears as ridiculous as the world it inhabits. But don't be fooled by the seemingly nonsensical narrative.
The blitheness of being in Hooks — a "suppository" of malapropisms, uncomfortably familiar protagonists, skewed value systems and corresponding lifestyles — is both, a cornerstone in the world of the social butterfly and her ilk, and a tool in the author's hand for incisive social commentary.
Set against a backdrop of growing political, economic and social ferment, encapsulated in headlines that appear as casual asides through the book, is Lahore's glitterati — its families with "baggrounds," both of the "we were here first," old family variety, and the "BNM (Big New Money)" wallahs. The country could be see-sawing between terrorist attacks, an economic meltdown and a collapsing infrastructure, but you wouldn't know it as the rich and infamous frenziedly focus their sights and energies on other things: multiple "carrot" diamonds, the "Tabahi Goochy bag," "Jimmy Shoos," and the agelessness bestowed by "buttocks injections on (the) fourhead."
Butterfly's prattle conjures up graphic imagery of the bubble that is her world, but just when the Mad Hatter's Tea Party begins to pall, her utterly rational and quintessentially decent "Oxen" husband, "Zinda lash Janoo," puts the world in perspective with his astute, usually acerbic comments. And you know Moni Mohsin hasn't lost the plot.
Content aside, Tender Hooks is stylistically deceptive. What appears to have been churned out spontaneously and effortlessly must surely have been crafted in layers. Just as a painter would need to learn to draw a line before taking it for a walk, the narrative in Tender Hooks was probably first compiled in good, old Convent School English, then underwent, at the author's hand, an artfully outlandish contortion of the language to create a new vocabulary.
Which is not to say that Tender Hooks is a new-age literary classic. Also, for some of TFT's 'Diary of a Social Butterfly' afficionados used to the quick fixes provided by the column, an entire book in the same genre is altogether too much of a muchness. And a relatively unexciting opening and the almost too happy ever-after, too sane too soon ending, do make the book uneven in parts.
But particularly in bleak current times, or for that matter anytime at all, Tender Hooks is a pure, feel-good tonic — and a vivid microcosm of the lives and times of Pakistan's haute monde.
This book review originally appeared under the headline "Funny Side Up" in the March 2011 issue ofNewsline.
Next