Back in 1987 when I was an audacious student of commercial art in a Kolkata institute, and the Berlin Wall had not collapsed (I had little idea it existed so powerfully till it was dismantled), a motley group from our class was selected for an almost-free trip to New Delhi to attend some art shows as part of the ongoing Russian Festival in India. We were a rag-tag group of boys and girls of various ages, from diverse socio-economic backgrounds and cultural moorings. I was a prancing teenager, pampered and bullied equally by the seniors, mostly girls who were in overwhelming majority. It was an exciting journey to and from New Delhi — travelling second class in a non-express train, with stinking toilets and un-upholstered bunks — but we managed it quite delightfully and without a grumble.
In New Delhi, the art shows apart, the wide, sanitised avenues of the capital dazzled our eyes, since we were only too used to coping with the overwhelming stink of the potholed, puddle and garbage-streaked Kolkata streets. On our way back on the train, as we were comparing New Delhi with Kolkata, a senior girl in the group posed a question to me: "Sujoy, where do you think heaven on earth is?" She meant, which country according to me was the best in the world. There was no Internet then, no satellite TV channels and no social media propelled by citizen journalists and bloggers to trigger a Tahrir Square. My worldview naturally was restricted: shaped in part by books and magazines at home, in part by state-run television and more by word of mouth. Elated by the attention of a senior girl, I took no time to answer — "Russia." She asked, "Why?" I replied: "Everyone is equal there." We became instant friends, because she could not agree more!
Nineteen eighty-nine, the year that shook the world on many counts, was two years away then. Communism was yet to transform into a 'God that Failed.' The Berlin Wall was still a hideous barrier between people. I had not read George Orwell's slim but eye-opening novella, Animal Farm and had no idea that some animals are more equal than others in every ideology that humans can ever invent. The agnostic in me was examining questions about God and the humanist in me was unwittingly seeking an ideology that could wave a magic wand and make poverty disappear. Communism of the Russian illusion was closest to that ideal.
So Russia for me — a very young Indian — was a heaven on earth. I had no idea of life behind the Iron Curtain, because the only glimpse of life in Russia or the erstwhile USSR that I was privy to, was in Soviet magazines. They were propaganda magazines, but for a young boy who detested the deadpan bearing of the regular newspapers in those days, the pictorial, lacquered Soviet magazines, translated in Indian languages and delivered free to us, were like collectibles. So to me Russia was a country that looked developed and yet was so egalitarian.
Cut back to the days in which we are now living. In West Bengal state in eastern India, still ruled by a leftist government that survived the collapse of Eastern Europe, anything left is suddenly not right for its people. West Bengal is ruled by a left party that has been pilloried so much in recent times — as evident in electoral setbacks — that people are rooting for a somewhat anarchic opposition led by a firebrand female politician (India's railway minister Mamata Banerjee), hoping against hope of deliverance from the disheartenment of the 34-year-old communist rule. The crucial state elections are tentatively due in May.
But it was never true communist rule in Bengal. It was rule by a very organised political party that pragmatic communism in a capitalist economy like ours can breed. It was always neither here, nor there, premised on a Quixotic ideology in a country so influenced by religion, caste and creed. So it ended up imbibing the evils of communism, like a "dictatorship of the mediocre," leaving out its good ideals that had fired my imagination in 1987. Only the capitalists prospered under communist rule in Bengal.
But while the mainstream communists in India, led by the Communist Party of India-Marxist (CPI-M), the largest communist party in the country, repose their unflinching faith in democracy — Indian style — a new menace threatens to tear apart the very idea of a nation.
They are the Maoists living in the forests of India. The Maoist movement began in India in the late 1960s in a northern town of West Bengal state called Naxalbari, from which the word 'Naxalites' or 'Naxals,' as the rebels are also known, is derived. It subsided in the early 1970s only to resurface as a more violent force that now operates under the Communist Party of India (Maoist).
This force is aggrandised by firearms, explosives and ideological patrons in urban centres. They are the creations of Indian politicians who exploited the tribal people living in the forests, and paid only lip service to inclusive growth. Nothing is further from the truth in India than the idea of inclusive growth, championed by political leaders of all hues. A visit to some of the Maoist zones is self-explanatory. So far the poor in India were only hurled crusts and crumbs by the rich and powerful.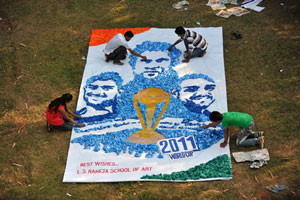 So you have modern day Robin Hoods in the Maoists, espousing an ultra left-wing ideology that strangely derives its nomenclature from Mao Zedong of China. They trigger landmine blasts that blow up police vehicles, civilian buses and even trains full of blissfully sleeping commoners. Worse, they force the government to come up with swap deals by frequent abduction of government officials and policemen.
A hostage drama unfolded in February this year, in the eastern state of Orissa. The state government was forced to release some of the jailed Maoist leaders to in turn secure the release of a collector and a junior engineer of a remote district. But the swap deal notwithstanding, the latest incident showed the rebels in poor light.
The credit for this surely does not go to any politician. It was the belief in the fabled inclusive growth by the young collector R. Vineel Krishna that made his conditional release look like a swap deal that the nation supported. The young government official had initiated many developmental activities in the remote Malkangiri district, unlike most other officials who enjoy only the fiefdom of state facilities. In the process he had endeared himself to the tribals who took to the streets for his release. The Maoists, for once, lost the game since the very tribals whose cause they claim to be championing were clamouring for the release of a government official. When he was released by the rebels, he remained composed and dignified, and the electronic media was denied the circus that usually accompanies such releases.
While the Maoists, who believe in the annihilation of the Indian state, periodically launch attacks on policemen and the state machinery, people like the Malkangiri collector can be a perfect foil for both the rebels and the mainstream politicians.
*    *    *
I am not sure how much coverage in the Pakistani media one Binayak Sen of India received in past months, but the good doctor's fate did consume some space in the western media. The trial of Binayak Sen, who has been jailed as a Maoist sympathiser, charged with sedition by a court in Chhattisgarh state and then handed down a life sentence, has evoked strong reactions in India and abroad. The verdict has been universally booed as a miscarriage of justice. Blasting the judiciary in a column without being a part of the coverage from ground zero is not very responsible journalism, but from what I read so far and having seen the groundswell of support for this man, even from 20 Nobel laureates, I was tempted to report for a global feature service on the rainbow coalition that was formed to fight for the doctor. So in the course of that reportage, I spoke over phone to the two women closest to the doctor. They are his mother and wife. But before I write about them, a small graph on Sen's work and the reason behind imprisonment is required for the uninitiated.
Dr Binayak Sen is a 56-year-old Indian paediatrician of international repute who overcame the lure of money and lavish lifestyle that a doctor with any skill, or even the lack of it, is generally associated with. Instead, he chose to work among the poor and tribal people of the backward state of Chhattisgarh. Devoted to human rights activism, he is the national vice president of the People's Union for Civil Liberties (PUCL). The charges against him included acting as a courier for the Maoists. No doubt, Sen had rushed to work for many, many years in a region inhabited by Maoists, and where most doctors or armchair social reformers would fear to tread.
Amnesty International also slammed the life sentence ruling by the court. "The life sentence handed down against Sen violates international fair trial standards and is likely to inflame tensions in the conflict-affected area," said Sam Zarifi, Amnesty's Asia-Pacific head. "This sentence will seriously intimidate other human rights defenders who would provide a peaceful outlet for the people's grievances," his statement added.
Last week when I called up Binayak Sen's 84-year-old mother Anushua Sen, a gritty woman who spoke with amazing stoicism for her son, and his wife Ilina Sen, a powerful voice for justice, I began to fathom where Binayak Sen is coming from. Ilina is fighting a grim battle in court in the face of frequent judicial jolts. Despite their obvious stress they remained rational, asking how Binayak Sen was sentenced "only on the basis of a chargesheet and no witnesses against him."
Only time will tell what awaits Sen, but the doctor, whose trial has even brought in a delegation from the European Union who regularly visit the court, is now increasingly sharing the spotlight with another 'prisoner of conscience,' Aung San Suu Kyi.
*    *    *


It is World Cup time in the Subcontinent. The carnival of cricket is here. The mad rush for tickets even sparked some violence in the southern city of Bangalore where the cops had to baton-charge angry fans, thousands of whom were jostling with each other for a few available tickets. I do not share the craze of my peers in the game, but if you are an Indian, or Pakistani, a Bangladeshi or Sri Lankan, then you cannot ignore its influence — and as a mainstream journalist, that would be impossible.
I have often seen cricket as a great unifier — of the nation and of the subcontinent — despite the hysteria and misplaced hype associated with it. It is the opium of the people in the Subcontinent. And this World Cup for India, if the men in blue perform as expected, will be a tribute to one man loved across the boundaries — Sachin Tendulkar. Indian cricketers have said they want to win this Cup for Tendulkar.
Fittingly, as I fine-tuned this column for Newsline, I saw Sachin playing yet another legend's knock (120) in the match against England in Bangalore.
Sachin Tendulkar is, by all parameters, a cricketer of a different stature. He belongs to that rare ivy league of sportspersons who transcend the boundaries of a single sport and become an insignia of completeness, combining talent with humility and exemplary public demeanour. His endearing off-field persona and involvement with good causes are well known, but one that caught my eye recently is his pledge to support a campaign against domestic violence against women.
"Winning a match is important for a coach, but a big part of the job is helping to develop a solid, responsible young player who is able to become an outstanding citizen," he wrote in a letter to 25 cricket coaches in Mumbai schools who will teach the boys to be respectful to women as part of the campaign titled "Parivartan" (Change).
So when Indian captain MS Dhoni said he wants to win the Cup for Sachin, it resonated with every Indian, even that battered victim of domestic violence.
Sachin apart, cricketers have always been icons — loved and jeered with equal force — in this part of the world. They are sex symbols too. While women (at the risk of sounding sexist) go hysterical over their masculinity and prowess (some of them beat Bollywood stars in looks and the X-factor), men are also awed by their sporting skills, record-breaking performances, ability to pull off cliffhanger wins and attitudes.
I recollect the days of Imran Khan — he was every Indian woman's fantasy man. I remember one of my cousin's room adorned with magazine cut-outs of the young Khan, with a new Bollywood rookie playing a poor second in occupying wall space. Since Imran's retirement, no other Pakistani cricketer could occupy that place in Indian hearts — well, if we discount Wasim Akram, another thorough gentleman.
Indo-Pak tensions across the border never cast their shadow on appreciating cricketers from the other side. Jingoistic support for their respective nation in an India-Pakistan match never spilled over to disrespecting cricketers from the other side. So as Pakistan recovers from the setback of the spot-fixing scandal, the subcontinent will wait for the country to produce another Imran Khan or Wasim Akram. For now, happy World Cup viewing.
Next