Karachi's NA-250 constituency made serious waves this election season, but mostly for all the wrong reasons. While there is a perception that this is an area of the affluent alone, it is not limited to Defence and Clifton, but encompasses neighbourhoods such as City Railways Colony, Gari Khata, Saddar, Civil Lines, Hijrat Colony, Cantt Railway Colony, Delhi Colony, Qayoomabad and Shirin Jinnah Colony.
Traditionally, NA-250's Clifton and Defence areas tend to record low voter turnout as these urban voters prefer to stay indoors for a myriad of reasons: heat, security concerns or simply because following the elections is a lot easier on television. However, this year's election was markedly different. Scores of people, regardless of age, turned up at polling stations, as early as 7:30am, armed with a strong desire to exercise their right to vote and an uncanny willingness to stand in line without complaining. To the surprise of many political observers and critics, the once apathetic elite was finally out on the streets, pushing past its comfort zone (albeit in designer clothes, imported sunblock and sunglasses) and refusing to leave.
While the elite, urban voters may have shown up in large crowds with party flags, T-shirts and a patriotic desire to cast their vote, they were in for quite a surprise. The experience of voters at the DHA Model High School, Phase VII, Khayaban-e-Hilal polling station echoed those of others in the constituency. Turning up at 9am in the morning, voters were told that the polling agents, ballot boxes and ballot papers had not even reached the premises yet.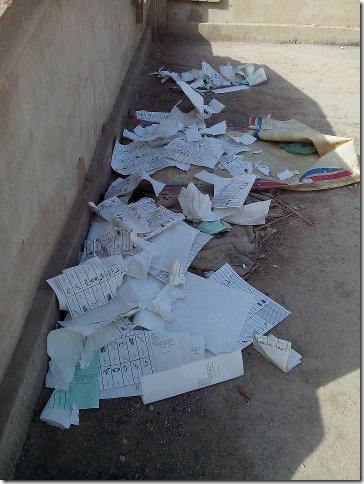 Undeterred by the gross mismanagement, many voters (both young and old) continued to line up patiently while others left, vowing to return in a few hours. By noon, the line had extended around several blocks, the polling staff had arrived but neither the boxes nor the ballot papers had been delivered. Outside, the burgeoning crowd grew agitated mostly because of media reports of rigging in some polling stations of NA-250. Allegations were hurled at rival political parties while many floated the idea of leaving since "elections will be held again next week." However, no one seemed to want to quit.
By around 2pm, the ballot boxes, stamps and papers finally arrived amidst loud cheers from the crowd. However the lines wouldn't yet move as the polling staff decided to take a lunch break, much to the dismay of the voters. To ease the misery, young boys periodically announced voting instructions and ran to nearby shops to purchase water and juice boxes to hand out to all those standing in line. New friendships were forged through the sole determination to stand united, no matter how long it took to cast one's vote.
By 4pm, with the heat at its peak, the line slowly started to move inside the school. The next four hours were marked with utter confusion and chaos as people were told they couldn't cast their votes without their serial number (which most did not have noted down) and rumours started floating of polling agents handing out ballot papers without the official ECP stamp on it. The polling agents' attitude was both apathetic and unfriendly. The inside of the school was over-crowded with people, and the Rangers refused to maintain order as fights broke out amongst voters.
Mismanagement was rampant as the polling staff continued to relay incorrect information and pointed elderly and tired voters in the wrong direction. Polling agents were slow, inefficient and at times found asking the voters themselves where to enter the voter data and stamp. Their lack of training became all the more obvious when some polling agents were seen handing out only white ballot papers (provincial assembly) until more informed voters started demanding the green ballot papers (National Assembly) as well to complete their vote. Many felt that once they had entered the premises, the wait would be short. They were in for a rude surprise.
With three hours gone by, the line in the women's section had not budged. The under-staffed and clearly untrained presiding officers and polling agents were both unconcerned about the massive delays in the constituency and the agitation of the voters. With no law and order prevailing, men could be seen trying to enter the women's enclosure while women who had just entered the premises could be seen cutting into the line. As the security personnel turned a blind eye to the deteriorating behaviour, citizen activism had to be at its highest, with scores of young girls, and in some cases, pregnant women, forming a human chain around female voters to prevent line cutting and to ensure quick and smooth vote casting. Ten hours after standing in line harmoniously with strangers, irrespective of political party preference, and arguing with the polling staff about the need to stamp ballot papers, I finally cast my vote.
But other polling stations had it worse. The Election Commission granted a one hour-extension to voting across the country, and voting officially ended at 6pm. But in a polling station at DHA Phase IV the deadline came and went without a single vote cast. Some voters who returned for the re-polling exercise were told that their block code had been struck off the list to be re-polled. In DHA Phase I, ECP stamps didn't arrive and although many cast their votes, their ballots were unstamped, rendering them invalid.
The NA-250 constituency was prey to strong allegations of rigging, putting in question the credibility of the election results, which eventually led to street protests by the PTI and re-polling in 43 polling stations on May 19, much to the displeasure of the MQM who argued that all of Karachi must undergo re-polling to yield free and fair results. When the ECP declined to extend the re-polling to the entire city, the MQM and subsequently JI and PPP decided to boycott the polling.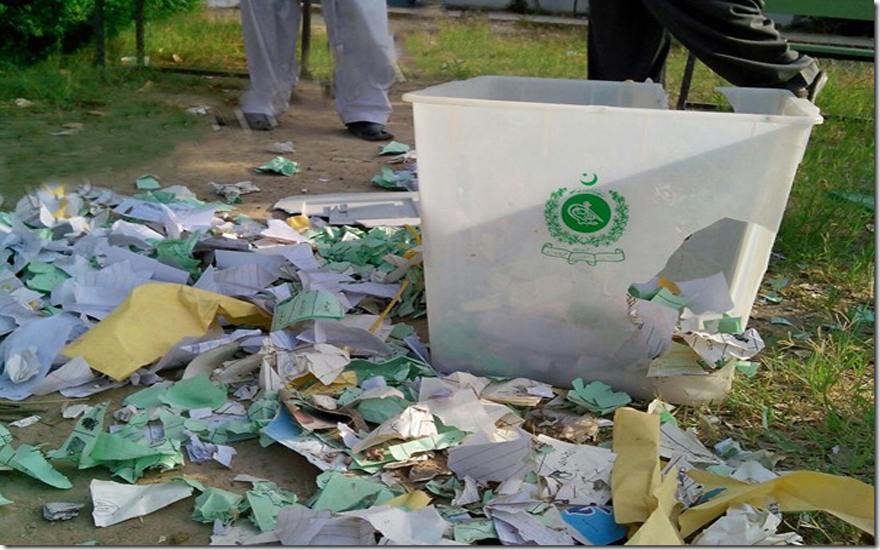 Allegations of rigging were not limited to NA-250 alone. Observers in NA-252 reported that armed men had barged into the polling station, forcing polling agents out of the room, and coercing voters to vote for their party. Similarly, in NA-256, voters complained that ballot papers were being stamped by men who had taken over the station, while genuine voters were turned away. In NA-253, too, some voters complained that they had not been allowed to exercise the right to vote for the party of their choice. In NA-241, there were polling agents from just one party, who methodically proceeded to stamp ballot papers for the candidate of their choice.
Despite the problems faced by voters and the disappointing and dismal mismanagement shown by the ECP, the 2013 elections will not be defined by the rigging and name-calling that accompanies politics and election fever. This year's election will be remembered for the record voter turnout, 55% by ECP estimates, and the determination and perseverance shown by the people of Pakistan to take the fate of their country in their own hands and exercise their most basic right to vote, despite fear and cynicism.
Next