Home to over 20 million, Karachi has often emerged as an afterthought for the various governments that have come into power over the years. Of their many failures, the absolute absence of a mass transit system for the city's daily commuters has been consistent for at least a few decades.
However, certain red buses seem to be changing the public transport landscape for this city of millions. Launched in March and July 2019 in Lahore, Airlift technologies and SWVL have become increasingly popular online, and their fleet of buses increasingly visible on the busy roads of the metropolitan city since they came to Karachi in July and September this year. In the few months since their launch, both SWVL and Airlift have gained massive popularity among the affordable transport-deprived, middle-class of Karachi. Where ride-hailing apps charge over Rs 320 from Gulshan-e-Iqbal to I.I. Chundrigar, the bus-sharing fares on average cost Rs 50. However, the question still remains, can we look towards private companies to solve Karachi's mass transit problem?
Shahzeb Memon, General Manager SWVL Pakistan, believes so. "It is like taking one burden off the government's shoulders so they can focus their energies on improving other sectors," he says. While the exact number of buses registered with Airlift and SWVL is unknown, SWVL reportedly has over 1000 buses operating in Pakistan. The buses in question take commuters from across the city through various routes during the day, are air-conditioned, have clean interiors and wide seats, and none of the passengers are found seated on the roof or hanging onto the door for dear life.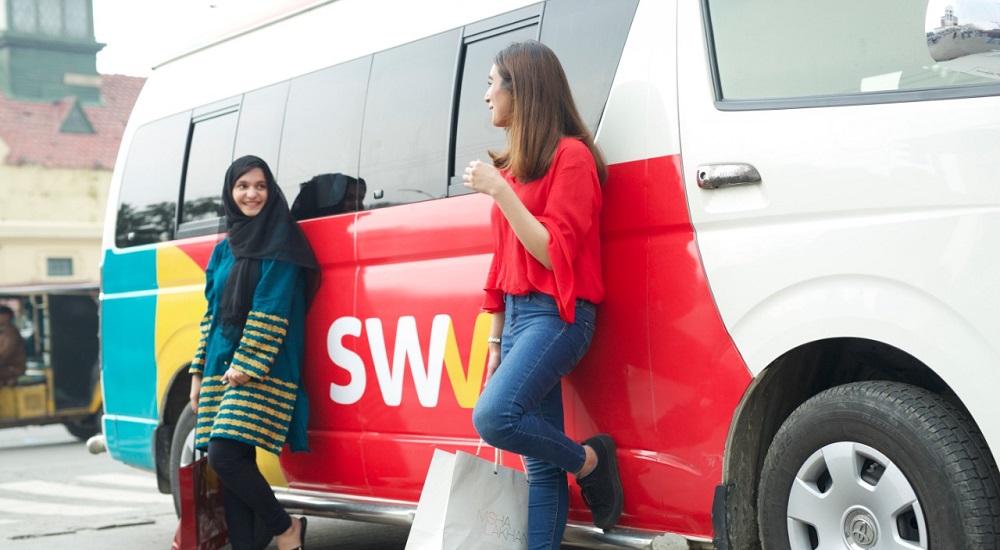 In a business-like fashion, Memon breaks down the numbers for me: 20 million residents, 4 million households, approximately 8 million trips every day, ergo, a huge untapped market for bus-hailing apps. Of the 8 million Memon talks about, he says an estimated 3.2 million form the middle-class market, one that does not have private cars or the spending power to use ride-hailing apps. It is these 3.2 million that the company aims to target; even if it were to reach 1-2 per cent of these people, SWVL could be looking to move half a million people every day. Truly, the potential for growth is limitless.
If social media reports are to be believed, it is this possibility of growth and popularity that has the provincial government concerned. Recently, news started doing the rounds that both Airlift and SWVL were asked to shut down operations, but Memon clarifies that the government has in fact been supportive of new ventures. He goes on to explain how tech models around the world move at an incredibly fast pace, to the extent that a disruption occurs first and then a law is drafted around it. The same applies to Pakistan; the country's decades-old legislation has to be modified to bring tech companies like SWVL, Airlift, Careem, Daraz and others under the ambit/framework of the law. "There is a lot of governmental support, and they ensure that we all have a seat at the table during the legislation process," says Memon. With the legislative process underway, the company is looking to expand on its existing customer base. Currently, the app charges passengers per seat, but they are exploring distance-based pricing systems too. "At the end of the day, our aim is to bridge the mass transit gap that exists in the city while ensuring economic viability."
But what does the expansion of companies like SWVL mean for the environment? Memon explains that contrary to popular opinion, the city is not 'overrun' by motor vehicles. That being said, he is mindful of the environmental impact of bringing more vehicles on the road. "SWVL was built on the very model that moves more people per unit, so it is automatically less damaging to the environment," he says. However, that is not all, the company also aims to explore more environmentally conscious options in the longer run, perhaps hybrid cars or electric ones, but currently Pakistan lacks the infrastructure to implement those changes. So with a little experimentation with business models, some solid market research and an accurate understanding of its consumer base, SWVL is the new kid on the block looking to revolutionise mass transit in Pakistan. Whether it will be successful in the long run, only time will tell.
My Trip with Airlift
After completing my first trip with Airlift, it became apparent that its greatest strength and main selling-point are relativity – the regard in which it is held is ultimately boosted by the paucity of adequate alternatives. In a city lacking anything resembling a mass transit system, app-based bus-hailing services like Airlift are destined to thrive. Cheaper than car-hailing services like Careem and more comfortable and convenient than the colourful buses and rickshaws that comprise what little Karachi has to offer in terms of public transport. Unlike the latter, Airlift uses vans that have air-conditioning, its seats are comfortable and well kept and the vehicles are neither noisy nor overcrowded.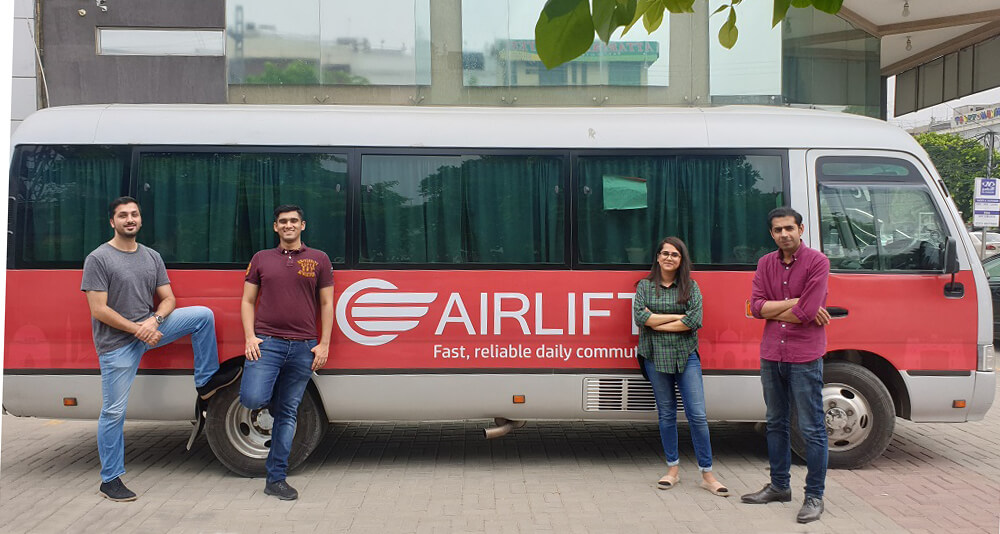 As a first-time user I was awarded 300 credits immediately after registering, the equivalent of 300 rupees. All payments are made digitally; once your balance runs out you can purchase more credits via the app using a credit or debit card. To book a ride you enter your destination and if need be your desired pickup, much like Careem, and a list of shifts most compatible with your route will pop-up. You can book up to two days in advance but not for the whole week or month. The prospective shifts will indicate the time and place of your pickup and dropoff – unlike Careem, these are pre-determined, meaning that some walking will be involved and you will miss your ride if you don't reach the pickup stop on time. In my case, reaching my pickup point involved traversing peak-hour traffic on I.I. Chundrigar, the stop being right across from my work place. From my dropoff on National Stadium Road, it was about a 12-minute walk home. The lack of adequate footpaths and other pedestrian walkways made this all rather tedious. Furthermore, popular shifts like mine, 7:30 pm on I.I. Chundrigar Road, tend to fill up fast, at times a whole day in advance, making it imperative to book as early as possible.
I was charged 50 credits/rupees for the trip. I was picked up 10 minutes late and dropped off a full 30 minutes late, from the stated pickup and dropoff times, on account of the traffic. Though other passengers were picked up along the way, this didn't cause much delay as the stops were along the pre-determined route assigned to the particular shift. Despite the walking and delayed dropoff I was largely satisfied due to the money I had saved. Had I taken a Careem like I usually do, I would have paid over 400 rupees while even a rickshaw wala would have balked if I offered 50 rupees to take me from I.I. Chundrigar to Block 14, Gulshan-e-Iqbal. I can't say whether the 50 rupees I was charged is indicative of the average price of a ride or whether this is an incentive to draw in new users. Considering most Pakistanis still do not have bank accounts and rely on cash payments, Airlift will not be supplanting private buses and rickshaws anytime soon, despite the competitiveness of their prices.
In general, given the unreliability of the service in terms of availability and timing, I would refrain from calling it an adequate substitute for a proper, publicly run mass-transit system. For now it is enough to say that relative to the options available to most middle-class Pakistanis with access to a credit or debit card, bus-hailing apps are a welcome improvement, even if they are not a long-term solution to our urban transport quagmire.
– Sami Subhani
A journalism graduate, Zoha's core areas of interest include human and gender rights issues, alongside which she also writes about gender representation in the media and its impact on society.
Next