Movie Review: Death Becomes Her
The 1992 black comedy Death Becomes Her is a dark, hysterical fantasy about superficiality, beauty and femme fatales. Directed by Robert Zemeckis of the Back to the Future trilogy and Who Killed Roger Rabbit?, the movie mimics the same outlandish stories, offset by even more outrageous visual effects.
Starring Goldie Hawn, Meryl Streep and Bruce Willis — a quizzical combination that works exceptionally well — the movie follows the story of a meek writer, Helen (Hawn) and her long-time rival, actress Madeline (Streep), who excel in their roles as anti-heroines. Madeline invites Helen and her fiancé Ernest (Willis), a successful plastic surgeon, to a terrible Broadway musical she is starring in. Helen puts Ernest to the test, as Madeline has stolen every beau Helen introduced her to.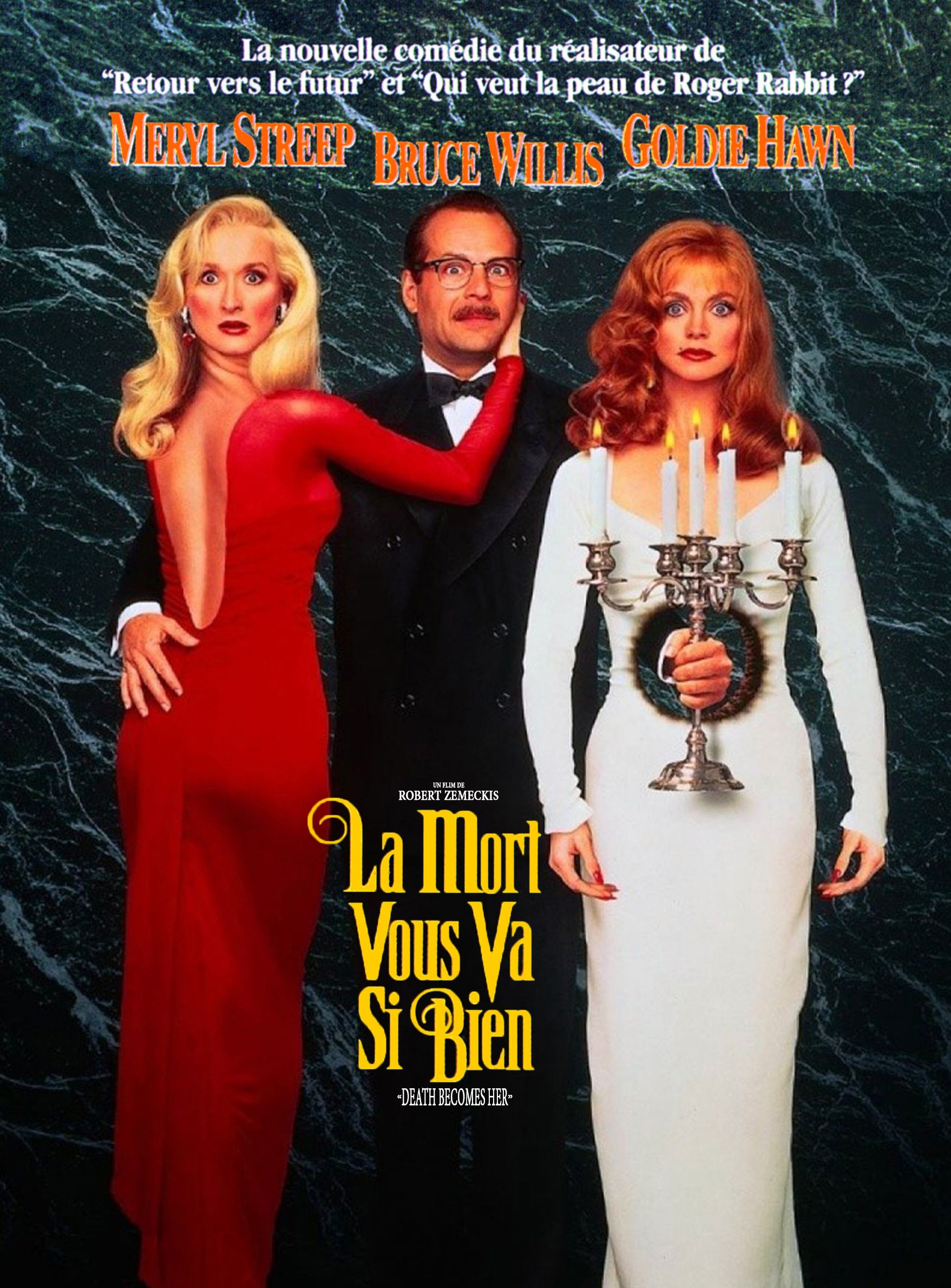 Much to Helen's dismay, he becomes smitten with Madeline —an aging actress who sees the advantage of befriending a plastic surgeon — and breaks off his engagement with her to marry Madeline. Helen plummets into a catatonic breakdown, and vows to exact revenge.
We see 14 years go by, and Madeline is no longer an impressive actress and lives with an alcoholic Ernest, who has been 'professionally demoted' to a reconstructive mortician. They receive an invite for Helen's launch party for a novel she's written on retaining her beauty and youth. Madeline is baffled by Helen's youthful, radiant appearance and desperately tries to find a solution to preserve her own beauty. Helen, meanwhile, lays the groundwork for seducing Ernest and convinces him to kill Madeline. What follows is an improbable, fantastical series of events that lead the trio down a macabre path of no return.
Streep and Hawn's uninhibited performances as two defiant, demanding women, who do not care a fig about their likability, was an inherently unique concept at the time of the movie's release. The crass dialogue and spectacular fighting, by women no less, was an extraordinarily novel concept executed by Hollywood's leading ladies. What clinched the story was Willis' bumbling, panicky Ernest as a foil to the two dynamos. Best known for his action movies, Willis surprisingly held his own in the comedic department, selling the jaded, middle- aged mediocre leading man with ease.
"You really can't underestimate the entertainment value of two women swinging shovels at each other," said David Koepp, co-writer of Death Becomes Her at the time. It is precisely this campy storyline and slapstick humour that sells the movie beyond a preachy parable. The powerful satire on superficiality and a woman's worth being based solely on her looks and desirability, the malicious banter and the brilliantly grotesque make-up and special effects are what made Death Becomes Her a cult classic. The movie has aged well, with still-recognisable pop culture references, an ironic feminist ending and grisly fights (those never cease to please the audience).
Next