Editor's Note – December 2019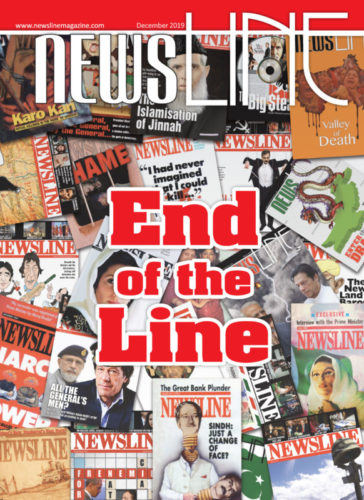 The incredible journey that began 30 years ago from a tiny room at Metropole Hotel in Karachi, with tons of optimism, idealism and a certain measure of trepidation, is coming to an end.
And it is with a heavy heart that I write my final note for Newsline, the newsmagazine that was like no other. Run on a shoestring budget, by a journalists' cooperative, a rarity in South Asia, it gave voice to the voiceless, spoke for the oppressed and the suppressed, looked the "sacred cows" in the eye, wrote without fear or favour, stood steadfast in the face of threat and adversity, and braved many a storm.
The road was rocky and the roadblocks manifold. One day there would be a raid on the Newsline office by income tax officials as retribution for a story on the cooperatives scam in the Punjab; another day it was a midnight knock on the
editor's door by cops because the Sindh Governor was irked by his profile in the magazine. One time, a Balochistan cabinet minister filed a case in a Quetta court because a Newsline story exposed his links with the drug mafia; another time a Sindh cabinet minister registered a case for exposing his corruption in the Karachi Steel Mills.
Then there were instances of Newsline copies being bumped off national and international flights for stories that did not go down well with those in power. And of being removed from a hotel bookshop, because the hotelier was livid about a story on his brother's involvement in a financial scandal.
From powerful business groups to corrupt politicians, from extremist religious groups to ruthless mafias – no one, nowhere was off Newsline's radar or off-limits.
Yes, we paid a hefty price for it. I remember distinctly a story on a young participant drowning in a reality show that resulted in Newsline being struck off the advertising roster of a leading multinational. But for a cash-strapped Newsline, money was never a major consideration, the story was. Was that our failing?
Not really. It was the fast-changing media landscape that sounded the death knell of the print media. As TV channels multiplied, social media entered the scene and reading habits changed, circulation figures declined and ad revenues fell. There came a point when Newsline had to choose between closing shop and selling out to a big media group: the Hum Television Network. But five years down the road, the network has decided to call it a day, citing "financial constraints."
Following the announcement of Newsline's closure, the outpouring of support from friends, supporters, former staffers, interns and total strangers has been phenomenal – and overwhelming. One knew there were people who valued Newsline for its ethos, for its bold, hard-hitting content and its valiant struggle against all odds, but one did not realise how much it meant to so many people, how it impacted so many lives.
Farewells are never easy. But as the chronicler of history becomes a part of history, a word of acknowledgement is due to the wonderful Newsline family who worked selflessly to make it so special, the brilliant reporters who wrote those indepth, investigative and exclusive stories that gave the magazine its edge, and our wide circle of supporters who rooted for us. To all of them, I owe a special vote of thanks.
We would like to dedicate this issue to all the bright young interns and staffers who passed through the Newsline portal. Hopefully, a part of Newsline, its ethos and its values live on in each one of them.
Rehana Hakim
Rehana Hakim is one of the core team of journalists that helped start Newsline. She has been the editor-in-chief since 1996.
Next