"Pakistani art has, undoubtedly, come into its own, but where are all the big collectors?"
– Riffat Alvi
Riffat Alvi holds an eminent place among the 20th century artists who bolstered the art scene in Pakistan. An artist of considerable repute, Alvi's paintings are showcased at notable institutions and galleries in the UK, Germany, Iran and Nepal. As director of the VM Art Gallery, which she has been running for the past 25 years, she strives to bring international art and artists to Karachi, and uses the gallery as a forum to teach art to aspiring artists.
Presently, Riffat Alvi is exhibiting her art work titled Siyah Aur Safaid at Karachi's Canvas Art. Alvi speaks to Newsline about her exhibit and the state of art and art institutions in Pakistan.
What is the significance of the black, white and red colours you have used in your new exhibition, Siyah Safaid?

I couldn't paint roses and beautiful landscapes while this country is burning. I wanted to reflect whatever I see around me.
I wanted to paint all the works in black and white — the predominant colours of what I see taking place not just in our country, but all over the world: bomb blasts, fire, thick black smoke, bodies shrouded in white. Red represents the bloodshed. We bury one body and then something else happens and the next body comes along — and thus the vicious cycle continues.
Your smoke drawings are the result of a unique technique that you have devised. How did that come about?

I think I'm the only one doing smoke drawings and working with natural earth pigments. My smoke drawings began in 1994, when the MQM held sway. We couldn't step out of our houses. I lived near North Nazimabad and that whole area was blocked. I felt compelled to draw or paint something but I couldn't access any new art materials. I was playing with a candle once, holding a piece of paper against it to see what sort of effect I could get on the paper. Suddenly, I noticed that the movement of the candle's flame produced a face on the surface of the paper. That was a discovery for me. So I decided to start experimenting with this new medium in depth. Now I don't need to sketch out my drawings in pencil first. I have that much command over my new medium.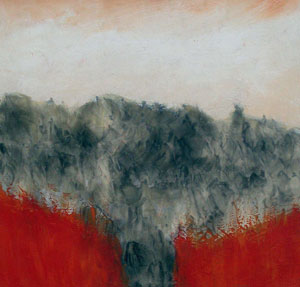 Why do you prefer working with natural earth pigments?
We artists tend to stick to the palette of 12 colours that are manufactured, but I have been on an extensive exploration of colours, which all started in Zimbabwe when I went there for an exhibition in 1991. There was a Zimbabwean artist, who was working with me. When she had used up all her brown paint, I asked her, 'What will you do now?' She replied, 'It doesn't matter.' She went out and got a scoop of mud from the lawn. The mud was chocolate-coloured, just like Cadburys [chocolate]. Then she asked me, 'What is the colour of your earth?' I was blank — totally blank. So I just said, 'It's a similar colour to your earth.' But I took it up as a challenge and told myself I must explore this. I left painting for a whole year to find out the colours of our earth.
Where did you find the colours you use?

I continued to find the colours in Germany and France. Dover Beach, known as the world's best beach, has white calcite (chuna). So I just go pick it up from there when I'm travelling abroad. But carrying it on the plane is a big problem. I was caught sometime back because it had leaked from my bag.
Here [in Pakistan], I started my journey from Thatta. I found the orange there. Then I went further — Chichawatni, Multan, Quetta and Swat. I found all the colours were readily available to me right here in Pakistan.
What is the current state of art in Pakistan?
Pakistani work has, no doubt, come into its own, but there are few supporters. Where are all the big collectors? You can't count beyond four of them. On the other hand, the group of investors is big. Investors will buy something for Rs 50,000 to sell it for Rs 70,000. But they do not collect art, like Wahab Jaffer and Aftab Tapal. Collectors can put their collections on show in museums and galleries. I don't think 30-35 years down the line the youngsters will know who Sadequain, Shemza or Bashir Mirza were, because their work wont be exhibited then.
How much credit would you give to the art institutions for informing students about our art heritage?

I would give all the credit to the NCA. It has existed since the time of the British and our artists have not only continued with the institution but also created new things through it — we are the only country in the world that offers a degree in miniature painting.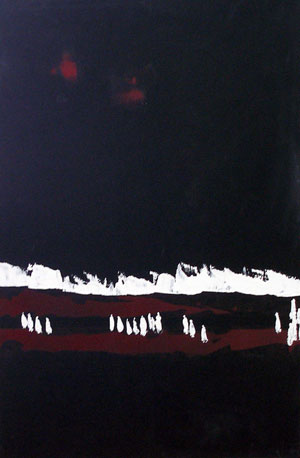 Should art history be taught at the school level?
Yes, it's very important. However, schools who do offer it, do a superficial job. Even art colleges do not stress on art history. Indus Valley or the NCA will lay more emphasis on technical expertise/skills and no one has the time to read after [school]. The two should be done simultaneously, or galleries should arrange programmes to help fill in the gaps. Someone can do a whole lecture series on Sadequain.
Is it paucity of funds that hinder galleries from undertaking such activities?

VM Gallery is run by a trust. I can put up programmes because I have financial backing.
There has been very little documentation of artists in the media. On TV, you will just catch a five-minute glimpse of an exhibition. but what will that teach you? There is not a single CD or book that you can show on Ahmed Parvez, for instance. There's only Dr Akbar Naqvi's book Images and Identitythat explores the history of modern art in Pakistan. I think we owe a special thanks to Musharraf for helping set up the National Art Gallery in Islamabad. And it is the job of this gallery to promote art in Pakistan. However, the private galleries in Karachi are doing a better job than the national gallery.
Next