Many of the daily commuters travelling on the southern section of the Peshawar Ring Road witness a number of modified three-wheeler motorcycle carts, laden with material, speedily overtaking other vehicles on the road in a zigzag pattern. They drive fast, often recklessly. This, one learns, is to avoid getting caught by the police and customs personnel. Their cargo: non-custom paid cloth, which they illegally transport between city borders.
Over a hundred such motorcycles operate daily between Bara Market, located between Khyber Pakhtunkhwa's (KP) capital city, Peshawar, and the province's newly merged Khyber Tribal district, famous for the non-customs paid goods its shops overflow with.
Burqa-clad females often accompany the motorcycle riders. Sitting on the cloth bales in the carts, these women are always at risk of falling off the speeding bikes on their high-risk journeys.
Other than the three-wheeler motorcycles, nearly 30 Suzuki Alto cars are also used to carry the cloth bales. These too, use women carriers ostensibly as 'distractions' to evade capture by the concerned authorities.
One motorcycle rider disclosed that more than 20 million rupees' worth of cloth is carried via these two modes daily. "A motorcyclist earns about 600 rupees per trip, while the car drivers earn Rs. 1,000. If apprehended, the losses incurred are more than double those of the motorcyclists who have been caught. But it is the women carriers who are responsible for paying the losses in both cases," said Mujahid, a 26-year-old polio-affected motorcycle rider.
Among the women involved in the smuggling is 58-year-old Miankhela. A widow for five years, Miankhela is mother to five daughters, three of whom are still unmarried, and a married son confined to bed due to kidney disease which has rendered him incapable of earning a living for his wife and three children, let alone his mother and sisters.
Each day, Miankhela goes to the Bara Market to work as a cloth-carrier between the tribal district and the Haji Camp bus terminal, some 26 kilometres east.
"On a lucky day, I make three or four successful trips, earning Rs 300-400 per trip after paying the police and customs bribes at various checkpoints and snap checking posts. I pay about 800 rupees a trip in bribes," Miankhela disclosed.
She is one of the dozens of women carriers who act as the middle-persons between the cloth-owners and the dealers at the bus terminal who smuggle the cloth to shop owners in Nowshera, Rawalpindi, Lahore and other cities of the Punjab.
These women come from different parts of KP and a large number of them are widows, in their late fifties or even older, like Fasiha, 61. Hailing from Charsadda district, she lives in a rented house in Peshawar.
"My husband died many years ago and I have been earning my livelihood by carrying cloth bales for the past 13 years. My daughters are all married and I live with my two sons; one drives an auto-rickshaw on daily wages, and the other is a drug addict," said Fasiha hurriedly, as she loaded cloth onto a motorcycle.
"It's almost noon and this is my first trip. It has become really difficult to cross the police and customs checkpoints without paying bribes. We don't earn much these days," the elderly widow stated, before leaving for one of the three markets known for stocking non-custom paid cloth only, less than 300 metres inside the Khyber tribal district.
Paying bribes, usually 100 to 200 rupees per checkpost per trip, according to 54-year-old Shahida of Malakand division, is not the cloth-smugglers only hurdle. "Many times we face verbal and physical abuse at the hands of the cops at the checkpoints. Recently one woman was badly beaten and her arm broken for not paying enough bribe money," she contended.
Ajwa, an Afghan refugee, is another carrier who supports her family by working in this risky profession. Showing a freshly healed wound on her left arm and pointing to the stitches there, Ajwa alleged that she was stabbed with a knife by some customs personnel demanding money, as she argued with them, because she had already paid a Rs. 300 bribe to their colleague.
She also alleged that the cloth she was caught with, worth Rs. 130,000, was confiscated by the personnel, and she had to pay the cloth owner for the losses incurred as per the rules of business. "I am still paying that debt by saving whatever I can daily from my earnings," Ajwa added.
Saying that she needs to work to feed her six children and also provide money to her heroin-addicted husband, she added, "I was taken to hospital where doctors had to stitch my wound. I could not file a police complaint as that would have ended my work, because without the customs' cooperation, I could not operate."
The women also complain of manhandling by customs staff. One 34-year-old mother of five children hailing from the Swabi district of KP disclosed that once customs personnel ripped her shirt apart, while claiming they were body-searching her for drugs. 
"Then they proceeded to touch my body inappropriately. I tried to resist but it's useless, as resisting them would make life more difficult for poor women like me," she alleged, while expressing the hope that her drug-addicted, missing husband would return home one day to take care of her and their children.
Meanwhile, both, the police on duty at the local police checkpoint and the customs personnel at a separate checkpoint a little further down the road, termed all the womens' allegations "baseless," adding that they don't do anything in contravention of the law.
"Detaining any person or vehicle for illegally carrying cloth is not under our jurisdiction. Did you see us stopping or taking any bribes from the two vehicles that just passed before your arrival?" asked a low-ranking police official present.
Requesting anonymity, the policeman added that the duty of the police staff manning checkpoints was demanding, and their focus was to try and stop terrorists or other anti-state individuals from crossing into Peshawar and beyond.
"The cloth carriers are not our concern; we can't risk losing our jobs for a few hundred rupees bribe. The customs department staff and patrol vehicles are stationed at many points to counter the smugglers," he added.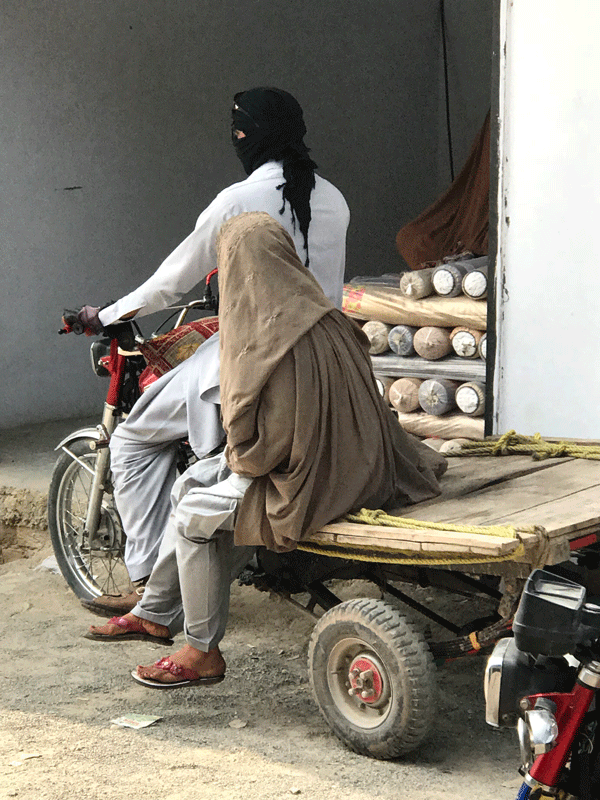 Two customs personnel, on the lookout for vehicles suspected of carrying illegal goods on the main Jamrud-Peshawar road maintained, for their part, that the customs staff only took action when confronted by those involved in the illegal transportation of goods. Neither of the two men responded to the charges levelled by the women about their bribe-taking, or the allegations of manhandling during searches, saying that their job was only to track and confiscate illegal and non-duty paid goods of all types.
The myth that many of the women carriers are drug addicts was not corroborated. None of the women involved were seen taking any drugs. However, their fondness for qehwa (herbal tea) didn't remain a secret, as they ordered kettle after kettle after short intervals while waiting for the next trip.
Arshad Yusufzai has worked for Voice of America and has published in The News International and Central Asia Online.
Next