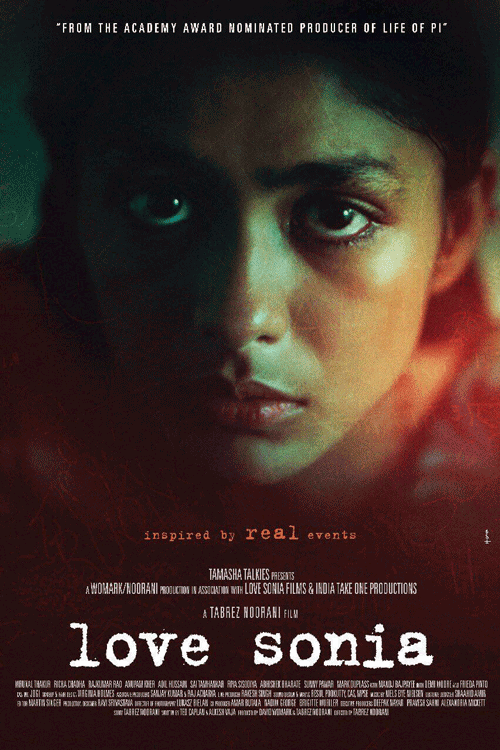 Based on the harsh realities of the flesh trade, the film Love Sonia is not for the faint-hearted – it is gritty and as raw as it gets. Uncomfortably close to reality, the film reels out the horrors of prostitution and human trafficking in which millions of women in India are ensnared. While it is not the first movie to come out of Bollywood on the subject, Love Sonia has a pragmatic twist that shines a light on the extensive international network the flesh trade has become. This film traces the story of two teenage sisters, particularly Sonia (Mrunal Thakur), who are taken from a small rural hamlet, to the underbelly of Mumbai, on to Hong Kong and then across the Pacific to Los Angeles.
A couple of school-going sisters, Preeti (Riya Sisodia) and Sonia, live with their parents on their bone-dry farm, 1,400 kilometres north of Mumbai. Their impoverished father, Shiva (Adil Hussain) is relegated to pulling the plough himself along with their solitary cow to till the soil. The family's poverty does not in any way diminish the rare closeness his daughters share with each other. But Shiva, who seethes with a poverty-driven bitterness – made worse each time he watches his neighbour drive his tractor – is not a kind father. His elder daughter Preeti is a daydreamer and the target of her father's foul temper, which Sonia tries hard to shield her from. Eventually, debt-ridden and unable to coax life out of his farm due to water scarcity, Shiva is coerced into selling his elder daughter to Dada Thakur Baldev Singh (Anupam Kher), the devious loan shark he owes money to.
At this, a distraught Sonia innocently pleads with Thakur to reunite her with Preeti and to send her to the same place of work in Mumbai he has sent her sister, not realising what that entails. Escorted to Mumbai by Thakur's partner in crime, Angeli, Sonia ignores the warnings signs along the way, and ends up in the red light district of Grant Road where she is sold to Faizal (Manoj Bajpayee), a hateful brothel owner. Gradually he breaks down her spirit, and starts peddling the 17-year-old as fresh meat to the highest bidder.
Tricked into the hellhole from which there is no exit, Sonia experiences every kind of violation, and we get a glimpse into the dark world of rape, physical abuse, drugs, torture… scantily clad women trying to lure men into shabby, unhygienic eight by four brothel cubicles, and other recesses where babies are born and sexual diseases are transmitted. Along the course of this nightmare journey, Sonia gets to know Madhuri (Richa Chadda) and Rashmi (Freida Pinto), the senior most inmates of the den and learns how they came to be in such a place. And through it all, Sonia remains steadfast in the quest for her sister.
Not all is despair in Love Sonia. Hope arrives disguised as a decoy customer – an NGO worker (Rajkumar Rao) who rescues underage girls entrapped in the den. He tries to convince Sonia of the possibility of escape, but she insists he find her sister first and manages to sneak information to him of Preeti's location. But a sense of hopelessness prevails when once drugged, Sonia is sucked deeper into the global flesh trade, and trafficked in containers to other shores along with Madhuri and other women.
Love Sonia is another kind horror story for those inclined towards films based on reality or social issues. It marks Tabrez Noorani's directorial debut, whose previous work includes being the line producer for critically acclaimed films like Slumdog Millionaire and Life of Pi. He is also responsible for the bold storyline of Love Sonia as a fictionalised version of true events – and presented this story with unflinching realism, profanities, et al. The film exposes a dark sub-culture and its causes; the plight of sex-workers and global human trafficking, and alongside, the desperation of debt-ridden farmers.
After her role as the bubbly sister in the Indian TV series Kumkum Bhagya, Mrunal Thakur has proved her mettle in Love Sonia with her power-packed cinema debut. She slips into her character as easily as the more seasoned stellar cast. While their roles are limited in scope, Richa Chadda, Freida Pinto, Manoj Bajpayee and Anupam Kher give powerful, noteworthy performances. A collaborative project, Noorani has co-produced the film with David Womark (director of Life of Pi) in which Demi Moore appears in a cameo role as a counsellor based in Los Angeles, working with an NGO for girls rescued from the flesh trade.
An estimated 800,000 women and children are enslaved in global human trafficking. India has long been a source, destination and transit country for women and children subjected to human trafficking – but the issue is mostly internal. Out of the estimated three million plus trapped in the trade within the country, Sonia's story represents less than one per cent that escape or are rescued from their fate. And as in most societies around the world, including Pakistan, the women in the flesh trade come from the most disadvantaged social strata.
The writer is working with the Newsline as Assistant Editor, she is a documentary filmmaker and activist.
Next