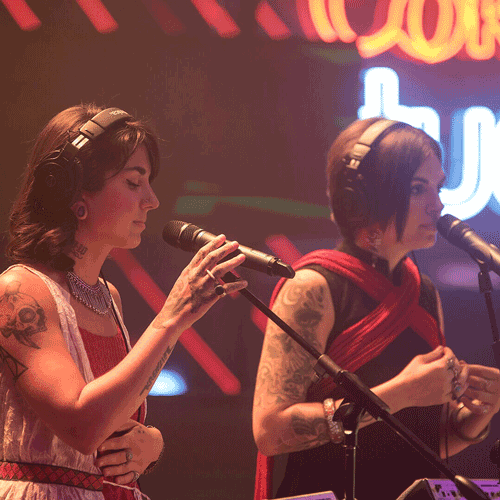 After creating waves on the international Electronic Dance Music (EDM) circuit, the Krewella girls, Jahan and Yasmine Yousaf, took centre stage at this year's edition of Coke Studio, with the perfect East meets West rendition of their song 'Runaway.' The Pakistani within beamed with pride as the camera panned Jahan's tattoo of a crescent and a star.
A labour of love and some seriously hard choices, Jahan and Yasmine formed Krewella in 2007. But it was three years later, when the sisters and former member Kris Tindl decided to quit school that their music career really took off. The band's 2012 release Play Hard rose to the top on Billboard's Dance Radio Airplay, putting Krewella on the world map. Ever since, there has been no stopping them. Regular performances at music festivals earned them the International Dance Music award for 'Best Breakthrough Artist.'
With their track in Coke Studio, Jahan and Yasmine have given the local music market a flavour of a previously unexplored genre of music. They entered uncharted territory and made it their own. Excited to be in their father's home country, the Yousaf sisters uploaded a video of their time spent in Pakistan. "Krewella existing in Pakistan is everything I could ask for in our career," said Jahan.
Even with the traditional earrings, a gharara, and an unconventionally wrapped dupatta, the singers from Illinois looked as much in their element for the Coke Studio performance as they would in an EDM music festival. Perfectly in sync with the house band, they smiled endearingly while singing the last two words of the song in Urdu. Perhaps it is their ability to adapt to the culture, yet retain their uniqueness that has won the hearts of their Pakistani audience. 
A journalism graduate, Zoha's core areas of interest include human and gender rights issues, alongside which she also writes about gender representation in the media and its impact on society.
Next