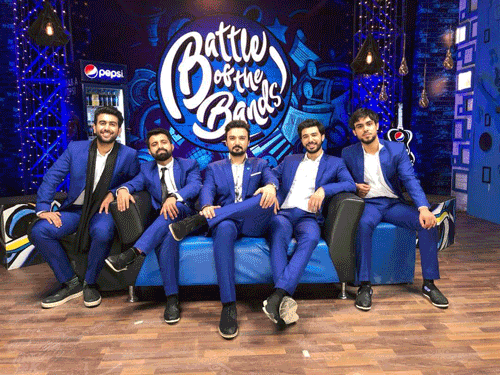 Since its revival in 2017, Pepsi Battle of the Bands has opened new avenues for local musicians, providing them a platform to showcase their talents in front of the industry bigwigs. The new season saw Meesha Shafi and Fawad Khan reprise their role as judges, while Faisal Kapadia and Bilal Maqsood of Strings were new additions to the panel.
The two-month journey came to an end after a final showdown between the bands 'Xarb' and 'Bayaan,' with the latter crowned winners.
Stellar performances by the judges made for a memorable finale episode. Where Shafi gave the audience a unique audiovisual experience with her song, Mein, as the players on stage put on a mask during the act, Fawad Khan sang an original composition, Satrangi, with a massive orchestra joining him on stage.
The season's winners, too, had an extraordinary tale to tell. They first forayed into music during small gigs in college and jamming sessions for TV shows, but it wasn't until their performance in the show Nescafé Basement that they started getting recognition. It was the camaraderie between friends that led to the creation of the now successful band.
Closing their journey on the show, the band sang 'Nahein Milta,' the first song they wrote together. Now with the trophy and a music contract in hand, new doors are sure to open for the singers who captured the nation's hearts.  
A journalism graduate, Zoha's core areas of interest include human and gender rights issues, alongside which she also writes about gender representation in the media and its impact on society.
Next