The road to Hyderabad's Mir Hassanabad Colony is full of twists and turns. Located near the embankment of the River Indus, it hosts a squatter community of 50 homes. It is one of Hyderabad's many Bheel settlements. Once farmers in their home district of Badin, the Bheels were forced to migrate in the face of an acute water shortage and sea intrusion. Unemployed and poverty-stricken, they lack the skills required to work in the city and struggle to make ends meet. The young men scavenge at night, while the elders and children work as sweepers in the day.
Young Laxman Bheel ventures out every evening on his bicycle, polythene bag in tow. He hunts for cardboard, plastic, iron and whatever else he can lay his hands on, provided it can be sold. He is not alone. There are 250 to 300 men of his community on the streets of Hyderabad every night. Their destinations are the city's garbage dumps. Laxman's father, Mevo Bheel, works as a sweeper. 
But work isn't always a safe bet. Two of Mevo's relatives, Pyaro and Umrio, lost their lives under mysterious circumstances while cleaning a manhole. They had been hired for the job by local residents, after the municipal authorities had failed to fulfil their duties. A female passerby noticed their bodies floating in the drain. It was said that they died of asphyxiation, but Mevo sees things differently. "Local sanitary workers did not want our people to interfere," he says. "Since they could not express this directly to the influentials, they found a way of taking revenge, by throwing acid in the manhole."
Mevo says that the local sweepers hire 10 to 15 Bheels to do their work. "They are government as well as private employees, who draw good salaries but give our people very little," he says. "One of the substitutes is my brother, Makhan, who cleans bungalows. He is paid Rs 3,000 per month."
Mevo was born in the village of Punhon Pali, UC Seerani – the southernmost part of Badin. He had toiled on the land since childhood. In his community, farming is the only occupation that has been passed down from father to son and mother to daughter, for generations. Residents of his village farmed tomato, rice, cotton, chillis, onions and other crops and made a decent living until 1999. The flood that year wreaked havoc in their lives, turning them into rolling stones.  
"I had sown 10 acres of rice and four acres of cotton in 1999," recalls Mevo. "Everything was washed away in an instant. The only things we were able to save were our lives. Hundreds of people died, while many went missing. Land that was once thought to be fertile became uncultivable."
Until then, they had known nothing other than farming. But with their crops destroyed and land barren, they were destined to relocate for the sake of survival. Mevo owed the local landowner Rs 75,000, but since the latter had written him off, he was free to go wherever he wished. Thus, he left his birthplace and briefly settled near Badin city. A severe shortage of irrigation water forced his family to migrate to Chambar, in Tando Muhammad Khan district. Here, they cut sugarcane, parcelled it in maund bags and loaded it onto trucks, all at the payment of a rupee per maund (40 kilos). "We worked day and night, along with our women and children," he says.
In 2010, they were hit by another calamity, this time in Mirpurkhas, where Mevo's family was residing at the time. Their crops were washed away in the flood and they were left with a debt of Rs 250,000. "Our income was too low to run a home and besides, I married off my two daughters," says Mevo, " and so, the debt kept skyrocketing." Finally, a political leader helped them relocated to Hyderabad, where they ended up doing sanitary work and scavenging. "Hyderabad is the tenth place we have moved to," says Mevo, adding, "whenever the land under our feet gets sold or its owner starts building something on it, we are shooed away."
The situation has gone from bad to worse.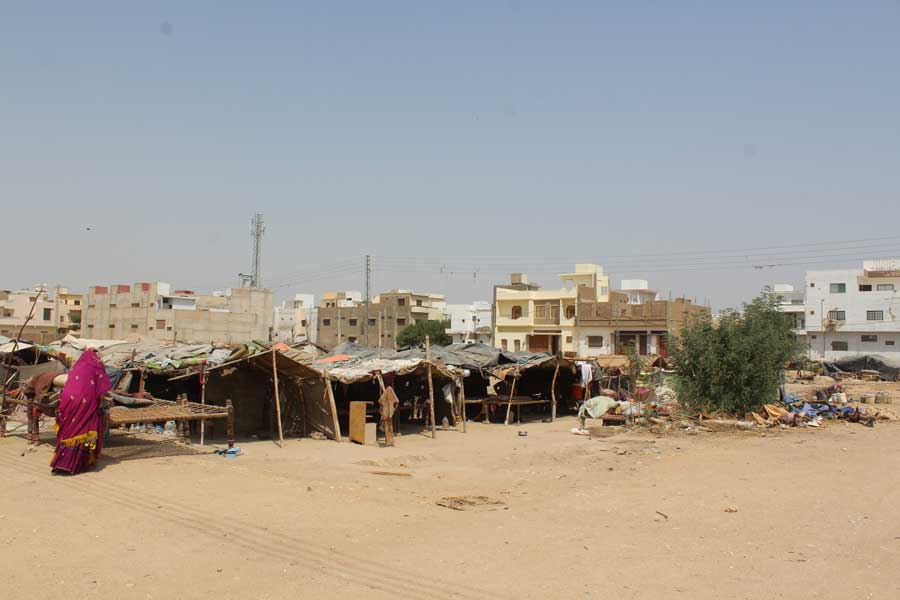 For a year now, not a single canal has reached the tail-end areas of Badin district. The locals of Thar, meanwhile, are facing a drought-like situation. Being a bordering district, Badin has always received drought-affected people and livestock coming from Thar. But now, people arriving from Thar are facing problems in Badin as well. 
Due to a lack of water flowing downstream from Kotri Barrage, the seawater intrusion has affected the groundwater in union councils in Badin and Golarchi tehsils – namely, Shaheed Dudu Soomro, Bhugra Memon, Bhahdmi, Ahmad Rajo, Mithi Three, Chakar Panhanwar, Kadhan and Seerani. "An area of 150 kilometres in Badin district has been lost to the sea since 1995," says Allahbachayo Jamali, a local environmental journalist. "Building of the Left Bank Outfall Drain (LBOD) has added to the problem, wherein the toxic waste of sugar mills is discharged."
Naseem Abbas, a small grower of Kadhan, Badin, owns 20 acres of land and managed to sow four acres of tomatoes and an acre of paddy this year. Although the sowing season usually begins in April or May, due to the lack of water in canals, crops were sown in the first week of August. Abbas' per-acre yield of wheat was 50 maunds in the past, but in the last season it was as low as 10 maunds. Badin district was one of the largest producers of rice in the province, but due to the acute shortage of water in the past couple of years, the production has been severely affected. According to Abbas, the rice sown this year was only 25 per cent of the total amount sown last year.
Approximately 3.5 million acres of fertile land in Thatta, Badin and Sujawal districts have been lost to the sea because of the lack of water flow from Kotri Barrage. "Two days ago, I visited Kharo Chhan and was stunned to find that the place where we held a jalsa on March 1, 2015, is now under the sea," says Mohammad Ali Shah, Chairman of the Pakistan Fisherfolk Forum. "The sea is eroding 100 acres of land every day," he adds. The Senate's Committee on Science and Technology, in a letter to the then prime minister, Nawaz Sharif, warned that Thatta, Sujawal, Badin and Karachi may sink by the year 2060. It has recommended that Pakistan's Water Apportionment Accord of 1991 must strictly be adhered to. 
Recently, a research  conducted by the US-Pakistan Center for Advanced Study in Water, in 2017, shows that the Indus delta has shrunk by 92 per cent. It was estimated to be over 12,900 square kilometres in 1833, but now it covers an area of 1,000 square kilometres. According to the study, there are only two active creeks – Khobar and Khar – in a delta that once had 17 creeks.
Over 50 million people have been affected by the water shortage. Thatta, Badin and Sujawal districts have witnessed a large-scale exodus. Most of the farmers have fled to Lodhran, Multan, Bahawalpur and Rahim Yar Khan, while fishermen fled to Karachi and Balochistan, in search of livelihoods. "Migration started soon after the building of Tarbela Dam" says Shah, "and it continues to date."
Every day, a group of social and political activists, growers and farmers, gather outside the Hyderabad Press Club. They protest against the proposed construction of the Kalabagh and Diamer-Bhasha dams. They chant slogans against the prime minister. Before the 2018 election, people of Badin district were angry with the Pakistan Peoples Party (PPP) over the water shortage. They staged a sit-in while the election campaign was in full swing. The Mirza family stood with them and struck a chord. Thus, Fehmida Mirza was elected to the National Assembly on a GDA ticket. "She is now mum over the water issue," says Naseem. "It has caused disgust among the people. We want her to clarify her stance or resign from the post."
The Pakistan Fisherfolk Forum has announced a long march from Kharo Chhan to Karachi, against the construction of the dams. "Sindh's existence is directly linked to the River Indus," says Shah, "therefore, people of Sindh will not accept any kind of dam on the river." He adds that the politicians of Pakistan have not given up on Kalabagh dam as yet – they just want to build the consensus first. "Sooner or later, they will build it," he says, "by eliciting fear among the people." 
Punhoon Pali was once a village of some 300 households. It has now shrunk to no more than 30. The seawater intrusion has induced migrations, to the north in particular, from where the River Indus originates.
Next