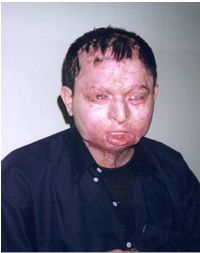 "I read your story and I'd like to make a donation towards the boy's treatment," an unknown caller from London said, soon after The Sunday Telegraph printed my story about a boy who was blinded and maimed after he refused to have sex with his religious teacher in a Karachi seminary, where his parents had enrolled him to acquire a religious education.
He had taken the trouble to get my contact number from the Reader Relations section of The Sunday Telegraph's office in London. "I'd like to send seven hundred pounds sterling, so could you tell me where I should send this money," the man enquired. It later transpired that the donor was a London cabbie.
I had never experienced such a situation in my 13 year career in journalism. Given that the boy came from an impoverished background and his parents probably did not even have a bank account, I was initially at a loss as to how to respond. Eventually, I gave him my personal account details and told him to wire the donation into my account and promised to hand over the money to the boy's parents.
Before I could even call and tell the amazing story to the boy's parents, I received yet another call and this time there was a lady on the line. "I have never responded to a newspaper article before, but I was so moved by Abid and his family's bravery while confronting the terrible assault that I felt I had to try and help," she said. Offering a donation of a thousand pounds towards Abid's treatment, she wanted to send the money as soon as possible. As I put the phone down, I realised that there was hope for Abid.
I spoke to Abid's father, activists of LHRLA as well as Abid's ophthalmologist at the JPMC and told them about the phone calls. I wanted to find out where Abid could possibly be treated and what his treatment would cost.
Fifteen-year-old Abid's ordeal began in July 2002 when he refused to have sex with his religious teacher at a Karachi seminary. Abid was doused in acid as punishment for refusing to sexually oblige him. The cleric had earlier threatened Abid with dire consequences but he had not taken it seriously and stopped going to the madrassa instead. Since discussing sex with parents or elders is generally considered taboo, Abid didn't tell any one about what had happened, because, "he was ashamed." A few days later, Abid was playing with his younger siblings at home, when his religious teacher, accompanied by three other accomplices, broke into his house, bolted the door and threw acid over his body. "This should be a lesson for you," said Qari Amin, his teacher, who is currently in jail.
Abid's impoverished parents had taken him from one hospital to another but had almost lost all hope for their son's recovery. Given the lack of any state-of-the-art burn treatment facilities in Pakistan, local doctors had told them that Abid would remain permanently blind. "Almost all the soft tissues of his eyes have been extensively damaged, though there is peripheral vision in one of his eyes," said Dr. Alyscia Cheema, Assistant Professor of Ophthalmology at J.P.M.C hospital , who carried out the oculoplasty on Abid's left eye last month. However, she said, the boy could be successfully treated through the keratoprosthesis procedure that is only is available in the US, UK and other western countries. Keratoprosthesis is a new technique in which the abnormal cornea is removed and replaced with an artificial or plastic cornea. The procedure apparently costs close to two million rupees.
Pursuing the matter on the net, I sent the Sunday Telegraph story to hospitals in the UK as well as in the US to find out more about the treatment as well as the cost. Within no time, we received a reply from a hospital in Brighton in the UK. "I am really sorry to hear Abid's story. The procedure I offer is called osteo-odonto-keratoprosthesis (OOKP) surgery," read the e-mail. The doctor also said that Abid was too young to go through the procedure and would have to wait until he was 18. The doctor also confirmed that the operation would cost around 2.5 million rupees or £25,000.
This figure was way out of reach and our hopes were dashed. However, soon after this I received a call from a colleague at The Telegraph who said they had received innumerable queries and offers to contribute towards Abid's treatment. "Shall we set up an account here to collect all these donations and send it to you in one go?" he asked. "Each transaction from London to Pakistan costs about 20 pounds, so let's save the fee on individual transactions and use it for the boy's treatment."
We took the decision to set up a donation account in London, and then received a reply from another hospital in the US. "Thank you for your note. We would be willing to evaluate the child and consider keratoprosthesis. As far as the charge, we generally do not apply medical fees to our keratoprosthesis patients considering that this is mainly a humanitarian effort. The actual device will be donated by Harvard Medical School," wrote Dr. A. John Kanellopoulos, a Clinical Associate Professor of Ophthalmology at NYU Medical School. It was a godsend. A similar response came from the Director of the Laservision Institute, in Athens, Greece. There was jubilation all around when we realised we had already collected more than what would be needed for travel and other expenses for Abid, his attendants, as well as expenses for his local doctor who would accompany him.
This whole incident is not only testimony to man's inhumanity , but also to the inherent goodness of human nature, which in Abid's case, reached out across continents and touched a poor young boy whose life would otherwise have been ruined.
Next