Interview: Inzamam-ul-Haq
"We need planning in bowling against India's powerful batting"
– Inzamam-ul-Haq, Captain, Pakistan Cricket Team
For shy, hefty Inzamam-ul-Haq, the home series against India will be a great challenge. The 33-year-old classic batsman has carried the burden of batting for Pakistan for several years, but now faces the biggest challenge of his career — leading Pakistan against arch rivals, India. Any upset in the series can unsettle the 'Mountain of Multan.'

With his recently acquired inclination towards religion, Inzamam is hoping that with the blessing of the Almighty, he can fulfil the expectations of fans against Ganguly's side.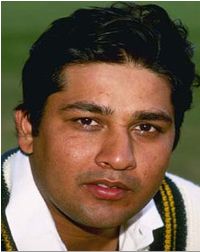 Q: How do you rate both teams? How confident are you about winning the series?
A: India has performed well in Australia. Their strength comes from their batting line-up. They have world class batsmen like Sachin Tendulkar, Rahul Dravid, Saurav Ganguly and V. Laxman, so it would be a good battle plan to stop the flow of runs in the one-dayers and get these batsmen out cheaply in the Tests. We have great bowlers who have shown a lot of depth in our bowling line-up. I think it will be a very challenging series, and the team which handles the pressure well will win.
We realise that we need to overcome our weaknesses in the one-day matches, especially in our fielding.
Q: Any specific strategy to stop Sachin from scoring runs?
A: Sachin played against us in Pakistan in 1989 when he made his debut. Sachin is a world-class player. We are looking into the strengths and weaknesses of the Indian batsmen. We are watching videos of Sachin, Dravid and others to work on. We want to play positive and entertaining cricket.
Q: People say Indians do not have bowling strength or call it inexperience. Do you agree?
A: If you compare it with their batting line-up, then the bowling comes out a bit weak. But I don't agree that Indian bowling is inexperienced. They might not have the experience of playing on Pakistani wickets but there is not much difference between Pakistani and Indian wickets.
The strong point of their bowling is that they have had the same combination for some time now. Zaheer Khan is very aggressive and talented, Irfan Pathan performed courageously in Australia against world class players like Mathew Hayden, Adam Gilchrist and Ricky Ponting. Ashish Nehra is a very gifted player who has the ability to bowl match- winning spells. I think India will miss injured Harbhajan Singh, experienced leg-spinner Anil Kumble and fast bowler Ajit Agrajar, who are ruled out to play in one- day matches.
Q: How would you handle Shoaib?
A: I have heard rumours that I had problems handling Shoaib on the New Zealand tour and that he aspires to the captaincy. There is no truth in such reports. Shoaib is a very special bowler and realises his duties. He is a very responsible individual and professional. He knows that a great task lies ahead of him. We look to him to play a lead role in bowling and get us the most wickets.
Apart from Shoaib we have Mohammad Sami. Sami was off -colour in New Zealand and we have requested both Imran Khan and Wasim Akram to give tips to Sami and the other bowlers. We need planning in bowling against India's powerful batting..
Q: People believe Pakistan's batting line-up is vulnerable, since apart from you and Youhanna most of the batsmen are inexperienced.
A: There is a blend of experience and youth. It is true that our batsmen have shown weak nerves in the recent past. We have great hope in our youngsters — Imran Farhat and Taufiq Umer, our new opening pair who have shown patience and given us several good starts. Then we have the very talented Yasir Hameed who earned praise from cricket experts all over the world in his first year on the international circuit. They just need to remain patient and consistent as they are the heroes of the future.
Q: There must be tremendous pressure on the players to win against India.
A: Fans love to win every match. We try to perform well but winning every match is not possible. I can't tell you how much pressure there was on me and my team mates when we lost to India in Bangalore in the 1996 World Cup. In the 1999 World Cup, we received threats despite reaching the finals. That is not sportsmanship. We always try to live up to the expectations of the fans; we know how much they love us. But please do not blame your heroes for every loss, that shakes their confidence.
I request fans of both cricket-loving nations to keep calm and enjoy the game. Take cricket as cricket. Winning and losing is part of the game. Nobody enjoys defeat but the game shouldn't suffer.
Next