Interview: Saurav Ganguly
"My main worry is our bowlers' fitness"

– Saurav Ganguly, Captain, Indian Cricket Team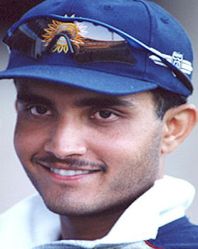 Q: After returning from the Australian tour, you said that the players had security concerns about Pakistan. Are you still concerned?
A: Yes, we were all a bit worried about the security, and that is understandable. We all have families to answer to. But our government or the board would not send us on a tour if there were any concerns. I and the entire team are happy to go to Pakistan. I am sure it will be a great tour.
Q: Would you encourage the team to go out in the evenings and take in Pakistani culture or would the boys be confined to their hotels in their free time?
A: We have always gone out on tours. This is a long tour and we would obviously want to meet people. But a lot will depend on the security officials and to what extent they allow us to go. It's all up to them.
Q: Are you happy about the itinerary, where the one-dayers will be played before the Test matches?
A: I think the original request of the BCCI was to hold the one-dayers first because we were playing the triangular in Australia. That has been accepted. I am okay with it because our last international commitment was a one-day series.
Q: India has never won a Test match in Pakistan. Do you think the current Indian team is confident of winning there?
A: Big time. I think we can win in Pakistan. This team has played well abroad over the last two years. The last tour of Australia was one of the best we have ever played. It has given us the confidence to do well anywhere in the world. If we are at full strength and if we play to our potential, I am sure we can win in Pakistan.
Q: What are your immediate worries?
A: My main worry is the fitness of our bowlers. It appears Harbhajan is not going to Pakistan. We need an off-spinner in Pakistan. Let us see. Then there are worries over the fitness of Zaheer Khan and Anil Kumble. We need a good bowling attack to win in Pakistan.
Q: How do you rate the present Pakistan side.
A: It is a very good team with experienced batsmen like Inzamam and Youhana. They also have a lot of promising youngsters who have done well this season. The bowling looks very good too. Pakistanis are playing at home and will be tough to beat. We will have to be at our best.
Q: Where does India stand in world cricket? Your team has not won a Test series outside the subcontinent since 1986.
A: True, we may have not won any series abroad for a long time, but it is only a matter of time before we do win. As I said earlier, we have played well in recent years, winning Tests in England, the West Indies and Australia. A series win will also come in due course. Irrespective of the results, I think this is a very good Indian team, capable of taking on the best.
Next