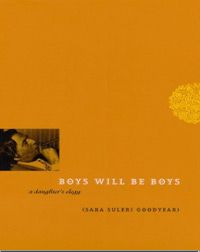 Sara Suleri's timeless creative memoir Meatless Days was a wonderful collage of memories, a reclamation of her Welsh-born mother and her sister, Ifat, both killed in hit-and-run accidents. Her new book, Boys will Be Boys: A Daughter's Elegy, revolves around her late father Z.A. Suleri — 'Pip', as she calls him, the nickname given to him by his children, short for Patriotic and Preposterous. The title of the book is taken from his oft-repeated announcement that one day he would write an autobiography and call it Boys Will Be Boys.
Sara Suleri Goodyear brings her family vividly to life once more, beginning with the bond she shared with her sisters, into which she introduces an image, her father trudging up "the bitter stairs" with her, at the death of her eldest sister, Nuzhat Akhund, saying, "She should have made this trip for me." The author has the rare ability to knit together moments of such absolute sadness, with vivid, light-hearted memories of those she has loved and lost.
Her elegant, tightly woven prose, moves seamlessly from one country to another, scattering references to a holiday in Nathiagali, or a stay in London, in between recollections of Karachi, Lahore, Brooklyn and New Haven, and knitting them together into rich, enjoyable narrative. Describing Lahore and Kim's gun she comments that in Vermont, she was invited to give a talk at Kipling House. Recalling Kipling's famous words, "Oh East is East and West is West and never the twain shall meet," she finds it strangely ironic that she and her American husband, Austin Goodyear are given Kipling's bedroom to stay overnight. She adds: "I think you would have enjoyed the evening in Vermont, Pip, because you liked to hear me speak of Lahore, and you were also fond of Kipling."
Sara Suleri Goodyear addresses her father in this way often, welding her memories of him with the present. She wonders what he would think, if he had lived to see events unfold, including the dismissal, incarceration and exile of Nawaz Sharif, described by her as "Bobby Shafto, fat and fair with his Model Town estate and innumerable mills of corruption…"
The title of each chapter is taken from an Urdu verse, song or saying, under which is printed the English translation and defines the theme. She writes:
"Language! What a nuisance it is! I knew how pained Pip would be — almost as pained as was I — when I went through like a blunderbuss through the delicacies of Urdu, which remained surely his most favoured language. He was glad, I think, that I developed at least a nodding acquaintance with its poetry…"
Further on, she adds:
"In a way, my mother lived most of her life in translation. She never spoke Welsh, which her parents did; her French was merely academic; Urdu was one of those illusions which cast its shadow over her, but never long enough for her to possess it. As for Punjabi, it always struck us as a singularly male language."
In a chapter which takes its name from Ghalib, 'Love Demands Patience,' she describes her mother's first meeting with Z.A. Suleri at his lecture on the independence of India in London where "doubtless he was eloquent" and his future wife said, "Now I could marry that man."
She goes on to describe her mother in Lahore and touches upon the same ambience as Meatless Days, but from another perspective, introducing different incidents and details. She writes: "I am not even sure how Mamma would have responded to Meatless Days, although of course she couldn't, since it is largely an elegy for her. But I cannot describe my trepidation when I sent the book to Pip. "
The full-blooded personality of her indefatigable father, with his "lion's head" and "memorable gaze", dominates the book, as do his comments, conversations and quirks, his love for newsprint, words and grand ideas, his passionate commitment to Pakistan and Quaid-e-Azam.
She says: "For a man, Pip, you certainly gave continuous birth. I refer less to your offspring than to your newspapers, your projects. You always seemed to have something afoot, a bird in the bush and several more in hand".
Into this multi-hued tapestry, Sara Suleri weaves in the many vicissitudes of her father's journalistic career. This ranges from his editorship of The Pakistan Times, his spell in jail, his visits to New York for the UN General Assembly — and his enthusiasm for Zia-ul-Haq which she could not share. She blames "Zulu Haq" for much and describes him aptly as a "maniacal general". But then, this is not a book about father-worship, but love and loss, life and death. She enshrines memories of good friends such as Eqbal Ahmed and poet Agha Shahid Ali, who also died shortly after her father and enlivens her pages with a quiet humour and wit and small cameo portraits of friends that her many Pakistani readers will know.
Boys Will Be Boys is written in an easier more informal style than Meatless Days, but Sara Suleri remains a skilled miniaturist. She can compress entire worlds into a few brief sentences, filling in the tiny details, but never losing sight of the balance and structure of the whole. This is a thoroughly satisfying read.
Next