A couple of years ago, a graduate of the Chandka Medical College in Larkana, unable to find a government job in the city at the time, set up a private clinic in an isolated village of Larkana district. He was, he admits, not very confident of his medical skills and did not want to risk offering his services to comparatively more informed patients in the city. "One villager came to me with a chest infection," he recalls with a chuckle. "I had absolutely no idea how to diagnose him and I was wary of prescribing any medicine that would exacerbate his condition . So I prescribed him a dose of tomato ketchup!" This "doctor" has since found employment at a government hospital in Larkana.
Each year, over 5,000 graduates are churned out by almost 50 recognised medical and dental colleges — both government-owned and private — in Pakistan. As of March 2003, there were 103,419 MBBS degree-holders registered with the Pakistan Medical and Dental Council (PMDC). However, as the above example illustrates, that's not necessarily a good thing. The desire to learn and to educate has been overtaken by mercenary considerations and a quick-fix approach. The result : an inevitable decline in the quality of medical education and the graduates it produces, a fact attested to by senior medical practitioners across the spectrum in the country. "When students come to us as house-officers, we end up teaching them what they should have learnt in their third year," says a professor of paediatrics at Dow Medical College (DMC) in Karachi.
Dr. Jamal Nasir, a dermatologist, candidly admits that he was expected to become a doctor after he secured enough marks to get a medical seat, "even though I didn't — and still don't — have an aptitude for serving ailing humanity." When, after attending the first few lectures at a government college in Karachi, he became convinced that he could not cope with medical studies, a doctor reassured him, saying, "Don't worry, if a donkey was to get admission to our college, even he would become a doctor eventually."
One of the reasons for the decline in standards is the proliferation of private medical colleges. Whereas back in 1997, there were only 19 medical colleges in Pakistan, medical education today has become a booming business. Over 50 private medical institutions have sprung up over the years, particularly in the late '90s. Many of them are housed in small campuses in rented properties and lack even basic infrastructure. Most do not fulfill the criteria laid down by the PMDC, which monitors medical education in public and private sector colleges across Pakistan. At least 15 of them are not recognised by the council, which means the degrees awarded by them are worthless. However, despite repeated warnings by the PMDC, parents continue to enrol their children in these institutions, primarily because of the lower admission criteria, which requires only an F.Sc. first division against a much higher percentage and mandatory entry test needed for admission in public sector medical colleges. A significant number of students in private colleges are those who were either unable to clear the entry test for government medical colleges or did not even qualify to sit for them.
The fee structure in private medical colleges ranges between 120,000 to 400,000 rupees compared to approximately 7000 to 10000 rupees per annum in public sector medical colleges. For foreign students, who pay higher fees in dollars, admission is, in the case of some colleges, easier still. According to a professor at a leading private dental college, one of his students was a Korean whose English was so poor that he had to bring a translator with him when appearing for his exams.
As per PMDC rules, a medical college seeking recognition must have sufficient infrastructure to provide all basic facilities to MBBS students in an academic atmosphere. These basic facilities include a custom-made building with ample area to house all the departments, dissection halls, common rooms, cafeteria, laboratories, a well-equipped library with up-to-date editions of books and journals, an IT centre, research facilities, hostels, mortuary and, above all, an attached teaching hospital with a 1:5 student-bed ratio. Sports and transport facilities form part of the requirement.
So far, the Aga Khan University (AKU) is the only private medical college in Pakistan that meets the PMDC's standards and is thus fully recognised. The rest are either accorded provisional recognition pending rectification of deficiencies or have never been awarded recognition.
Surprisingly, the students at provisionally recognised or unrecognised institutions remain upbeat and sanguine about their future. "At least our administration did not deceive us into believing they have recognition from the PMDC, which is proof of their sincerity and their intention to obtain it," maintained a first year MBBS student of Al-Huda Medical College in Lahore. The lack of proper infrastructure in the college did not appear to bother him, and although the college is attached with a Railways hospital about 24 kms away, he insisted, "it won't be long before we have our own hospital near our college."
The young man brushed aside the possibility that five years later he and his colleagues could face the same fate as that of 350 students of Islamabad Medical College who found that their degrees were not recognised by the PMDC. When asked why the principal of the college was not a qualified professor in a medicine-related field, he contended, "it is not necessary to have a subject professor as principal. Our principal is a Ph.D. in entomology, a very rare qualification."
The few students who were concerned were hesitant to talk openly. One of them simply said he was charged the full fees for five years in advance in order to pay towards the construction of various facilities in the college — in return for which he was given a five per cent concession — and he now had little choice but to hope for the best.
In another unrecognised medical college in the suburbs of Lahore, students maintained that "the administration is influential enough to achieve the task of getting the college recognised." A girl student whose family was settled in the Gulf did, however, express concern about the status of the college. She explained that her father was going to retire next year and she did not want the hard-earned money he had saved over 20 years to go to waste.
Not all students of private medical colleges work conscientiously on account of the higher fees paid by their families. A senior doctor teaching at a private medical college in Karachi disclosed that students sometimes video record lectures for their absent colleagues who can later view them at their leisure. "It seems at times that we are not teaching students but acting on television," he says with distaste.
Opening a private medical college is not as simple as it might appear. According to PMDC rules, "every individual/institution intending to establish a medical/dental college must apply for an inspection to the PMDC prior to advertisement for applications of admissions in first year class. The advertisement can only be issued after the NOC is obtained from PMDC. NOC will only be issued after going through the complete feasability report and first inspection."
However, the prospect of lucrative returns on their investment has prompted several individuals to ignore this stipulation. Recently, Sukkur Medical College was issued a warning by the regulatory body after it took out a one-page newspaper advertisement without the required NOC, and despite the fact that it had no infrastructure and no faculty on its payroll.
Says Dr. Sohail Hashmi, secretary PMDC, "Even after the initial inspection, we monitor colleges on an annual basis, and also conduct surprise visits if we learn of shortcomings such as a shortage of staff, which is very common. Each professor costs a college at least 50, 000 rupees so even if they have six professors less, they save 300,000 rupees ."
At one college, the PMDC's inspection team noted that the professor of physiology had joined the faculty on an unofficial basis and was not engaged in an active teaching schedule. He "was not even familiar with the location of the laboratories or time tables etc…." Another professor at this college was actually an employee of the Chandka Medical College in Hyderabad, and he availed "occasional short/long leave" to work there.
A visit to another college revealed that the laboratory technicians employed there were only Intermediate-qualified. The report also pointed out that no government facility was available for teaching autopsies to students and that autopsies were taught through videos.
The attached teaching hospital of a college in Karachi had only one medical officer as support staff, its labour room had no resuscitation facilities for the mother and baby, and — just as well, perhaps — there were no gynae or obstetrics patients in the wards and the outpatient departments.
A professor at one of Lahore's oldest private medical colleges decried the sub-standard faculty at his institution. He said that although least one professor of BPS-20 is needed to head his department, only assistant or associate professors are serving on those posts while most of the faculty is comprised of retired professors or inexperienced doctors.
If a provisionally recognised college is found to be taking insufficient measures to address its deficiencies, it can be suspended with a charge-sheet listing its shortcomings, after which the central government can withdraw its recognition. However, despite repeated warnings and notices issued in the press by the PMDC, no medical college has yet been subjected to this ignominy. This may well be because most private medical colleges are owned by doctors, wealthy businessmen, politicians and civil/military bureaucrats, who maintain close ties with government quarters in order to ward off any punitive action.
Some owners are members of the PMDC itself, a conflict of interest if there ever was one. Dr. Baquer Askari, who owns the Fatima Jinnah Dental College Hospital, is a case in point. The college is located above a shabby row of shops selling poultry and second-hand electrical items in Karachi's lower middle-class locality of Azam Basti. Its main entrance is located in the side street where the hospital — a large, grimy hall with several dental chairs arranged in uniform rows — occupies one floor while the floors above house the dental college. During one admission period, a few years after the college first opened — in a basement — 100 students were admitted although the sanctioned strength is only 50. A subsequent High Court order instructing Dr. Askari to reduce the number of students and refund the fees from excess admissions was ignored.
In the Punjab, the boards of governors of private medical colleges also include the names of ex-military and civil bureaucrats influential enough to secure affiliation with the recently established University of Health Sciences (UHS). According to a UHS notification, all public and private sector medical colleges apart from King Edward Medical College and Fatima Jinnah Medical College that were exempted by a presidential order, must be affilitated with it.
The tenure of the previous secretary of the PMDC, Ehteramul Haq, was an extremely prolific period for the setting up of private medical colleges. "In his time, there was a private medical college opening every two three months," says Dr. Sohail Hashmi. "In the past three years, since I've taken up the post, no new medical college has opened in the country, apart from the PAF Medical College in Wah whose owners went about it in the correct manner, putting the infrastructure in place and advertising for students after the PMDC inspection committee had done its job."
"Ehteramul Haq was not a doctor, but a bureaucrat, and a tout of Zia, Nawaz Sharif and Asif Zardari," says Dr. Sher Shah Syed, associate professor of obstetrics and gynaecology at DMC. "It is well-known that he used to demand 500,000 rupees in return for recognising private colleges and that the owners of some institutions even went so far as to supply him with women in return for his cooperation."
While Dr. Hashmi refuses to concur with this version of events, he does disclose that, "Ehteramul Haq worked independently and kept the files of private colleges to himself instead of sharing their contents with the rest of the PMDC. Obviously he did take money — why else would he be under investigation by NAB and have offered to plea bargain for 60.5 million rupees?"
Several hole-in-the-wall medical institutions have also been closed down in the past few years such as Fahd, Ibn Sina, Bhutta and Vohra medical colleges. The latter was perhaps the most notorious of these. Located in a few rented rooms in Karachi's Shaheed-i-Millat area and unaffiliated with any hospital, the college was closed down when complaints about it appeared in the newspapers. The passport of its owner, Dr. Vohra, was confiscated. However, an enquiry into its workings, set up under the chairmanship of the then DMC principal, Dr. Ilahi Bux Soomro, was quietly allowed to lapse. Incidentally, Dr. Soomro himself is today under investigation for allegedly misappropriating millions of rupees during his tenure as principal of DMC. Meanwhile, Dr. Vohra was able to retrieve his passport and slip out of the country on the pretext of performing Umra.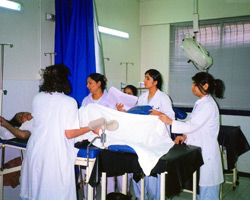 "A 45-minute speech in return for salary," is how lackadaisical teachers describe their classes in government medical colleges. Some do not even bother to turn up. According to a member of the faculty, one such "ghost professor" arrives at 2 pm and remains in college for only 20 minutes. "His name has never even been on the department schedule" he says.
For their part, students, by and large, seem equally unmotivated, and uninformed. In a class of almost 30 post-graduates at the Civil Hospital, only two were familiar with the term 'cloning', a medical procedure making headlines across the world. Several described their typical day after returning home from college at 2.30 pm in the following words: "We say our prayers, play computer games, drink tea…" A vast majority of them had not bothered to complete their assignments due for submission to the professor.
The fault also lies with the method of teaching generally practiced at most medical colleges. "At the AKU," says Dr. Sher Shah, "and even at Ziauddin College to an extent, the emphasis is on problem-based learning, and both teachers and students are compelled to do research for each class." Efforts to introduce such a system across the board through community oriented medicine have so far met with resistance from the bureaucracy as well as faculty members themselves (see interview with Dr. D.S. Akram).
When their professor is out of earshot, however, a group of third year students puts the blame for declining standards squarely on their teachers. "For the clinical classes, looking for a teacher is like searching for someone in a blind alley," says one. "Our pathology professor is excellent and students go out of their way to attend his lectures. There is standing room only in his class, so it depends on the teacher to motivate the students," says another.
Dr. Sarwar Siddiqui, associate professor of neurology at DMC, taught for some time at the Royal London Medical College. "Over there, the number of undergraduates in a class is 60; here it is 250. How can the students possibly learn anything?" he asks. "Moreover, teachers at government medical colleges, almost without exception, work only part-time from 8.30 to 2pm. Our remuneration is so small that you can't make ends meet without a private practice."
Faculty members at DMC are paid between 15,000 to 24,000 rupees a month compared to about 100,000 at private colleges. However, most doctors maintain that this has not necessarily translated into a brain-drain with most professors seeking teaching posts in private medical colleges. "There is a lack of job security in private colleges," says a faculty member. "That's why many opt for a government job supplemented by private practice."
Not to mention giving private tuitions to their students. At a hefty 5000 rupees per subject, this previously unheard of practice places an extra burden on students who fork out the money in return for being ensured passing marks by their teacher.
This is particularly true of the basic sciences — anatomy, biochemistry, pathology, physiology and pharmacology-which are part of the curriculum for the first two years of the five-year MBBS course and the four-year Bachelor of Dental Sciences (BDS) course. Almost without exception, the strength of the faculty for these subjects is lower than that recommended by the PMDC. "There is no attraction in basic subjects because there is no prospect of promotion as there are not enough seats," says a basic science teacher. "Moreover, it is clear that the professors for these subjects are held in very low regard. For instance, officers belonging to grade 20 and above are entitled to a peon and a phone at the office, but these facilities are only granted to the faculty for clinical subjects."
In a letter to the secretary health, faculty members of DMC pointed out that the strength of the teaching staff in clinical subjects is more than four times that in basic subjects. "The PMDC is supposed to carry out annual inspections of all medical colleges, but they are only regular with private institutions," says an associate professor in the basic sciences. "DMC hasn't been inspected since 10 years."
The rot in the country's state-subsidised medical education first set in during the 1970s when Zulfikar Ali Bhutto embarked on a programme of expanding medical education — opening colleges such as SMC in Karachi, Chandka in Larkana and People's Medical College in Nawabshah — without sufficient resources or infrastructure to ensure quality. The seats in the existing medical colleges in Sindh (DMC in Karachi and LMC in Jamshoro) were also substantially increased from 160 to 325 between 1972 and 1973.
Moreover, Bhutto introduced the chief minister's quota, solely for its potential as a political bribe. The deterioration in the calibre of students was an inevitable corollary. Jam Sadiq, erstwhile chief minister of the province, once sent an intermediate arts student for admission to DMC. In response to protests over the student's unsuitability for medical studies, he is reported to have said, "He's Inter pass, not Inter fail, is he?"
The chief minister's quota, which was abolished by the military government of President Musharraf, varied from college to college: at DMC for instance, it stood at five. However, the actual number of undeserving offspring of feudals and their cronies accommodated on this quota — some of whom had scored less than 50 per cent in their intermediate exams — far exceeded the total stipulated number for Sindh, which was no more than 20.
During his three-month tenure as caretaker chief minister of Sindh in 1996, Mumtaz Bhutto, allegedly admitted an incredible 400 students in Dow when the total number of its seats was 210. At the Liaquat University of Medical and Health Sciences (LUMHS), he was said to have admitted more than 500. Dozens more were reported to have been admitted to other medical colleges in Sindh. "He knew he was in power for a short time only and he accommodated his party cadres by giving them medical seats," says a source. "Some of these seats were sold by his party activists for 10,000 rupees. The idea was to make as much money as possible within a brief period."
It is scarcely surprising then that in public sector medical colleges, many students are involved in activities reminiscent of street gangs running amok. A doctor who graduated from SMC several years ago remembers, "When student unions were on their recruitment drive, there were frequent free-for-all fights within the college with firearms, knives and axes. It was as if the fate of Islam and communism had to be decided one way or the other by the time we became doctors."
An official ban on union activity since then has made little difference. Some time back, a group of students belonging to one of the unions, the Sindhi Medicos Association (SMA), cornered a Sri Lankan student at DMC and demanded he pay them 10,000 rupees as bhatta. Threatening him with a knife, they added menacingly that, if necessary, he should sell one of his kidneys to raise the money. The hapless young man sold his mobile phone and surrendered the proceeds to them.
One of the most notorious thugs on the DMC campus until recently was a member of the All Pakistan Muttahida Students Organisation (APMSO) named Zaidi who, while still at college, had bought a brand new Honda from his ill-gotten gains through extortion.
Student hostels are described by some faculty members as dens of crime where all manner of nefarious activities thrive. "Some students are even involved in drug-running and pimping in the hostels," says Dr. Sher Shah. Another professor concurs, adding, "There is a tacit understanding between such students and the college administration which likes to avoid any confrontation. Raids aren't conducted on the hostels unless a government functionary or the principal is attacked."
In fact, the administration goes out of its way to treat potential trouble-makers with kid gloves. "For organising something as simple as a film- screening, they will give the SMA a couple of lakh rupees from the so-called entertainment fund, just in order to keep them quiet," says a professor at DMC.
Another cites the example of Chandka Medical College in Larkana where, for leisure trips outside the city, students are provided an ambulance from the attached hospital.
The influence enjoyed by students with political connections can be gauged from the fact that a few weeks ago, a leave application by a peon was submitted to the DMC principal with a recommendation from a member of the SMA. The application was entertained by the administration.
While in interior Sindh the scions of pirs and feudal families throw their weight around, in Karachi it is the student wings of political parties that intimidate teachers.
Their strong-arm tactics are particularly evident at the time of examinations when they demand that professors leak the exam papers beforehand. At times, they brazenly give them the names of the students they want passed in the exams. Says one professor wryly, "Although the attendance is only 25 per cent in most of the classes, 85 per cent of the students pass." According to him, some teachers who refuse to oblige have even had their vehicles stolen.
During examinations, students not only cheat openly, they demand that invigilators help them find the answers to different questions in their notes. Says Dr. Sher Shah, "As an invigilator, I have been beaten up three times because I refused to allow cheating during examinations." According to an assistant professor at Dow, in an unprecedented move, students taking an annual exam were asked to go home and return in the evening with their answer sheets, which were all accepted.
Some time back, in an apparent attempt to destroy office records, the office of an obstetrics professor at DMC was set on fire. Dr. D.S. Akram, head of the department of paediatrics at DMC, recalls an instance when she was threatened by a group of students who broke down her door.
Some prefer the more low-key method of bribery. A confessional letter to the principal of DMC by a final year student reads, "I paid a sum of Rs. 50,000 to a doctor in the … department to find out about Paper 2 and I found out. I cheated…please give me this one chance. If I did not mean to change myself then I would never have accepted my mistake."
Corrupt faculty members line their pockets in other ways as well. For instance, while the requirement of two external examiners alongside two internal examiners is meant to ensure objective marking, in practice the procedure works very differently. "The two externals, who are paid 20,000 rupees for their job, sign on blank sheets, allowing the internal examiners to manipulate the marks," says a professor at DMC. "As they are chosen by the internal examiners, who forward their names to the college principal for approval, they don't want to offend them lest they are not selected again."
During the past few years, two professors from the anatomy and physiology departments at Dow have been dismissed from service for taking money in return for awarding students pass marks. Similarly, at the Sindh Medical College (SMC), the Professor of Anatomy, Dr. Zia Iqbal, got the sack for his role in an admissions racket in which he pushed through fake marksheets and other forged documents — favours for which he reportedly earned between 200,000 and 500,000 rupees per student. It is believed that he also minted money by taking bribes from Arab students in return for giving them passing marks in his subject. Says Dr. Tipu Sultan, chairman of admissions for DMC and SMC and anaesthesiology professor at DOW, "The admissions racket was in operation for over a decade with the help of the students mafia in SMC. About 30 to 40 so-called students, mainly from Swat, had availed of it. Many of them even graduated and have gone into medical practice."
Following an enquiry by three independent teams — that of the chief minister, the federal government and the Karachi University — the Pakistan Medical Association (PMA) struck his name off its list of members. However, although Dr. Zia Iqbal can no longer work on the faculty of a medical college, he continues to run his private practice.
Admissions under the self-finance scheme are another avenue for embezzlement. Aside from merit seats and quota reservations for disabled students and those from Azad Kashmir and FATA, there are a number of places in government medical colleges for 'self-finance' students — foreign students, children of overseas Pakistanis and local students who are unable to make it to the merit list. While students admitted on merit seats pay fees averaging about 7000 rupees per year, those admitted under the self-finance scheme have to pay far more. According to the most recent prospectus for government medical institutions in Sindh, foreign students at DMC and SMC are charged 7500 dollars per year (5000 dollars at other government medical colleges), children of overseas Pakistanis pay 5000 dollars annually and local students 175,000 rupees a year.
In 2003, the number of students admitted to state-owned medical colleges in Sindh under the self-finance scheme totalled 169. Assuming that the number of self-financed students was the same in each of the remaining batches, the income of public medical institutions in Sindh last year through the self-finance scheme was a whopping 15 crore rupees. Dr. Tipu Sultan who recently resigned after a short tenure as the principal of DMC, says, "Even at present, there are between 80 to 90 million rupees, plus about 300,000 dollars, in the DMC account."
According to the standard operating procedure laid down about seven years ago, each college must invest the total amount of income in dollars from the self-finance scheme and 50 per cent of the total in rupees in fixed deposits.
From the remaining amount in rupees, 40 per cent is allocated to improving the teaching facilities in the attached hospitals, nine per cent to the colleges and the remaining one per cent to the ministry of health. Each college is required to hire a firm of chartered accountants that, in consultation with a committee comprising the college principal, the vice-president, one teacher from the basic sciences and another from the clinical subjects, monitors the spending of the funds meant for the college and the teaching hospital.
"Before this procedure," maintains Dr. Tipu Sultan, "there was absolutely no accountability of these funds; no one knew where they were spent. And even until recently, the requirement of having chartered accountants to oversee the expenditure was not being followed. I was the first to appoint a firm of chartered accountants — Urooj and Co. — to perform this function."
During his tenure as principal, Dr. Tipu Sultan maintains that he ensured that finances were allocated as stipulated. "From the amount earmarked for teaching hospitals, which came to 7.7 million rupees, each unit at the Civil Hospital — to which DMC is affiliated — was given 219,000 rupees to improve teaching facilities," he says.
"Personally, I've never even seen five rupees spent on my department," maintains a professor of anatomy at a government medical college. "However, for the library, books apparently costing 100 dollars each are purchased, adding up to a total of several hundred thousand rupees, but you can buy the same books for a fraction of the price in Urdu bazaar."
Another faculty member points out that the college transport division has an allocation of four million rupees, "far in excess of the required amount."
From the installation of tiles on the DMC boundary wall that cost 50,000 rupees but was billed at six times the amount, to a controversial squash court with a Canadian wood floor and American glass frontage at the same college that ostensibly added up to a total of 10 million rupees, there is no dearth of allegations that massive amounts have been misappropriated from the self-finance scheme funds over the years. The finger of blame has been directed mainly at the principals of the medical colleges, at whose discretion these funds had been placed.
The construction of the squash court at DMC, for instance, was part of a wide-ranging renovation programme undertaken by the then principal, Ilahi Bux Soomro, who is at present under investigation for having allegedly misappropriated millions of rupees during his tenure.
Interestingly, while Dr. Soomro is under investigation, the principal of another major government college in Karachi has evaded accountability even though he admitted around a dozen more students than allowed for his institution under the self-finance scheme. He had agreed to admit the offspring of at least three senior army officials to the college under the scheme and asked them to put down their request in writing. This proved to be his insurance against prosecution: an inquiry instituted against him by NAB was dropped when the letters came to light and it was clear that any inquiry would drag the army officials' names into public view.
The culture of graft and corruption in medical colleges, say some observers, is the outcome, in large part, of the fact that the principals spend many years in the same post and are thus able to form lobbies that assist them in running the colleges like personal fiefdoms.
Although a health department notification clearly states that the principal and vice president of a medical college are to be appointed on a three-year tenure, this rule is regularly flouted with impunity. "The principal's tenure is unlimited," says an associate professor caustically. "In fact, Dr. Irshad Moriani, who was the principal of LUMHS for about eight years until his retirement, greased the right palms in the health department and was appointed principal again, this time at the SMC."
It is an open secret that the health department is staffed with individuals accustomed to a slice of the pie in the financial transactions of government medical colleges. The office also controls the colleges' administration and runs the affiliated teaching hospitals. When Ashiq Memon was health secretary, his section officer was heard saying, "when a file is forwarded to Memon, it goes to jail and can be taken out only after 'bail'." Memon is currently under investigation by NAB for alleged misappropriation of funds.
Attempts to bring about change can be downright dangerous. About five years ago, Dr. Shafi Qureshi, health secretary and professor of medicine at Dow was shot and paralysed in a murderous attack after he attempted to control corruption in the health department. He subsequently relocated to London.
With DMC and Liaquat Medical College upgraded to the status of universities however (Dow University of Health Sciences and Liaquat University of Medical and Health Sciences respectively), their principals have been designated vice-chancellors and, rather than the health secretary, they fall within the purview of the governor who serves as the chancellor of all the universities in the province.
Sidelining the health department by making public medical colleges autonomous may be the most effective means to address the problems of institutions. Says a professor, "It's the only way to ensure that the health department does not meddle in the colleges' business."
In recent years, there are some indications that there is an attempt on the part of the PMDC to address the declining standards in medical education. According to Dr. Riffat Ansari, vice-secretary PMDC, "Rules concerning private medical colleges are being implemented more judiciously." At the same time, following an earlier decision by the council, medical seats at government medical colleges, that had risen to over 500 in some cases, are being reduced each year with the objective of restricting them to below 250.
However, the problems in the medical education sector run far deeper than such measures can address. A ruthless, far-reaching overhaul of the system, addressing criteria for selection, methods of teaching and examination, is required. Judging by the experience of a DMC professor, who says it took the PMDC three months to change the incorrect specification of his subject in the official records, even if such a review is undertaken, the wheels of change will grind very, very slowly.
Next