"The team which handles the pressure best will carry the day"

– Imran Khan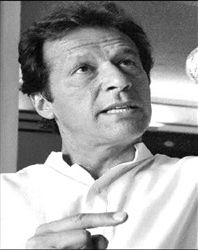 Q: What will Pakistan have to watch out for in the upcoming series?
A: Cricket is a pressure game, and when it comes to an India-Pakistan match the pressure is doubled. The team which handles the pressure best, carries the day. For example, we were a very good side when we toured India in 1979-80 but we lost just because we were unable to handle the pressure. Then, in 1987, we were a weaker side, on paper, but we managed to beat India at Bangalore simply because we proved to be mentally tougher.
At that time India had some good batsmen and spinners and there were home umpires, but against all odds we won the series. So, for me a pressure-cooker series like this one can be won by cool handling of mental pressure. How the power of the mind can make a weak team stronger has been proved in cricket on numerous occasions, and how a strong team flops because of being defensive was evident in Pakistan's performance in the 2003 World Cup.
Q: Do you think the Pakistani team can handle the pressure and beat the Indian side after their victorious Australian tour?
A: No doubt, India is on a high after squaring a Test series in Australia because their batting clicked, but remember the fact that the Australian bowling attack was not even at half-strength. Jason Gillespie and Brett Lee were not fully fit, Glenn McGrath was out and there was no Shane Warne. Being stronger on paper doesn't mean India can win the series because they are up against an attack comprising Shoaib Akhtar and Mohammad Sami and both will test the Indian batting. To me, Shoaib is the most lethal bowler in modern-day cricket, and if he is fit and Sami is in form, then India will have trouble in the Test matches.
Q: Who has the edge in the Test and one-day series?
A: Overall, India has the edge, but bowlers win Tests and Pakistan has better bowlers. It would be a huge test of Inzamam's captaincy skills and how he handles his bowlers. We won the World Cup in 1992 with only three frontline bowlers: Wasim Akram, Aqib Javed and Mushtaq Ahmed. So it would depend on how Inzamam uses Shoaib and Sami. If Shoaib and Sami are in top form, Pakistan can beat India in the Tests. In the one-day games, batsmen win matches, and India has the edge in that department.
Q: Does Pakistan need a specific strategy to not only contain the Indian batting powerhouse, but also to get them out quickly?
A: Yes, cricket has changed a lot. It is more scientific and you need more planning. Why are the Australians the best side in the world? Because they plan things accordingly. They have the best system and for every series they plan according to the strengths and weaknesses of their opponents. In the same way Pakistan needs to do some serious planning against Tendulkar, Dravid and Laxman. These three batsmen are the key to India's big scores in the Tests. Ganguly and Sehwag are stroke players so they would be more dangerous in limited-over matches.
Q: Will this revival of Indo-Pak cricket continue, or do you feel it is just a one-off event?
A: I think it's a positive move from India to revive cricket because cricket can help in the peace process. If core issues like Kashmir are addressed properly, Pakistan and India can move towards normalisation of relations. The future of Indo-Pak cricket will depend on how the peace process goes.
Next