Interview: Asfandyar Wali Khan
"Allowing someone else to use your land has its implications"
– Asfandyar Wali Khan, President, Awami National Party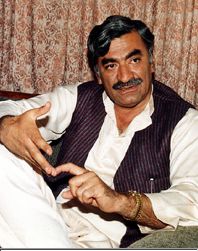 Q: What is your reaction to the government's operation in the South Waziristan Agency and the recent killing of 12 tribesmen by army personnel in Wana?
A: Al-Qaeda is not a product of Pukhtoon society. It's a foreign element. What is strange about this operation is that those who offered shelter have been arrested, and those who took refuge remain elusive. We will have to see who is responsible for bringing them here. They come from countries ranging from Morocco to Indonesia. Who harboured them for so long? All this must have certain consequences.
Allowing someone else to use your land has its implications. You must face its political and geographical consequences.
Q: Did Pakistan have any options?
A: When you brought these aliens here and looked after them for so long, you closed your options.
Q: Don't you think the United States would have intervened had Pakistan decided not to carry out the operations?
A: You have to look at the root cause of all this mess. They brought aliens here. They organised them. They offered them refuge. Now they are reaping what they have sown.
Q: Do you mean Pakistan had a role in the making of Al-Qaeda and the Taliban?
A: Even Pakistan doesn't deny the role that it has played.
Q: The federally administered tribal areas (FATA) have a special constitutional status. Pakistan's ordinary laws are not applicable there. Has this aggravated the situation in the tribal areas, particularly in South Waziristan Agency?
A: All the Al-Qaeda leaders have been apprehended from Faisalabad and Karachi. The whole region has been affected. This is not about the tribal areas alone.
Next