Dramas have always been the forte of Pakistani television with their target audience generally being women. And the good news is that amongst the bevy of buxom beauties, there have been strong-willed female characters that have made their mark on the television screen. Haseena Moeen's Shehzori comes to mind, where the female lead played by Nilofer Aleem first cast the die for Haseena's trademark characters: lively, emancipated women who knew their mind, were not short on grey matter but also knew how to have fun. Thus television played an instrumental part in denting the traditional, stereotypical home-and-kitchen-based image of women. The taboos have gradually eroded since then and where once short kameezes and flared pants raised eyebrows, working women portrayed on the television screen inspired Pakistani women to think beyond their domesticity. The going has been slow with many slips in-between, but generally the biggest hits of television have revolved around female-centred themes, where women have been portrayed as assertive, independent, outgoing and not merely as pretty puppets.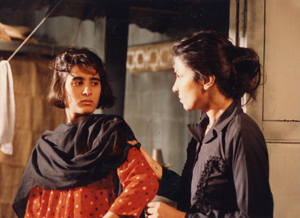 Sahira Kazmi's Zebunnisa was probably the first Pakistani serial where a female victim of domestic violence chose to break the shackles of an abusive marriage to embrace a life of dignity as a single woman. The message was clear and well received by a very receptive audience: a woman does not need a man to survive. Over the years, issues once considered taboo have gradually made it to the small screen and into the drawing rooms of homes that hitherto swept many topics of societal importance under the carpet.
With the advent of private local channels, the scenario has altered by leaps and bounds. With a marked number of women involved in these mushrooming private channels at different levels, many issues vital to female emotions have recently broken unexplored ground on the television screen. A realistic side of marriage that is more grey than the stark black and white is repeatedly being focused upon, many times with extremely sensitive and mature angles.
The work of Sultana Siddiqui's Moomal Productions and Hum TV is clearly a forerunner in this regard. Delving into the female psyche, a number of recent productions from the banner have been highly appreciated, both critically and amongst the masses, for their modern take on very traditional issues. Penned by and starring Bushra Ansari, Kuch Dil Ne Kaha, telecast on Geo, was the story of a middle-aged woman in an unloved and subsequently unfulfilling marriage. Bushra's character, while on holiday, meets a stranger who becomes a special friend. Before the relationship can develop further, the holiday ends and the two go their separate ways. She returns to her chauvinistic and controlling husband, unaware that he has been having a torrid affair under her very roof in her absence and, that too, with her extremely close confidant and cousin, played by Maria Wasti. In a moment of deep vulnerability, the controlled-to-the-T wife telephones her new friend, only to be confronted by her teenage son who creates a huge furore at home, calling his mother vile and immoral. "I have been receiving endless compliments for that serial from all over the world, to this day," recalls Bushra. "Women have come up to me crying; wanting to hug and kiss me — I guess, simply to show their empathy and deep feeling for the character. I guess it touched a deep chord in many, even though it was just the simple story of a dominating husband who was perpetually disgruntled by his doting wife. I have not even touched 40% of the filth and repulsion of this relationship and only dealt with some issues of the human psyche that I could have, within the frame of the story. In fact, I want to bring it on record that the main male lead — Javed Sheikh's character — has inappropriately been perceived as negative. I only wanted to show that people are just different from each other, not bad. Sometimes, other people bring out the bad in them, that's all."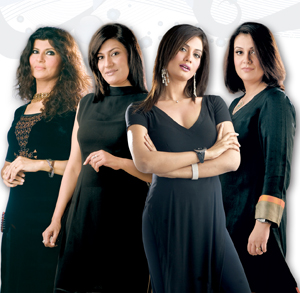 The story of a young woman who is given the choice by her ambitious husband to either abort their first pregnancy or leave what she, till then, perceives to be a perfect marriage, Meray Paas Paas was written by Sameera Fazal and directed by Misbah Khalid. The story touched upon many pertinent issues: single parenthood, male-female friendship, as well as the emotional and social issues involved in the remarriage of a young divorcee with a child. "In my view, Meray Paas Paas was instrumental in altering the way relationships on Pakistani televison are looked at," says Nadia Jameel.
Relaxed censorship policies have lifted many a veil and stories of prostitutes and eunuchs have become hot favourites of production houses. "This can be perceived as an attempt at sensationalism but among the superficial attention grabbers, a sensitising towards a section of the society that has always been treated as outcasts, is taking place at a subliminal level," asserts Rubina Ashraf. Infidelity in marriage and other stories revolving around women are also being viewed with great public interest. In Manay Na Yeh Dil, Ayesha Khan's character of Roshni has generated strong viewer sentiments, with people coming up to the young actress and voicing great resentment over the character cheating on her husband. Khamoshiyan, which was shown right after Manay Na Yeh Dil, cast Ayesha in a role as Nauman Aijaz's obsessive lover. Ayesha feels that after these serials her girl-next-door image came in for considerable flak. "But I guess that is what constitutes good acting, isn't it?" she says with a laugh. What is noteworthy in all these serials is that there has been a conscious effort to break the image of the macho male, always portrayed as the one in control. Nauman Aijaz's characters in Jhumka Jaan as well as Khamoshiyan are two cases in point where the men didn't get away with the audience's sympathies. In fact, the weak, spineless, poor-me attitude was severely criticised rather than empathised with. On the other hand, highly appreciated has been Sonia Rehman's characterisation in Mehreen Jabbar's Doraha, telecast recently on Geo. In a telling scene, she pronounces to her first husband who could not stand up to the pressure of his family and divorced her in a fit of emotion: "I didn't expect anything from them, it was you I had pinned my hopes upon." And so, women are finding a voice for themselves and identifying with realistically dramatised situations that strike a chord in many of them.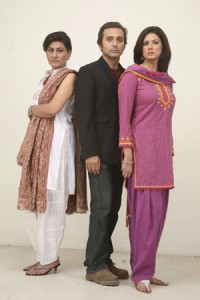 "Traditionally, the media world has been male-dominated, globally as well as nationally," emphasises Tasneem Ahmar, director, Uks-Research, Resource and Publication Centre on Women and Media. "Men design and define media policies, priorities and agenda, including how women are portrayed and presented. The ratio of male to female workers in the media is heavily imbalanced in favour of men. It is no wonder, then, that the media is biased against women in many areas. This bias affects images of women in the media, and, in turn, has a negative effect on women's development in a society." Tasneem complains that the intellectual capabilities of women get little mention in the local media. "Their abilities as equal partners in development are lost between cooking oils and fairness creams. This is a dangerous trend especially because the clientele are across the board. All women, be they lower, middle or upper class, are subtly being brainwashed to make physical beauty their top priority. The media in Pakistan has no problems when exposing the physical and sexual features of women but is reluctant to bring forward issues of HIV/AIDS, sexual harassment, sex, flesh trade and trafficking on the pretext of obscenity. This is regardless of the fact that each one of these issues is directly linked with poverty, women's inferior position in society and denial of basic human rights," says Tasneem.
Atiqa Odho, who also heads the United Producers Association, believes it is very important to get the right message across to viewers. "Responsibility has to be an integral part of what we make as production houses and I hope we are able to achieve that target. In a country where people read and write so little but watch a lot of television, the electronic media carries a huge responsibility. I have always very deliberately selected very strong women as my characters because I want my work to have a very inspirational element for women. I didn't want to send across the wrong message. I think women on television have the ability to really motivate and get women to do something with their lives. I think that is where our job really starts."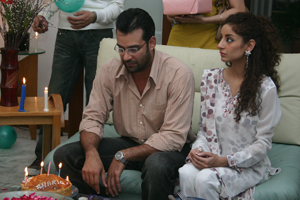 Atiqa has recently done a sitcom revolving around her real life persona and, in fact, most senior television actresses have successfully managed to break the traditional 'boy-girl in their 20s as the main lead' mould. In fact, if anything, in serials likeMiley Kuch Youn on ARY, with Saba Pervaiz as the main lead involved with a much younger Faisal Rehman, they have clearly overshadowed the younger lot easily. In this aspect, TV One's Band Khirkiyun Ke Peechay, that is tracking the story of the lives of four upper-class elitist women caught in the confusions and turmoil of sexuality, emotionality and domesticity also deserves mention. "The main idea was to show that everybody, irrespective of class or background, has problems and no matter how glossy lives appear, most are mired in problems," explains Arjumand Rahim, who came up with the concept of the serial.
While marriage is being deeply focused on, experimentation with gender roles has led to serials like Qatil by Sarmad Khoosat on Aaj TV, where Sania Saeed played an investigative officer in a governmental crime solving agency. A sharp diversion from the norm, Sania was cast as a gun-toting officer, clad in jeans, heading a murder investigation. There was also the hailed series Pas-e-Aina, with Rubina Ashraf cast as a police officer. These two productions tried to give a new dimension to the careers of women on TV, instead of the oft-repeated portrayal of the woman as a teacher/doctor/secretary/businesswoman.
The issue of monitoring how women are portrayed in the media is a complicated one. It involves bringing about a change in the stereotypical representation of women that reflect a patriarchal mindset. Images of women are deeply rooted in traditional social practices that help the media in constructing these representations. The Pakistani woman has a long way to go and the journey isn't easy by any standards. In Tasneem Ahmar's words: "There is a need to develop alternative (gender-neutral and non-sexist) concepts, approaches and strategies for women's development for use by male and female media personnel to enable them to understand, recognise and acknowledge the multi-dimensional roles played by women in society. Everyone involved must play a part in maintaining a responsive environment in which social responsibilities are acknowledged and a genuine discourse on women-related issues is created."
Next