Photography and styling: Maram and Aabro.
Photography and styling: Maram and Aabro.
Photography and styling: Maram and Aabro.
Photography and styling: Maram and Aabro.
Photography and styling: Maram and Aabro.
Photography and styling: Maram and Aabro.
Photography and styling: Maram and Aabro.
Photography and styling: Maram and Aabro.
Previous
Next
Comparisons? Competition? Contentions?
Maram and Aabro exchange sidelong glances and then shake their heads side to side — in unison. The mutual transaction becomes a circuitous pointer to what can be read as a signature tune …
In a league of their own then? "Oh yes, very, very distant from the market," Aabro is quick to acquiesce but in a tone that spells with equal candor, that they could be either side of the great divide: "Maybe we are far behind, but that's the way we are!" Then, right on cue, Maram picks up the thread, "We focus on creating clean, classic lines, like in a Rembrandt painting, and if that shows in all our work then that's just what we want to show. So that when people look at our work they will immediately stand up and say, 'Why, this is a Maram and Aabro shoot.' No matter what the nature of the shoot: be it bridal, commercial or just plain product photography."
Operating from a purpose-built studio, Lahore's one and only all-woman team of professional photographers runs by strict schedule — a work ethic that will entertain no hangers-on, a discreet silhouette that will not allow for aggressive marketing, a strict, almost puritanical, perusal of end results that have become a signature identity; in this last case of both the person behind and before the camera. It is a definitely merit-based approach at Maram and Aabro's studio salon. Totally devoid of the commercial hype and glamorous clutter associated with big-time players in the field, the Maram and Aabro studio, with its walls plastered in a classic print, spells a dignified, sophisticatedly vocal elegance. To be sure, the basics remain the same as elsewhere — lights, camera, action and the soft music — but the professionals ruling the roost are a duo concentrating simply on the mood of it all; names gearing to resound in second, or third, or fourth generation family and corporate archives, long after the going is done.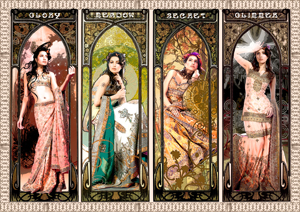 Meanwhile, close by, on a counter, rests the foot-long model of a moulded-in-metal sewing machine, which came with last year's MTV commemoration of being the most chic stylists. Printed in publications as diversely as Libas and Lajja, and twice nominated for the Lux Style Awards (the first time as emerging talent, followed by the best make-up and photography team), Maram and Aabro go small, almost non-committal, by way of displaying professional laurels. "Of course, it is overwhelming to be nominated," says Maram, "but … " Even as the words take shape she is ready for the next assignment; Aabro says, "We are both live wires at work but I admit I am the one who can't hold back saying 'Yummy!' when a result says all that we had wanted it to say. Maram just wants to move on. Being the stylist between the two of us, she has her own quiet work ethics." And the work ethics are always in place for both, even if it means having to talk intelligently to a journalist after the strain of four straight days on location.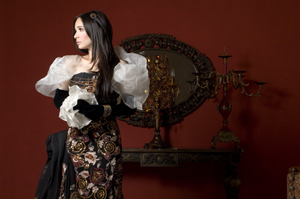 Which does not mean that Maram will not holler out at the top of her lungs for Aabro in the event of misplaced hairpins. So will Aabro, from behind the camera, when a dress needs adjustment. Both Kinnaird graduates, the girls struck up a friendship during the undergraduate years as they clicked away merrily between classes, with many a shoot gone home to roost in future susrals. Those were the mid-nineties when young women would be falling over each other to get their portfolios made and, though there were plenty of professionals around who would restyle you, the economic going was not so easy for that new breed of clients. That was when Maram and Aabro got their break. "Now that we think of it, we got some splendid results even though all we had were hand-me-down cameras from our elder siblings. Mine was a basic Kodak with a built-in lens. No zoom, no lenses. And Maram had this old Olympus," says Aabro. Then, full of rebellious impulse and lightning energy to take on the world, both look back on the Kinnaird years as the essential link that cemented the bond between the camera and the career. Shooting and styling friends, acquaintances, even non-KC-ites, and then becoming a perpetual presence backstage during college functions, the girls made history: they were mentioned alongside the official college photographers in that year's yearbook.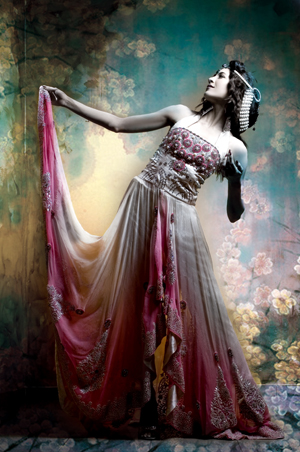 Outside of Kinnaird, it was another world — one overseen by parental restraint and thereby requiring a regular career. So the Punjab University degree in public administration became cause for having been there and done all that, inclusive of a job-hunt in Dubai where they went, each armed with a hundred copies of resumés. Dubai was just waking up to new possibilities. Thrilled to bits after overhearing a couple of 'uncles' discussing this new studio on the lookout for female photographers, the girls jumped into the fray, convinced of a providential placement. Once hired, they spent four exciting years till Maram's father called it a day. "He just handed us this place with carte blanche to dress it up as professionally as we wanted … So here we arrived!"
But the Lahore homecoming was not all sugar and spice. "We are still fighting to break the glass ceiling," says Maram, "but those days were a total come down from the Dubai experience. I mean there we were, with all that international exposure, and here we were constantly being told how new and inexperienced we were and how we should be working for free and all that. The non-professionalism was downright disgusting." With the Kinnaird-boosted-and-related clientele long dissolved into thin air, both girls set out to make a new beginning. Of course there was some putting down of the foot; a step that brought its own dividends when clients began to realise that photography was not just about getting behind the camera and clicking away at will.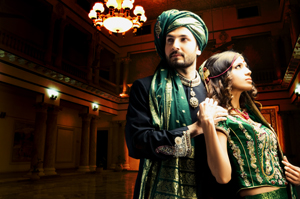 When I style, I want nobody around, because the two most relevant things then are the person I am working on and my own judgment." In a lightning display of the synergy that binds them both as blue-blooded professionals, Aabro seconds Maram's creed: "We both have a common work ideology where the idea is to make the whole exercise a pleasurable one for the client and for ourselves. This salon is not a dukaan; we just offer a luxury experience. Then we prefer to work between the two of us because we understand each other best and there is no need for attendants or helpers." Which simply adds up to a heightened degree of personalised service that has made a mark on the local scene and then "Yes, it helps that we are an all-women team, now that people know we mean business."
With that kind of confidence, Maram and Aabro's dream of The Empire can't be far behind.
Please click on any of these photos below to view more images by Maram and Aabro.
Next