The sprawling lawns of the Karachi Governor House came alive with music, laughter and the chatter of young voices at the recently held Shehr-e-Funn children's festival. Organised by Pursukoon Karachi, the two-day festival saw droves of children from all walks of life flocking here to participate in a variety of creative, educational and, most importantly, fun activities for children.
They came with their families or with their schools, some with picnic lunches, some with money to spend on the few food stalls set up at the venue.  But they all left with a sense of excitement, achievement and wonder. Entry to the festival was free as were all the activities and events held here.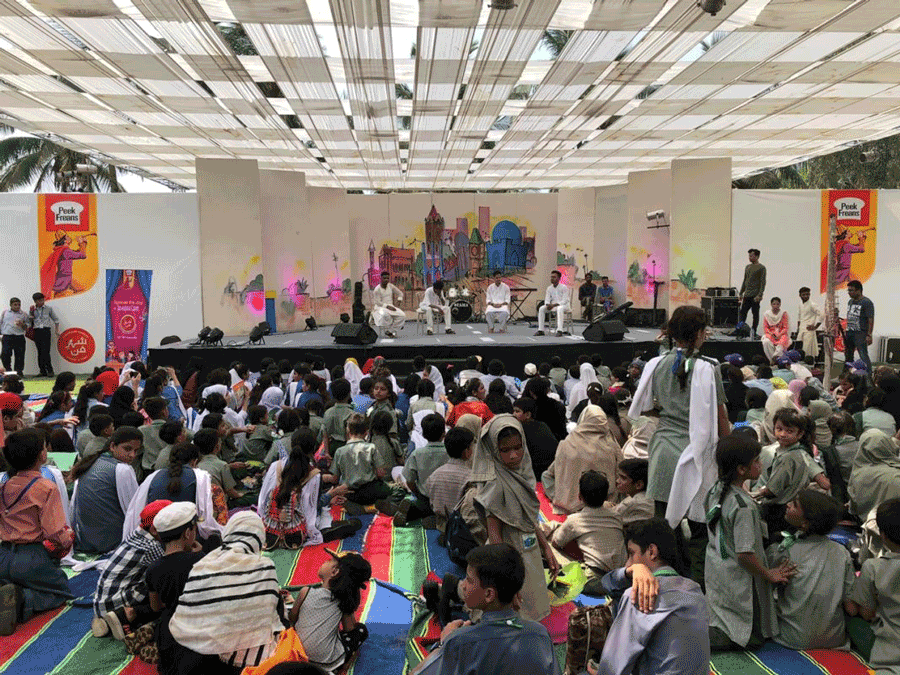 Pursukoon Karachi came into existence in 2013, when the city was in the grip of a series of violent events. "The Abbas Town incident had just taken place," recalls Noorjehan Bilgrami, artist and founder member of Pursukoon Karachi. "And a group of like-minded, artists and writers came together to work through our trauma." The group decided to no longer be silent bystanders, but to  collectively regain ownership of their city by organising public activities and events.
"This year we wanted to do something big which was Shehr-e-Funn," says Noorjehan Bilgrami. It was no small feat organising an open-to-all event in a city like Karachi. But Pursukoon Karachi pulled it off admirably.
From the science pavilion, to the crafts pavilion, from story-telling and songs to puppetry and word games, all the different stations were thronged by eager young visitors. In the science pavilion, the construction site, set up by the Dawood Foundation, deserves special mention. With a working conveyor belt and pulley, wheel-barrows and hard hats, this exhibit was a huge hit with children.
In the crafts pavilion, paper-making, pottery and even sculpture was on offer amongst many other activities. As for story-telling and song, well-loved names like Imrana Maqsood, Zambeel Readings and Khalid Anam were but a few who were drawing the crowds.
The organisers hope to hold the festival every two years. With more sponsors and a little more state support, who knows…this unusual event could well become a regular. 
Zahra Chughtai has worked and written for Pakistan's leading publications including Newsline, the Herald and Dawn. She continues to write freelance.
Next