The auto industry in Pakistan goes from boom to bust.
The auto industry in Pakistan, which is dominated by Japanese manufacturers, enjoyed a boom over the past few years with sales of new cars rising steadily until 2018. But now, amid an overall economic slowdown and new policies of the Pakistan Tehreek-e-Insaf-led federal government aimed at reducing the swelling current account deficit, the sales are falling.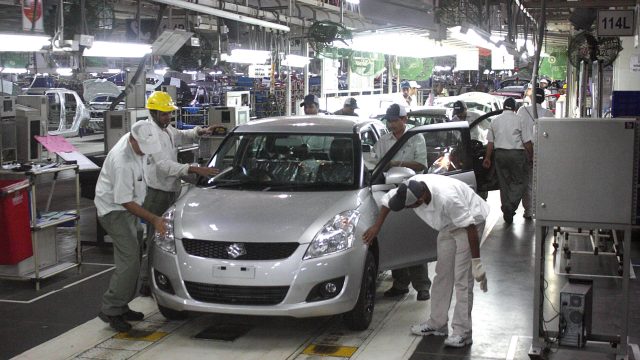 According to the figures of the Pakistan Automotive Manufacturers Association (PAMA), car sales for the first three months of the financial year 2019-20 dropped nearly 40 per cent at 31,017 units from 51,221 sold during the corresponding period last year.
In September, the total car sales reduced to 10,923 units versus 16,957 in the same month last year – a drop of 39 per cent. There was also a 41 and 42 per cent year-on-year decline in July and August respectively.
This is primarily because of a rise in price of new vehicles on account of rupee depreciation against the dollar – from Rs 123 in September 2018 to over Rs 150 now (which means pricier imports of auto parts) – imposition of federal excise duty and higher taxes on non-filers. At the same time, increase in policy rates (from 6.5 per cent to 13.25 per cent in 14 months) have edged up the mark-up rates for car financing – making buyers reluctant to buy new vehicles.
The average price of new vehicles has risen by up to 40 per cent in the last one year, according to Hammad Akram, a research analyst at Topline Securities.

Meanwhile, a hike in prices of consumer items has led to a fall in purchasing power. "Due to inflation, (11.4 per cent in September, according to  the Pakistan Bureau of Statistics), people who would otherwise save for a vehicle are just trying to meet their basic needs," he said.
The slump in car sales, falling demand and higher cost of doing business has forced major auto assemblers, including Toyota, to temporarily halt  production. Car production during July, August and September nosedived by 38 per cent to 36,198 units compared to 58,188 units in the same period last year. Production of Honda City and Civic fell from 12,247 units to 4,551 units whereas Toyota produced 6,684 Corolla units in contrast to 13,280 it assembled in the first quarter of 2018-19. Similarly, total production fell by 52 per cent – from 18,834 units in September 2018 to 9,090 units in September 2019.
The slump in sales and production, meanwhile has led to the dismissal of thousands of workers in the auto sector. While Indus Motors claim there have been no lay-offs, Dawn quoted Mohammad Akram, Chairman Pakistan Association of Automobile Parts and Accessories Manufacturers, as saying that as many as 40,000 daily-wage labourers across Pakistan had been shown the door due to a "steep fall in parts procurement by the car and other auto assemblers."
"The market size is shrinking, disposable income is reducing and car prices have increased astronomically…Honda Civic, which was available for Rs 2.8 million, is now (on sale) for Rs 3.8 million. Why would an ordinary person be spending on cars," said Sohail Ahmed, who heads the Pak Japan Business Forum. "With much reduced disposable income, one's priorities have shifted… he would get his old car repaired, rather than buying a new one."
He said that in addition to devaluation, additional custom duties and sales tax on imported raw material and parts had "pushed the cost through the roof."
Ghazanfar Khan, chief executive Mehran Commercial Enterprises, a company which manufactures automotive parts and accessories, had similar sentiments. "Nothing is going in our favour… we will shut down our plants, what else can we do," he said. "All our pleas are falling on deaf ears."
Declining revenues have led to diving profits and a dip in per share earnings. According to Ahmed Lakhani, Senior Auto Industry Analyst of JS Global Research, while Pak Suzuki Motors has recorded a 35 per cent decline in sales this month, Honda Atlas Cars Pakistan and Indus Motors have so far witnessed massive declines in revenues. "Suzuki is the only company to have witnessed losses so far due to lower profitability margins per car, since its customers are more price-elastic than Honda and Toyota. Hence, if the price of Cultus, for instance, increases even by Rs 25,000, it will most likely have a more meaningful dent on volumes compared to perhaps even a Rs 50,000-75,000 increase in the prices of Corolla or Civic," he said.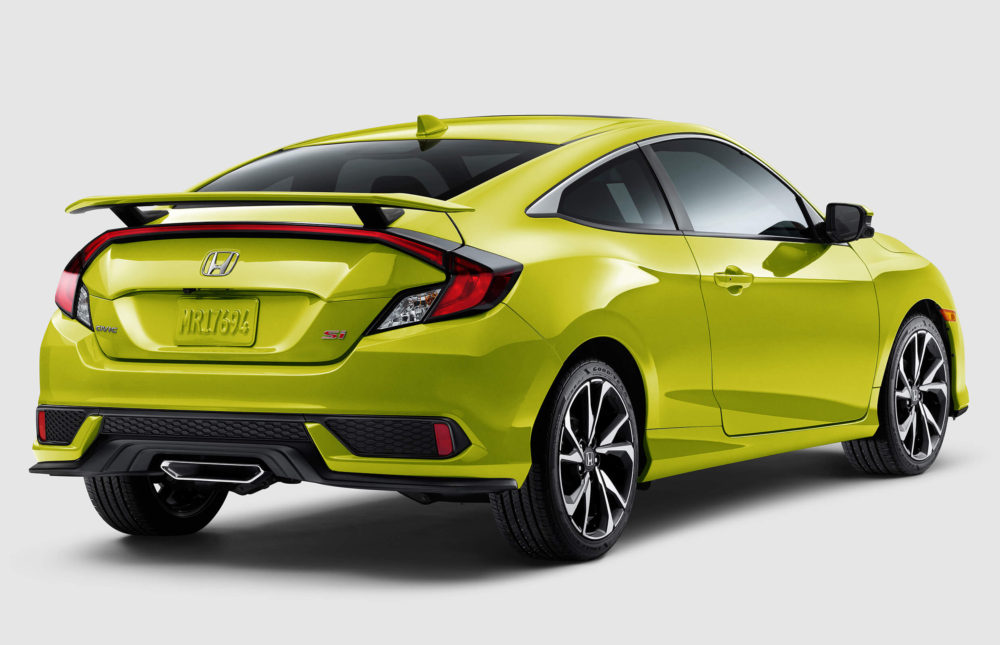 The Auto Policy 2016-21 which had given concessions to new entrants such as reduced customs duty – 10 per cent on non-localised parts and 25 per cent on localised parts (locally manufactured auto parts whose raw material is procured from abroad) as compared to 30 per cent and 45 per cent respectively, for existing investors – attracted new players including Nissan, Isuzu, Volkswagen and Sazgar, among others.
However, the volatile market situation is affecting new entrants as well. Akram said Al-Futtaim of UAE, which has a stake in Al-Ghazi tractors in Pakistan and was setting up an assembly and manufacturing plant in Faisalabad for Renault, has shown reluctance to invest.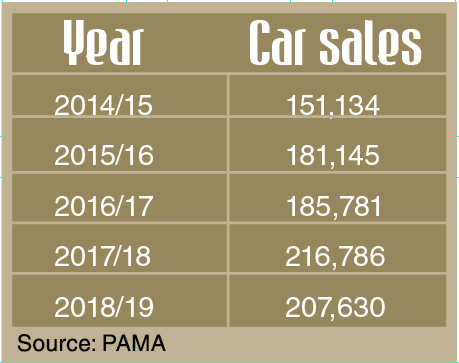 Many are apparently in two minds after new and higher taxes in budget 2019-20 such as the Federal Excise Duty (tax on manufactured goods) on locally-manufactured or assembled cars of different engine capacities, i.e. 2.5 per cent on cars up to 1,000cc, 5 per cent for 1,001cc to 2,000cc, and 7.5 per cent for 2,001cc and above, and 7 per cent Additional Customs Duty on imports.
So far, only a few of the potential new players have started assembly operations. Besides United Motors and the Chinese auto giant Changan, in collaboration with Master Motors, cars have been also launched by Hyundai and KIA. These Korean brands, which had formerly partnered with Dewan Farooque Motors, have now ventured into the market with Nishat and Lucky groups respectively.
"Only Chinese and Korean brands have started operations so far, and I believe the likes of Volkswagen, owing to their higher cost would not find Pakistan an attractive investment destination at the moment," Lakhani told Newsline.
Car manufacturers and those linked to the auto industry have demanded the removal of the additional duties, which were imposed to discourage imports and localisation, to improve the existing situation.
"Steep devaluation itself would have raked in higher duty amounts to the government…the additional levies have worsened the situation. These levies should be withdrawn," said Ahmed, who's been in the auto industry for over four decades. "It will show that the government, while taking measures to increase the number of tax-filers, which is essential, is [also] interested in improving the economy. The automobile industry has vast backward and forward linkages, and because of this Malaysia has classified it among 'manufacturing plus plus.' We also need to identify and nurture such industries."
Indus Motors has also requested the government "to revisit these taxes and duties in order to attain sustainable volumes for the sector."
Almas Hyder, Chairman Synthetic Products Enterprises Limited, suggested localisation as "local components are always less costly, which will bring the costs down."
While the negative trend is not expected to be reversed in the near future, a recent development holds a ray of hope for Hyundai.
The company's marketing manager, Mujtaba Yaqoob, said that despite the concerns, they were moving "according to their plan and timeline," adding that the prime minister's new loan scheme for  youth, 'Kamyab Jawan' had given them a reason to be hopeful for 2020.
"Pickups and vans have a lot of potential in small and medium-sized business activities… Our H-100 Porter (formerly Shehzore) has already been listed with The Bank of Punjab and the National Bank of Pakistan as loans will be disbursed from these lenders," he told Newsline. "We have a Grand Starex in our vans category… and are in touch with new carpooling startups such as Airlift and Swvl… this loan scheme is a glimmer of hope for us."
Next