All eyes were on the Duke and Duchess of Cambridge as they landed in Pakistan on their five-day tour of the country organised by the Foreign and Commonwealth Office. The first royals to visit Pakistan in over two decades, William and Kate won the nation over and remained the talk of the town.
Interestingly, what caught everyone's eye were the Duchess' sartorial choices through the tour. Keeping up with the tradition of wearing local designers on royal tours, Middleton sported various outfits from Pakistani fashion designers. The tour began with a flowing sea-green fusion outfit, closely resembling the South-Asian peshwaz, designed by Catherine Walker. It was a statement look; a loose cut and lowers inspired by eastern garb, but the detailing and style of old western chic. A possible conscientious choice, as no doubt her stylists were warned her arrival would result in the sole focus of her attire and every move by all media outlets in the deeply conservative Pakistan.
Middleton's second outfit of choice for a morning in Islamabad was the creation of ace Pakistani designer Maheen Khan. Donning a bright cobalt blue kurta with straight pants and a dupatta, Middleton looked ever so comfortable in the classic '80s cut outfit.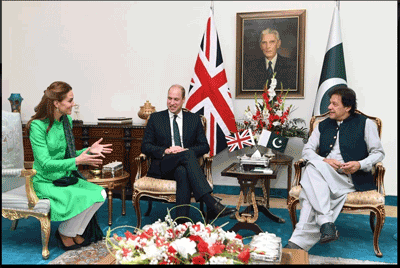 Sporting the colours of the Pakistani flag for her meeting with Prime Minister Imran Khan and President Arif Alvi she wore a jacket by Catherine Walker paired with straight white pants and a printed green dupatta by Bonanza Satrangi. Much like Princess Diana's visit to Pakistan, it was clear she would not be changing her distinctly elegant and minimalist style, merely incorporating eastern influences into it. Kicking off the third day of the royal tour, the Duke and Duchess both received Chitrali hats, an embroidered coat for William, and a shawl for Kate. Donning the traditional garb, both seemed to blend in seamlessly with the fairer-complected natives of Pakistan's north.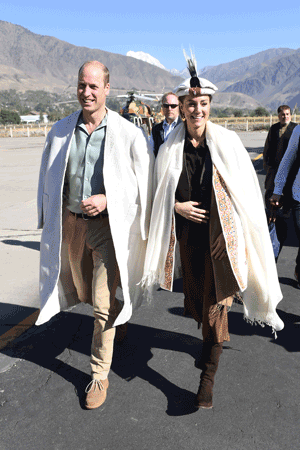 On her visit to the cricket academy in Lahore, Middleton chose a white embroidered kurta by local brand Gul Ahmed. Twitterati applauded her choices, as many related to buying the popular retailer's clothes themselves. Saving the best for last, the duchess wore an embroidered white and black kurta by Elan on her flight from Lahore to Islamabad.
Graceful as always, Middleton pulled off Pakistani fashion with poise and mindfulness — but her fashion choices also sparked a debate on social media: while one section was happy to see the duchess in Pakistani clothes, many took it as an opportunity to police the outfit choices of everyday Pakistani women. In typical patriarchal fashion, the duchess' choices were celebrated by putting local women down and partaking in colonial glorification, stating how they could not pull off the clothes as well [an unwarranted and purely prejudiced claim], or how Middleton had suddenly made dupattas fashionable again. Really? The debate itself raised many questions in social media circles, with people remarking on the nation's colonial hangover and continued obsession with the royals to date. Evidently, fashion is just as political as ever.   
A journalism graduate, Zoha's core areas of interest include human and gender rights issues, alongside which she also writes about gender representation in the media and its impact on society.
Next