Understanding the Humsafar Hype
Just a few weeks ago in January, Fawad Afzal Khan, the dashing hero of Humsafar, was at the Indus Valley School of Art and Architecture to shoot an upcoming television serial. Students were welcome to stay back after classes if they wanted to participate as extras. But nobody anticipated that some of the female students would go to the extent of lying to their parents that the school required them to stay until late evening while they jostled to get themselves photographed with the star.
When the Humsafar cast members were invited as guests to a morning show, callers effusively professed their love for the cast — one mother even wanted a son-in-law like it's hero, Ashar — and the actors revealed that people often come up to them and refer to them by their characters' names. Mahira Khan and Fawad Afzal Khan, in particular, have become TV sensations and many obsess over the outfits worn by Mahira Khan onscreen. Female fans lust after Fawad Afzal Khan — or rather the steely Ashar he portrays in the show — to the extent that a Facebook group was created called 'If a Girl Ditches an Episode of Humsafar To Talk To You Then Marry Her.' People who normally do not watch Pakistani TV serials are now tuning in out of curiosity and enduring a typical episode of the show, even when the heartbreaking scenes cut to a break and audiences are greeted with Mahira Khan and Fawad Afzal Khan in upbeat biscuit commercials.
The official Facebook page for the show has over 141,000 likes and the quotes and photos posted on the wall have individually garnered thousands of likes each. There is also a separate Facebook page called "Ashar and Khirad" and it is not surprising that at the PFDC L'Oreal Bridal Week held in Lahore in December, Mahira Khan and Fawad Afzal Khan were invited to walk down the ramp together.
The Humsafar mania knows no age-limit, as proved by the Youtube video of two six-year-olds arguing with each other about whether Ashar is a good person and if Sara is pretty. It's after a long time that a TV serial has captivated viewers as the PTV plays Ankahi and Dhoop Kinaray once did nearly three decades ago. But what is it about the drama that has made it such a phenomenon?
The story is fairly conventional with its Mills and Boon style theme of love and rejection, and is an adaptation of Farhat Ishtiaq's novel, which was originally serialised in an Urdu digest. Ishtiaq writes primarily for theKhawateen Digest and Shua Digest and many contemporary serials such as Maat, Doraha, Malal, Qurbani Ka Baqra and Hosla Na Hari Mein were derived from these digests.
Although, this is not highbrow Urdu fiction with political or historical overtones, it explores socially relevant themes, especially problems faced by women in Pakistani society. The character of the 'paak' (pure) middle-class heroine, from where Khirad is derived, is repeatedly represented in this genre of popular Urdu fiction. Published in episodic form every month, a deep strand of escapism, perfectionism and idealisation runs through this genre of popular Urdu reading — a similar escapism that the serial itself offers every week to audiences around the world.
And for those unfamiliar with the Urdu digest, the Mills and Boon analogy still holds true. A Night of Living Dangerously, Back in the Lion's Den, A Devilishly Dark Deal, Beauty and the Scarred Hero, Marriage Behind the Façade, An Offer She Can't Refuse, An Indecent Proposition — each title may well be used to describeHumsafar.
In the world of chick flicks, English romance novels, popular Urdu fiction and, of course, Humsafar, a willing suspension of disbelief is the key to enjoyment. The stories are an escape from the humdrum of daily life and recurring tropes are unattainable leading men and tumultuous relationships. Often these male figures are misogynists, who hate women usually due to a bad incident with another woman in the past. Ashar becomes similarly misogynistic after he believes that Khirad cheated on him and embodies the role of the classic Mills and Boon leading man.
Khirad, meanwhile, represents every middle-class girl in the Urdu digest stratosphere. She marries above her station and suffers as a consequence. "Would this happen to me if I was a rich man's daughter," says Khirad to her aunt, describing how she suffers Ashar's disdain while she lives in his house in Karachi where their daughter is receiving medical treatment.
Pathos, too is thrown in, in chunks and dollops, and Khirad's whole persona, particularly in the final episodes — the white chadar, the lack of make-up, hard-done-by expressions — is pathetic enough to endear the viewer to her, as opposed to Sara (Naveen Waqar), whose dark clothes, make-up and expressions are stereotypically symbolic of the 'bad' girl. Employing such black-and-white techniques makes the show simple, not complex or cryptic, therefore, appealing to the average viewer, hence its wide appeal.
Pakistani society can also relate to some of the other characters in the serial: the archetypal mother-in-law who wants her poor daughter-in-law out of her son's life; the mother of the other woman who tries to dissuade her daughter from hankering after a married man, and the ambitious young male who will do anything to get the girl — and the money.
But other serials too boast a similar good-girl, bad-girl dichotomy and plenty of melodrama. So what is it aboutHumsafar that has crazed audiences so?
Part of it may have to do with the fact that while the show addresses and emphasises middle-class values, it has a relatively sophisticated look that elevates it above other dramas on Pakistani television. Sarmad Khoosat has skilfully directed the serial and the show avoids cheap thrills and overtly sensational plotlines. And while the serial has made Fawad Afzal Khan and Mahira Khan widely popular, it could also be said that it is in fact the two stars, with their acting and looks, who have made Humsafar popular. The fact that seasoned thespians such asAtiqa Odho, Hina Bayat and Behroz Sabzwari make up the supporting cast is also a selling point for the show.
Interestingly, in an obvious rejection of archetypes and stereotypes, some of the younger generation — in all its irreverence — has successfully seen through the typical mindsets, rejected conventional romance and subsequently spoofed it.
At Karachi-based improv group The Agency's recent show, comedian Saad Haroon repeatedly advised a young audience member to not marry his phuppo-zaad cousin lest he wants to be as miserable as the central characters of Humsafar.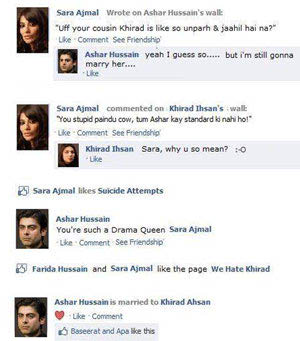 Earlier in December, soon after Imran Khan's Karachi jalsa, a one-panel cartoon surfaced on Facebook which depicted the chairman giving instructions on the telephone that the PTI rally must not be scheduled on the same day as Humsafarsince he could not compete with its popularity.
And on YouTube, Omar Khalid Butt's parody 'Not Another Episode of Humsafar' went viral. Rabia Chaudhry brilliantly captured the jealousy and obsession of Sara Ajmal (originally played by Naveen Waqar) and the cast wittily spoofed how Ashar's name was similar to that of Usher, the famed American singer-songwriter.
Humsafar has permeated popular, everyday discourse and become a phenomenon. And in case you've been living under a rock, a fan of the show has created a fictional Facebook timeline that sums up the story complete with Sara Ajmal liking a "We Hate Khirad" group and Ashar removing Khirad from his friend's list after her alleged affair with Khizar.
A very popular parody of the show:

This article was originally published in the February 2012 issue of Newsline under the headline "Some Like it Hot."
The writer is a former assistant editor at Newsline
Next