Pakistani Journalists Under Siege
Mukarram Khan Atif was a marked man, but he didn't share some of the more serious threats he had received with even his close journalist friends. In fact, he asked the Tribal Union of Journalists (TUJ) not to publicise the names of those journalists that featured on the hit-list of the Tehreek-i-Taliban Pakistan (TTP).
His name, apparently, topped the list and it was, therefore, not surprising that he was the first one to die. It was also the first time that the TTP claimed responsibility for killing a journalist. Always critical of the media for siding with the government, the murderous attack on Mukarram made it obvious that the TTP had declared war on journalists who they believed were pro-US and anti-Taliban.
Mukarram took the TTP threats seriously, though he didn't quit Deewa Radio, the Pashto service of the Voice of America that was launched a few years ago to target Pashtun listeners and explain and promote US policies. He took some preventive steps by shifting his family from his village, Ghazi Kor, in his native Mohmand Agency, where the militants were strong, to Shabqadar in the adjoining Charsadda district. He had hoped this would be a safer place since it had a significant population of fellow Mohmand tribespeople — but it wasn't.
Two hooded killers tracked him down on the evening of January 17 in a mosque that he was building and shot him dead while he was praying. His only sin, if it could be called that, was that he tried to report the happenings in his area in an objective manner and the militants had issues with that.
Forty-five-year-old Mukarram was the twelfth journalist to be killed in the Federally Administered Tribal Areas (FATA) since late 2002, when Pakistan became involved in the Afghan conflict by aligning with the US's war on terror against the Al-Qaeda and the Afghan Taliban for sponsoring the 9/11 attacks. A total of 49 members of the media have died in violence in the country since 2002, and the maximum number have lost their lives in FATA.
Mohib Ali Mohmand, another journalist from the Mohmand tribal region, wasn't on the TTP hit-list but this didn't mean that he was safe. He was seriously wounded in the twin suicide bombings at Ghallanai, headquarters of Mohmand Agency, on December 6, 2010 in which 50 people were killed and over 100 were injured. He has since recovered but scars of that incident, both mental and physical, remain. Worse still, his brother Zia Wali Shah Zia, who worked for a newspaper in Rawalpindi, was killed in the same suicide blast.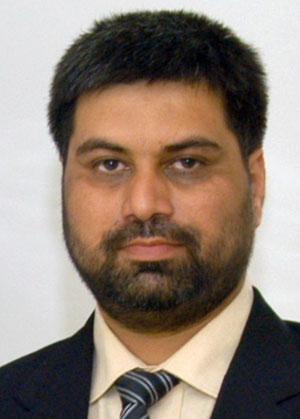 Their families have yet to be compensated by the government, though everyone else, including the families of two other journalists, Pervez Khan and Abdul Wahab, who were also killed in these suicide bombings have been compensated. The government paid Rs 300,000 each to the heirs of the slain persons and Rs 100,000 to those injured. The families of Pervez Khan and Abdul Wahab have also received Rs 100,000 each from the ANP-PPP provincial government in Khyber Pakhtunkhwa. "An injustice has been done to our family. A wrong decision by the administration in the Mohmand Agency, based on favouritism, has deprived us of our rights. I am now required to take care of the widow and three children of my martyred brother along with my own four children and wife," Mohib Ali Mohmand shared his plight with Newsline.
In 2010 and 2011, Pakistan was declared the most dangerous country in the world for media professionals by Reporters Without Borders and several other journalists organisations. Different figures ranging from seven to 13 deaths a year were given and as a media person remarked, Pakistani journalists have been observing the death anniversary of a slain colleague every month.
According to a media watchdog, there were several attacks in 2011, but mercifully no lives were lost; 35 working journalists, 10 cameramen, one photographer, two drivers and one satellite engineer from the print media and television channels were injured during these attacks, thrashed by officials and beaten by different groups.  Three television channels were attacked, including one that was targeted on two occasions. An FM radio station was also attacked. The government also shut down the broadcasts of two television channels that it found objectionable.
Khyber Pakhtunkhwa and the adjoining FATA have become dangerous no-go 'areas for journalists' due to a rise in militancy and military operations. No wonder then that the number of journalists who lost their lives and suffered injuries, threats and displacement was the highest in Khyber Pakhtunkhwa and FATA. Balochistan too has become a killing field for journalists. According to the Balochistan Union of Journalists, 10 of their colleagues were killed in the province and not a single death has been properly investigated. In a few instances, armed Baloch separatist groups claimed responsibility for the killings, and left no doubt as to who was involved in the killings, but in certain other instances, intelligence organisations seemed to be at work since those slain were known for their nationalist leanings.
Punjab, Sindh and the federal capital, Islamabad, were not safe either for independent journalism, even though the dangers were relatively less compared to Khyber Pakhtunkhwa, Balochistan and FATA. A growing number of journalists were killed, injured, intimidated and threatened in these areas. In fact, two of the most publicised cases of the slaying of journalists happened in Karachi and
Islamabad. Wali Khan Babar, a 29-year-old Karachi-based reporter for Geo TV, was targeted and killed on January 13, 2011, and Syed Saleem Shahzad, of Asia Times Online, was kidnapped on May 29, 2011 from the federal capital and found dead, two days later, in the Mandi Bahauddin district of the Punjab. In the case of Wali Khan Babar, accusing fingers were pointed at assassins loyal to the MQM while the country's prime intelligence agency, the ISI, was blamed for Saleem Shahzad's assassination.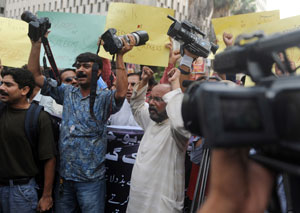 The young Wali Khan Babar was the first journalist to be killed in 2011, a year that turned out to be deadliest for Pakistani journalists. On January 17, Mukarram Khan Atif became the first journalist to be killed in 2012, raising fears that this could turn out to be another deadly year for members of the media in Pakistan.
To date only two cases of kidnapping and killing of journalists in the country have been properly investigated in Pakistan. The judicial probe into the assassination of Hayatullah Khan, a journalist from North Waziristan who was found dead on June 16, 2006 almost six months after being kidnapped, was never made public. His tragic death was further compounded by the killing of his wife a few years later, and his young children are now required to cope with life on their own.
In the case of Saleem Shahzad, the government set up a judicial commission, after countrywide protests to probe the murder. However, the commission couldn't identify the killers, much to the disappointment of the journalists community. The two judicial inquiries reinforced the feelings of helplessness among members of the Pakistani media. If finding the killers in high-profile murder cases of known journalists in big cities was going to be such an uphill task for them, there was slim hope that the families of unknown correspondents murdered in small towns or remote places such as FATA would ever get justice.
This article was originally published in the February 2012 issue of Newsline under the headline "Living on the Edge."
Rahimullah Yusufzai is a Peshawar-based senior journalist who covers events in the NWFP, FATA, Balochistan and Afghanistan. His work appears in the Pakistani and international media. He has also contributed chapters to books on the region.
Next