Theatre Review: Tom, Dick and Harry
Shah Sharahbeel has his heart in the right place. His greatest ambition was to revive and establish theatre in Pakistan — not only as a source of light entertainment but as a measure of intellectual thought. With a gentle, captivating voice clearly audible in its lowest and most confiding note, Sharahbeel's forte is to feel the pulse of his audience and connect with it. It's reminiscent of catching up with an old friend over coffee.
Sharahbeel's latest offering Tom, Dick and Harry, adapted from British playwright Michael Cooney's play of the same name, centres around Tom (Mustafa Changazi), a much married, straight guy who has two very eccentric, vagabond brothers to add mayhem to his marital life with his highly-strung wife, Linda (Mariam Ansari). Since the couple are keen to adopt a child and are meticulously planning the arrival of a social worker from an adoption agency, Tom's two brothers, Dick (Zeeshan Shouket) and Harry, (Muneeb ur Rehman) walk in unannounced, carrying a vanload of smuggled cigarettes, liquor and a bag with a dismembered corpse. Throw in a pair of illegal Sikh immigrants (Saquib Sameer and Roopa Kaur), an Arab mafia leader and a suspicious cop (Duke Roth Simon), hot on their trail, and we have a recipe for domestic disaster.
Despite Sharahbeel's pleasant introduction to Tom, Dick and Harry, the play turned out to be a roller-coaster ride of preposterous blunders and comical twists of fate that could not sustain the high adrenaline its intriguing premise had promised. Unlike a roller-coaster that promises unexpected thrills with anticipated delights, Tom, Dick and Harry zoomed through blindly, and midway into its two-hour length, ceased to surprise and rather ran the course of comic malfunction; the jokes became predictable and the timing expected. The play was too 'busy' and laboured with source material from at least half-a-dozen comedies with none coherently developed. Some of the intentionally absurd contradictions, that are part of the play's novelty, bordered on the ridiculous and not only became hard to comprehend but harder to justify. The play was so frequently peppered with pelvic thrusting sexual references that, eventually, they became foreseeable and oddly distracting. This is not to say thatTom, Dick and Harry was devoid of humour. Harry's initial incomprehension of the absurdity of carrying a chopped-up dead body, and his attempt to convince Tom of its financial significance, and Muhammad Ashraf's grand entrance as the Arab mafia leader at the finale were some of the promising moments of the play. Ashraf, as the boisterous and reckless Arab tribesman was sharply on the mark. The biting digs at homosexual tendencies and the material obsession at the heart of Arab culture were definitely hilarious.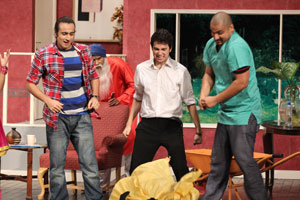 Sharahbeel's direction was able but lacked restraint. Since the play is multi-layered, he could have eliminated some of the comic conflicts to provide more coherence to its overall structure. Similarly, the dialogue delivery could have been toned down instead of following a loud and exasperating pattern throughout the play. The heavy British accents fittingly complemented the script, but the enunciation left a lot to be desired. However, characterisation was intricately defined and Sharahbeel extracted the best from most of his actors. The set of a living room in suburban London was modestly furnished and the lighting complemented the scene. The choreography of the dances too, was competent.
Tom's role as the designated trouble-shooter was especially note-worthy for the fact that he was on stage for the entire duration of the two-hour play. A challenging role, it was handled adeptly by Mustafa, though his continuous sweating and shrieking exhausted the audience towards the end. Mariam, as the highly-strung wife, was good, Zeeshan and Muneeb as the careless mischief-makers were also credible. Sardar Suraj Singh's character of the illegal immigrant was off-putting at times and slightly overdone with his trite cultural references.
The grand finale was a deserving reward for Linda and Tom's domestic nightmare and, as the end fell into place, one couldn't help but praise Sharahbeel's diligent entourage.
This review was originally published in the annual 2012 issue of Newsline under the headline "A Comedy of Many Errors."

Related Articles:
The writer is freelance journalist.
Next