Panache and Passion: The Larger-Than-Life Paintings of Ahmed Zoay
Ahmed Zoay's larger-than-life canvases, replete with primary colours, red, yellow, green and blue, mesmerise with their psychedelic intensity. His strokes shape elemental female forms that burst out of his canvases like fireworks. Zoay's figurative reality smacks of sexuality with Picasso-like panache; the innuendos are blatantly sensual and his women, adorned in ethnic, subcontinental accoutrement pulsate with a self-contained fulfilment. His current body of work exhibited at the Citi Art Gallery in Karachi (January 4 — 10), portrays a figurative expressionism that is more revolutionary than just abstraction, and knows no restrictions.
As a young man, the artist was the definitive flower-child rebel, who experienced hippy enlightenment in the early '70s as he travelled Europe on an evolutionary journey in search of a spiritual and artistic muse, and to experience the freedom of the gypsy life, revelling in a nomadic existence. Prior to that, in Lahore where he lived, and studied at the National College of Arts — it was then headed by the renowned Shakir Ali — he was known for his irreverence and his disdain of authority, especially restrictions imposed by the state. For example, his world-view does not encompass the Partition of the subcontinent — borders are not contingent on man-made lines drawn to separate a people who have co-existed for centuries. Till date, his canvases are resplendent with the symbolism of a multi-cultural, multi-religious land of the ancient Buddhists and Hindus, peopled with ancient images — curvaceous forms borrowed from the rock-carvings of Ajanta; and the ethnic symbolism, thick bangles and colourful clothes from the women of Thar — all these have metamorphosed into Zoay's women.
Till the '80s, Zoay travelled and returned to Pakistan intermittently, as had his contemporaries, Ahmed Parvez and Bashir Mirza (B.M), pioneer modernists with a similar reverence for colour. Proponents of an individualistic credo, which led to the creation of works like B.M's 'The Lonely Girl Series,' these artists were known for their non-conformism and eccentricities. They lived alone — Zoay still does, in Lahore — and did not kowtow to the centres of art or adhere to a mainstream, middle-class morality.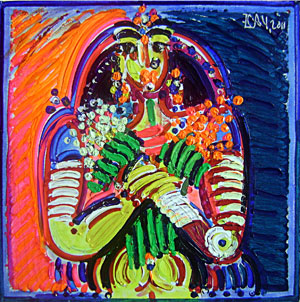 In this acrylic-on-canvas series, the artist's bold strokes, directly from tube to canvas (Zoay does not use a paintbrush), reflect a dynamic energy where a viewer is plunged into a charmed world of sinuous curves that convey a rich sensuality, appearing at times a little larger than life. The impact of his work is heightened by the rich, glowing colours that suffuse his canvas, the thickness of the paint and the frenzy of his strokes. In this particular series, the viewer may find that visual sensations override the overt sexual symbolism. The application of dots and dashes, often in the form of ethnic motifs, provide a wonderfully textural appearance. Flowers, flowerpots, urns and birds inform the artist's vocabulary with elements of nature, and appear alongside the female form, symbolic of the celebration of her ecstatic conjoining.
Today, the veteran artist rarely attends his own exhibitions or chit-chats with the art gentry. But age has not dimmed his spirits; he soars like a free bird on his canvases.
This article was originally published in the February 2012 issue of Newsline under the headline "Panache and Passion."
The writer is a former assistant editor at Newsline
Next