Smoke and Shadows: Ahsan Jamal's Solo Show at Koel
Ahsan Jamal exhibited his work A Piece of Land at the Koel Gallery in Karachi last month. A graduate of the National College of Arts, Lahore, where he specialised in miniature painting, Jamal has participated in art shows all over the world, from Afghanistan to Japan.
His work has a moody, contemplative and dream-like quality. Many of the paintings shown at the exhibition depict the various figures surrounded by inky shadows, as if the main subjects are under a spotlight. This vignetting provides a nostalgic tinge to the work and the images seem fragmented — as if they are memories and not representations of real events.
Jamal is a native of Jhang, Punjab, where many immigrants from India settled and he is fascinated by the 1947 Partition. In his artist statement he wrote, "We have little control over our pasts, presents and futures. We are perhaps just goats being shepherded from one place to another."
Goats subsequently make a reccurring appearance in his work. In 'Kohl Kada,' Jamal hones in on the eye of a goat and most of the large canvas is a sooty, dark void. In 'Bliss,' a white goat's head floats above a water lily. The whiteness of the goat's head stands out against the lilac petals and the dark background with its tinges of deep blue and burnt orange. The combination of floral and hircine imagery may sound familiar to those who have seen Georgia O'Keeffe's works but the effect here is quite different. The darker colours give the painting a sombre quality and instead of the sexual overtones found in O'Keeffe's work, Jamal's depiction of the goats in his paintings is innocent, even virginal.
There are other references to nationhood and partition in his collection as well. In two complementary paintings, 'Melody Queen' and 'The Nightingale,' Jamal paints portraits of Lata Mangeshkar and Noor Jehan. Both singers are depicted in saris of the same colours as their respective country's flags and silhouettes of tanks, planes and soldiers appear in the distant background. These two portraits stand out in the exhibition not just because of the recognisability of the subjects but also because of the scale of the canvas and the washed-out lighting. Compared to other paintings in which everyday people pose naturally or are depicted caught in the middle of action, these two figures are shown posing self-consciously and are presented as each other's counterparts.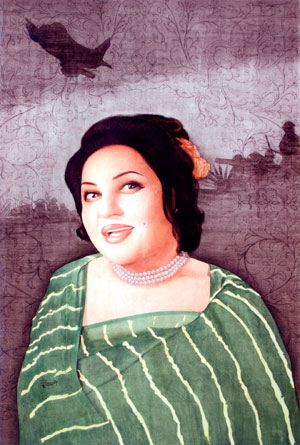 Jamal travelled to India in 2004 to work at the Khoj Studios on his research project Kaho Na Piyar Haiand while he was working on these paintings he also participated in the VASL residency 'State Of Being So Divided,' in Karachi. When I asked Jamal how long it took him to make a single painting, he responded "From 40 months to 40 seconds." The forty-second painting in question is one for which Jamal utilised the fumage technique of painting with smoke. Smoke is of significant importance to Jamal; in fact, the fire and smoke from the Lal Masjid in 2008 inspired him to make these paintings.
Jamal's work is delicately rendered, which can be attributed to his background in miniature painting. But he is certainly not limited by one style and his solo show boasts a diversity of mediums, scales and subjects. The common thread between these paintings is that they are all meditations on history and nationalism and each work contributes to the sense of grappling with the past and memory.
This article was originally published in the February 2012 issue of Newsline under the headline "Smoke and Shadows."
Next