Looking Back at Victory: When Pakistan Whitewashed England
I rang up Mohsin Khan soon after Pakistan crushed England by 72 runs in their second Test in Abu Dhabi to seal an unassailable 2-0 lead in the three-match series. The former Test opener, who seems to be doing a fabulous job as Pakistan's 'interim' coach, was over the moon after his team's second win in a row against the world's top-ranked Test side.
After some small talk, I asked him whether he was confident about Pakistan whitewashing England by winning the third Test in Dubai. "We can do that. We can beat England again," he told me. "In fact, the way the boys are playing, we can beat any team."
Such is the morale in the Pakistan camp that Mohsin is now talking about Pakistan becoming the world's number one team in the near future. "Of course, we can be number one," says Mohsin. "To do that we have to win on away tours, something that I believe these players are capable of achieving."
It's a huge turnaround for the Pakistanis who slumped to rock bottom in 2010 when three of their players were caught red-handed in a spot-fixing scam. At that time there were even calls to ban Pakistan from international cricket. "Those things are history now," says Mohsin. "What you see now is a new Pakistan team that has all the ingredients to become the world's number one side," he adds.
So what's new and good about this Pakistan team? Well, almost everything, if you compare it with the team that went to England on that disastrous tour in 2010.
Let's first talk about the man at the top.
In 2010, Pakistan went to England with the flamboyant Shahid Afridi as captain. But Afridi decided to retire from Test cricket soon after Pakistan were thrashed by Australia in the first Test at Lord's. Pakistan's cricket chiefs promoted his deputy Salman Butt and the young opener attracted praise for his captaincy after Pakistan bounced back to beat the Aussies in the next Test. And when Pakistan conquered England in the Oval Test under Butt, many thought Pakistan had found what they had been looking for years — a reliable long-term captain. However, all of that was forgotten when Butt was banned for his lead role in the spot-fixing scam that also involved Pakistan's new-ball bowlers Mohammad Asif and Mohammad Amir.
It was Misbah-ul-Haq, who took over the Test captaincy from Butt. The 37-year-old, with an MBA degree in his pocket, has been a success story since taking over the captaincy in the fall of 2010 when Pakistan drew their 'home' series against the formidable South Africa in the UAE. Misbah's supporters believe that he is the chief reason behind Pakistan's new-found penchant for winning matches even against higher-rated teams.
"Misbah is an ideal captain," says Mohsin. "He is fully aware of his responsibilities and knows how to get the best out of his teammates, which is why he shares a great bond with them."
Under Misbah, Pakistan's track record is phenomenal. Since October 2010, Pakistan has not lost a single series. During that period, they have beaten New Zealand, Zimbabwe, Sri Lanka, Bangladesh and England.
But as they say, a captain is only as good as the weakest link in his team. Ask Mohsin and he will tell you that there are no weak links in this Pakistan team. "We have 15 players in the UAE (for the England series) and each and every one of them is a match winner," says the coach. Whether all 15 of them are match winners is debatable but one thing is for sure — most of them are.
Take for example Saeed Ajmal. A late bloomer, Ajmal has made up for lost time by proving himself the best off-spinner in the game within a short span of time. He has quickly mastered the art of bowling the doosra which is the prime reason why Pakistan have managed to beat England flat and square. Then there is the understated role played by Abdur Rehman. The left-arm spinner played a pivotal role in winning the second Test for Pakistan in Abu Dhabi and now even his critics, who previously dismissed him as a non-threatening bowler, will have to admit that he is a match winner.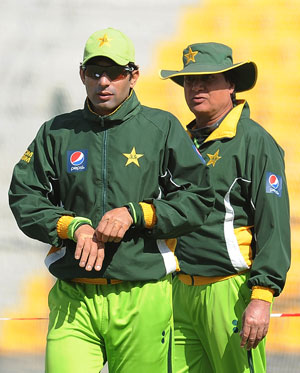 Umar Gul, the lanky fast bowler who mostly played second fiddle to the duo of Asif and Amir, is now leading Pakistan's pace attack. He is certainly relishing the job and is getting great support from the likes of Aizaz Cheema. Pakistan's pace attack may not be as potent as it was back in 2010, but it is improving with bowlers like Wahab Riaz and Junaid Khan around.
"Our bowling attack is second to none," says Mohsin. "In fact our spinners are the best in the world."
Mohsin certainly has a point. Very few teams in international cricket can compete with a spin arsenal that includes Saeed Ajmal, Abdur Rehman, Shahid Afridi and Mohammad Hafeez.
Talking of Hafeez, one has to pinpoint the fact that the all-rounder epitomises the transformation of our national team. Till a couple of years ago, Hafeez was rejected as an under-achiever who lacked the guts to be a world class performer. Today, he is regarded among Misbah's most valuable players and among the best in the world. "Hafeez is a bright example of what you can achieve with sheer hard work," stresses Mohsin. "I believe that after God's grace, hard work is the single biggest reason behind our team's success."
Perhaps equally important is the fact that unlike in the past, the Pakistani dressing room is not choking on a self-created atmosphere of intrigues. "I have never seen a team that is more united than this current lot," says Mohsin. "Misbah has complete and unconditional support of all his players including the seniors, and each and every one of them is ready to give his best for the team."
Mohsin believes that the momentum is in Pakistan's favour and there is nothing that his team cannot achieve.
"This is just the beginning," he says. "By beating England we have given a loud and clear message to the rest of the cricket world that Pakistan deserves respect and I'm sure that they will give us our due."
Misbah echoed his coach's views after Pakistan won the Abu Dhabi Test last month. "I think the whole world should acknowledge and accept that Pakistan cricket is coming up because of the way our players are performing and they should accept it. Negative things can happen anywhere and we must forget them," said Misbah, under whom Pakistan have won eight of the 14 Tests they have played. "Our team deserves the wins and with the self confidence we have, we can do better."
This article was originally published in the February 2012 issue of Newsline under the headline "Rising From the Ashes."
The writer is ranked among the battle-hardened journalists covering sports. As sports editor for The News, he covers sporting action extensively in Pakistan and abroad.
Next