The Prime Minister's Cabinet
Asad Umar
Minister for Finance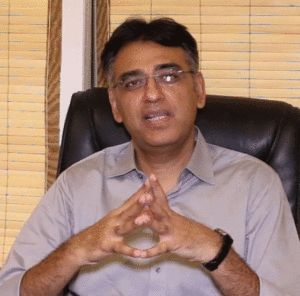 As Pakistan teeters on the edge of economic uncertainty, one of the country's foremost technocrats, a former CEO with an impeccable track record has stepped up to resuscitate the ailing economy. 
Asad Umar, the new Finance Minister, is described by those who know him as a staunch patriot whose passion for politics was visible as early as 1985, when he first joined Engro Corporation (then known as Exxon Chemical Pakistan). If his 27-year career at Engro is anything to go by, he is a man who goes for practical solutions and it is this that will prove most useful in his new role.
While Umar's prowess as a business executive was widely applauded, he faces his most formidable challenge yet in providing a solution to the country's balance of payment crisis. With a widening current account deficit – a result of high imports and low exports – Pakistan's foreign exchange reserves have fallen to approximately $ 10 billion. 
It would appear that turning to the International Monetary Fund (IMF) for a bailout is the least preferable option for the finance minister. He has made clear his intentions of seeking funding from friendly countries (bilateral transactions) such as China and Saudi Arabia, before approaching international institutions such as the IMF (multilateral transactions). 
This decision is driven in part by US demands that IMF funding must under no circumstances be used to repay Chinese debts. At the same time, Umar's reluctance to rely on the IMF, of which the US is the largest shareholder, may also be driven by Imran Khan's trademark scepticism of the US and the West. The finance minister intends on making all efforts to enhance exports and seek investment from overseas Pakistanis. He also expressed the aim of reclaiming looted funds that have been stashed abroad by corrupt elements.
Critics decry Umar's performance at Engro, based on the losses generated by a fertiliser plant set up under his watch. In 2010, Engro Fertilisers Limited set up Engro Enven, the world's largest single-train ammonia-urea plant in Daharki, Sindh, at a cost of $ 1.1 billion. With a shortage of fertiliser in the local market and the government having to import urea to meet demands, it was believed that the plant would make Pakistan self-sufficient in urea production, save foreign reserves and curtail the import bill. 
Under an agreement signed with the Government of Pakistan as early as 2006, the plant was to receive a gas supply at a lowered price. In 2010, the year before the plant became operational, the country faced a gas shortage as a result of which supplies were diverted from industry to residential and commercial purposes. Ammonia is one of the main components of urea and without a supply of gas, the plant, which was the largest private sector investment the country had ever seen, was running at a loss. There was a misconception in some quarters that the reason why the gas supply was cut off was because Umar had a falling out with the then president, Asif Ali Zardari.
Umar resigned from Engro Corporation in April 2012, reportedly as the highest paid CEO in Pakistan. It was under his leadership that the company grew from a fertiliser and petrochemical manufacturer to a multinational conglomerate with numerous subsidiaries. The reason for the resignation was his intention to pursue his political dreams and take up a full-time job as a Central Senior Vice President of the Pakistan Tehreek-e-Insaaf (PTI). Umar was elected to the National Assembly from NA-54 (Islamabad Captial Territory III) constituency in the 2018 general election. He had won from NA 46 in a by-election in 2013.
As finance minister, Umar will have to develop a capacity for working in an environment significantly different from that of a corporation, and with people who are less under his control than they would be in a multinational company.
Shah Mehmood Qureshi
Minister for Foreign Affairs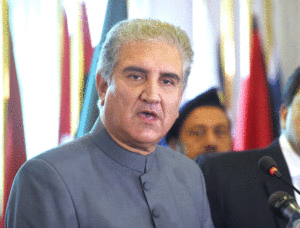 A glance at the career of the new Foreign Minister, Shah Mehmood Qureshi, reveals a remarkable trend. It is in the number of times he has switched allegiances. From his entry into politics in 1985, till his decision to join the Pakistan Tehreek-e-Insaf (PTI) in November 2011, Qureshi had already been through five political parties. 
In 1986, as a member of the Punjab Assembly, he joined the Muhammad Khan Junejo-led Pakistan Muslim League (PML). After the death of General Zia-ul-Haq, Qureshi left the party and joined its newly formed faction led by Nawaz Sharif. It became increasingly apparent in these early years that the Cambridge-educated Makhdoom of Multan was unable to stick to one side for more than two years. In 1990, he reverted to Junejo's PML, which had by now been reorganised with Manzoor Wattoo at its helm.
His father, the late Makhdoom Sajjad Hussain Qureshi, had no qualms about switching sides either. After Zulfikar Ali Bhutto's execution, the former Pakistan People's Party (PPP) member supported Zia's dictatorship and served as governor of Punjab under him.
In 1993, Shah Mehmood jumped ship again, this time to join the PPP. He managed to stick it out in his new home for 18 years. In 2008, he was stepped over for the role of prime minister when his opponent from Multan, Yousuf Raza Gilani, was given the position. Qureshi was made foreign minister. It was then, during his first stint in the Foreign Office, that his bold stance on the diplomatic immunity of CIA contractor Raymond Davis, cost him his job. 
After he was removed from the Foreign Office, Qureshi resigned from the National Assembly and the PPP. He decided to ride the tide of the PTI tsunami that was sweeping the country in those days, in the aftermath of Imran Khan's Lahore rally.
As a spiritual leader of Multan, with a following in Sindh's Tharparkar district, Qureshi is widely perceived as being among the more enlightened and progressive pirs of Pakistan. Unlike some of the prominent pirs of Sindh, he does not have a criminal record. 
He is also seen by many as being among the candidates best qualified for the role of foreign minister, especially when compared to some of the other politicians (or lack thereof) who have served in the position in recent times.
Shireen Mazari
Minister for Human Rights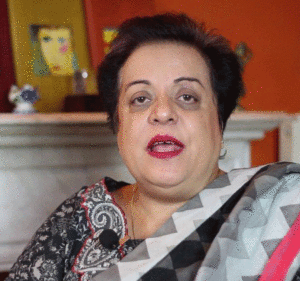 Up until recently, Dr Shireen Mazari's Twitter bio described her as an "Anarchist by temperament." A PhD in political science from Columbia University, the academic, activist and editor-turned-politician has been appointed Minister for Human Rights in Imran Khan's federal cabinet.   
Mazari has served as a professor at Quaid-e-Azam University, Islamabad, where she moved the courts of law against illegal appointments made during the dictatorship of General Zia-ul-Haq. She served as the director general of the Strategic Studies Institute, Islamabad and as CEO of Strategic Technology Resources, a Pakistani think tank. 
As a scholar and analyst, her area of focus had always been international relations and international defence. Yet in the federal cabinet she was not assigned the role of foreign minister or given the defence portfolio. Mazari is an outspoken critic of what she described in a recent CNN interview as the US government's tendency to "double-talk" – of saying one thing and then doing another.
Having joined the Pakistan Tehreek-e-Insaf (PTI) in 2008, Mazari is among the old guard who supported the party while it was still in the political wilderness. She was also among those members who decried the entry of corrupt electables and for this reason, briefly resigned from the party in 2012, while she was vice president. However, she rejoined the PTI two months before the 2013 general election, claiming that her faith in the party had never dwindled.
Sheikh Rashid Ahmed
Minister for Railways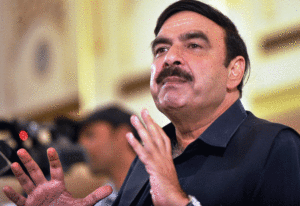 A resident of Rawalpindi's historic Lal Haveli, Sheikh Rashid Ahmed entered politics during the dictatorship of Zia-ul-Haq, when he contested the 1985 election as an independent from Rawalpindi and won.
Rashid was on an unbroken winning spree from 1985 till 2002, during which he was elected to the National Assembly six times. In 2010, however, he lost his bid for the NA-55 constituency in a by-election, to Shakil Awan, a Pakistan Muslim League-Nawaz (PML-N) candidate, by a margin of over 20,000 votes. The Gordon College graduate has also seen his way through a number of parties and an alliance, including the Islami Jamhoori Ittehad (IJI), the PML-N and the PML-Q, eventually going on to form his own party, the Awami Muslim League Pakistan (AMLP).
He had served as federal minister for railways once before, for a year, under General (R) Pervez Musharraf. Prior to that, he had been appointed under the same regime as minister for information and broadcasting. His party, the AMLP, first entered into an electoral alliance with the Pakistan Tehreek-e-Insaf in 2012, for the general election held in the following year.
A larger-than-life and rambunctious character, Rashid had, in the run-up to and in the aftermath of the July 25 polls, publicly expressed his interest in working with Imran Khan.
Zubaida Jalal
Minister for Defence Production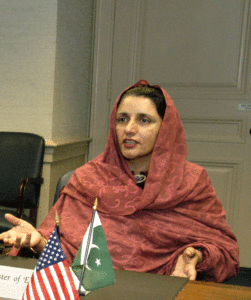 A trailblazer in her own right, Zubaida Jalal is the only woman candidate from Balochistan ever to be elected to the National Assembly of Pakistan. A member of the Balochistan Awami Party (BAP), Jalal contested from NA-271 constituency, in her native district of Kech. 
Jalal served as minister for education under General (R) Pervez Musharraf and later in the cabinet of prime minister Mir Zafarullah Khan Jamali, formed in 2002. She was the only female minister in the cabinet of Shaukat Aziz, which was formed in 2004. In 2002, during a visit to the White House, then secretary of state Colin Powell, national security advisor Condoleezza Rice, and first lady, Laura Bush, expressed their support for the education reforms being carried out by the Musharraf regime.
The educationist and social activist was formerly a member of the Pakistan Muslim League-Nawaz (PML-N) and in 2002, joined the   Pakistan Muslim League-Quaid (PML-Q). 
In August 2008, an inquiry by the Prime Minister's Inspection Commission (PMIC) alleged that Jalal was involved in the misappropriation of funds allocated for the Tawana Pakistan Project. The Rs 3.6 billion project was meant to address the lack of nutrition and primary school enrolment among girls in the least developed areas of the country. The inquiry also accused Jalal of providing protection to various officials of the project who had been found guilty of corruption. 
A National Accountability Bureau  (NAB) probe resulted in the arrest of the project's director-general in 2015. By the following year, however, he had submitted Rs 20 million to the NAB under a plea bargain.
Dr Fehmida Mirza
Minister for Inter-Provincial Coordination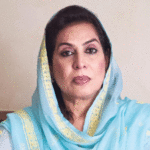 A native of Golarchi, Rahu Taluka, in Badin district, Dr Fehmida Mirza is famously known as the first female speaker of parliament in the Islamic world. She is also the only female politician in Pakistan to be elected to the National Assembly five times on a general seat. Additionally, she was the first female acting president of Pakistan, in September 2008, when the president, Asif Ali Zardari and senate chairman, Mohammad Mian Soomro, were out of the country.
Dr Mirza contested from Badin in the elections of 2002, 2008 and 2013 on a Pakistan People's Party (PPP) ticket and emerged victorious. When her husband, Dr Zulfikar Mirza, reportedly developed differences with his old friend Zardari over a sugar mill in Badin and was removed from the PPP's executive committee, he turned into an outspoken critic of the party leadership and eventually parted ways with the PPP. Fehmida, however, stuck it out in the party until May 2018. As the polls neared, she joined the Grand Democratic Alliance (GDA) and contested the July 25 election on the anti-PPP alliance's ticket.
Shafqat Mahmood
Minister for Education and National Heritage
The Harvard and USC-educated former member of the civil service stepped into politics in 1990, when he joined the PPP. Thereafter, he served as a senator, a caretaker federal minister in the interim government of then prime minister Malik Meraj Khalid and as information minister for Punjab under General (R) Pervez Musharraf. 
Mahmood joined the PTI in December 2011 and served twice as the party's information secretary. He also held the post of party organiser in Lahore, but resigned after accepting responsibility as per his "moral duty" for the party's dismal performance in the October 31, 2015, local government elections in the district. He was elected to the National Assembly in 2013 on a PTI ticket and again on July 25 from Lahore's NA-130 constituency.
On the directive of Prime Minister Imran Khan, Mahmood formed an advisory committee on August 20 that will focus on the public use of heritage buildings. The committee will also pay particular attention to the utilisation of heritage buildings such as the State Guest Houses and the Governor Houses, for public use. The committee, which will be chaired by Mahmood, consists of 13 experts in the field, including architects Nayyar Ali Dada, Omar Hasan and Samar Ali Khan, and visual artists Adeela Suleman and Akram Dost Baloch.  
Pervaiz Khattak
Minister for Defence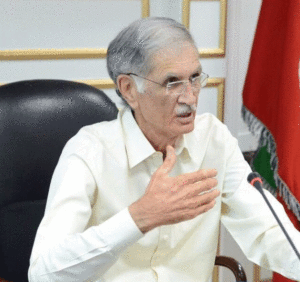 A native of Manki Sharif village in Khyber Pakhtunkhwa (KP)'s Nowshera district, Pervaiz Khattak served as chief minister of the province from 2013 to 2018. He was reportedly a student at Aitchison College at the same time as Imran Khan and later attended Gordon College in Rawalpindi.
Khattak, who started his political career at the district council level in 1983, went on to be elected to the KP Assembly five times and in the July 25 election, won his provincial seat in Nowshera for the sixth time, but decided to retain his National Assembly seat instead. He held the post of provincial minister for industries in 1988, provincial minister for labour in 1993 and provincial minister for irrigation in 2010. He served as district Nazim for Nowshera from 2001 to 2005. Khattak joined the Pakistan Tehreek-e-Insaf (PTI) in December 2011 and served as the party's secretary general, a post from which he later stepped down in favour of Jahangir Tareen. Prior to joining the PTI, he was the provincial president of the Qaumi Watan Party (QWP), then known as Pakistan People's Party-Sherpao.
While Khattak was chief minister of KP, he was accused of corruption and the misapproproation of development funds. The infamous Peshawar Bus Rapid Transit Project, which he spearheaded, is overdue by four months and has yet to be completed. During his tenure, however, the province witnessed an improvement in the education and health sectors.  
Dr Khalid Maqbool Siddiqui
Minister for Information Technology and Communication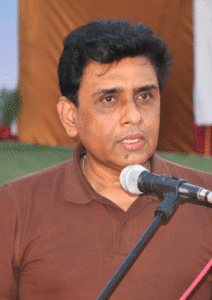 A native of Hyderabad, Sindh, Dr Khalid Maqbool Siddiqui is the Convenor of the Muttahida Qaumi Movement-Pakistan (MQM-P) and was elected to the National Assembly from Liaquatabad-Nazimabad's NA-255 constituency (Karachi Central III). After the July 25 polls, the MQM-P pledged to support the PTI in the centre, enabling it to form the federal government.
In the 2013 general election, Siddiqui was elected to the National Assembly from Hyderabad. He was appointed as Convenor of the MQM by the party's Coordination Committee in February 2018, after Farooq Sattar was removed from the post. Siddiqui had previously served as deputy convenor. Siddiqui's current stint in the federal cabinet is not his first. In 1997, he was appointed as minister for industries and production by the Nawaz Sharif government.
Siddiqui has been with the MQM since the early years, when it was still the All Pakistan Muttahida Students' Organisation (APMSO). While he was a student in Karachi, he rose to become chairman of the organisation. He was first elected to the Nationala Assembly from Hyderabad, in 1990, when the MQM fielded candidates under the banner of the Haq Parast Group. 
On August 20, a Karachi court issued non-bailable arrest warrants for Siddiqui and other senior MQM leaders for violating the Loudspeaker Act. The accused, it was claimed, had staged a protest rally on M.A. Jinnah Road in 2015, against the arrest of party workers. The court ordered the seizure of his property for failing to appear for the hearings of the case against him.
Noor-ul-Haq Qadri
Minister for Religious Affairs and Interfaith Harmony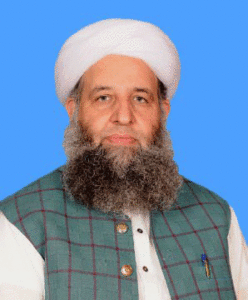 Noor-ul-Haq Qadri is a pir of Piro Khel tehsil, in Khyber Agency's Landi Kotal subdistrict. As such, he enjoys a large spiritual following among the Shinwari, Zakhakhel and Malagori tribes and belongs to the Barelvi school of Islamic theology. The pirs of Landi Kotal are known to be inclusive in their religious outlook.
Qadri was elected to the National Assembly from the NA-43 (Khyber Agency I, Tribal Area IV) constituency. He has been elected to the lower house of parliament twice before – in 2002 and in 2008 – as an independent. He served as minister for Zakat and Ushr in prime minister Yousaf Raza Gillani's cabinet. 
In 2008, while he was a member of parliament, four of Qadri's family members lost their lives in an ambush carried out against them by unknown assailants in Khyber Agency's Jamrud tehsil. The victims included the son of Senator Hafiz Abdul Malik, who is Qadri's brother. 
Qadri lost the 2013 election from Landi Kotal (NA-45) to Shah Ji Gul Afridi, an independent candidate who had once been his follower. The pir joined the PTI in November 2017, along with his brother.
Fawad Hussain Chaudhry
Federal Minister for Information, Broadcasting and National Heritage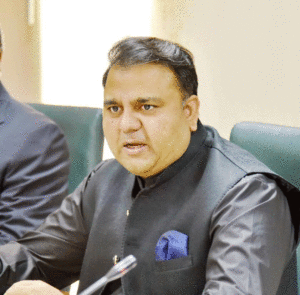 A lawyer by profession, Lahore-based Fawad Hussain Chaudhry hails from a political lineage that predates Partition. A native of Jhelum, Chaudhry's current stint in the cabinet will be his third. In the past, he served in the capacity of an advisor for information and political affairs in prime minister Yousaf Raza Gillani's cabinet and a special assistant for political affairs in prime minister Raja Pervaiz Ashraf's cabinet. Over the course of his career, he has worked for five different media organisations as a political analyst and an anchor. 
Chaudhry joined the All-Pakistan Muslim League during General (R) Pervez Musharraf's dictatorship and later defected to the Pakistan People's Party. In June 2016, he joined the Pakistan Tehreek-e-Insaf (PTI) and contested the by-election from Jhelum's NA-63 constituency, losing to the Pakistan Muslim League-Nawaz (PML-N) candidate by a wide margin of votes. In the July 25 polls, he emerged victorious from NA-67 (Jhelum II).
The writer is a staffer at Newsline Magazine. His website is at: www.alibhutto.com
Next