Movie Review: Crazy Rich Asians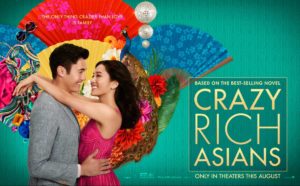 Crazy Rich Asians is sentimental. It celebrates luxury, wealth and extravagance, unabashedly. It tries to manipulate the emotions of audiences. It is loud, dishy and extravagant. It has problems of structure and pace. And it tells a story that is as hackneyed as it is enduring. In spite of the shortcomings, Jon M. Chu's romantic comedy succeeds at being an engaging and entertaining movie, largely because of its warm, pulsating heart and Chu's superior storytelling abilities. 
The film deals with love, friendship, family, wealth, upward mobility, familial responsibility, class conflict and honour, and packs a lot – a whole lot, actually, but not as much as its source material, Kevin Kwan's novel of the same title – in its exuberant, effervescent two hours. Yet it leaves audiences hungry for more, such being its many pleasures. These may be voyeuristic, exuberant and light-hearted, but are pleasures nonetheless. 
Rachel Chu (Constance Wu), a Chinese-American professor of economics at New York University, is a successful and independent young lady, raised by an immigrant, working-class single mother, Kerry Chu (Tan Kheng Hua). She has been dating a handsome young Singaporean, Nick Young (Henry Golding), for over a year and agrees to take a trip to Singapore with him to attend the wedding of Nick's childhood friend, Colin Khoo (Chris Pang) and Araminta Lee (Sonoya Mizuno). 
Nick wishes to introduce Rachel to his family and friends – the titular characters of the movie – his domineering mother Eleanor Young (Michelle Yeoh), and his imperious grandmother, Ah Ma (Lisa Lu). Rachel does not know her boyfriend is the sole heir to an unfathomably large business empire in Singapore and the island's most eligible bachelor. She is unaware of his plans to propose to her during the trip. More importantly, she has no idea that she will be the focus of intense attention, suspicion and scrutiny in Singapore and become an able, if unwilling, participant in a clash between old wealth and new money, following one's heart and fulfilling familial duty, and tradition and individualism. 
In the days that follow, Rachel will be forced to navigate her way through the unfamiliar world of her beau, making allies and enemies in the process, while conducting herself with unflinching integrity, dignity and strength. 
The story of Crazy Rich Asians is neither new nor novel. The movie works because it has well-constructed characters, several truly amazing performances, a great score by Brian Tyler, excellent production design by Nelson Coates, and wonderful dialogues. The movie's biggest strength, however, is the nature and power dynamic of its central relationship. Nick and Rachel are in love with each other; they are genuinely concerned about each other's comfort, happiness and well-being; the two understand and possess the wherewithal to fight the forces that separate them; and, although Nick is rich and powerful, Rachel is the one who holds the power in the relationship. She has complete agency over her life and decisions and, in the end, does not make Nick choose between her and his family. Instead, she chooses to do what she believes is right, honourable and best for her and Nick.
Crazy Rich Asians is an important film. In a world where only four of the top-grossing films of 2017 featured Asian protagonists, it is a major Hollywood film that tells an Asian-American story, inhabited by Asian and America-Asian characters, written and directed by an Asian-American, and featuring a cast that is almost exclusively Asian and American-Asian actors. The movie, which made more than 35 million dollars in its first four days, may well represent a watershed moment for Asian-Americans in Hollywood. The film has transcended its target demographic of Asian-Americans, played successfully to broader audiences all over the world, and received rave reviews from critics and viewers. It has all but guaranteed better representation and greater opportunities for Asian and Asian-American actors in major studio films going forward. It will prove to be a landmark film in the history of Hollywood.
Before Kevin Kwan's novel came out in 2013, a Hollywood producer offered to option the book for a large sum, with the proviso that Rachel be changed to a white girl. Kwan did not want to compromise on the integrity of his story and turned down the offer. The Singaporean-American waited for the right team, eventually selling the book to production companies Color Force and Ivanhoe Pictures for one dollar. Kwan did not want the producers to spend the money on the book. He wanted it to be used to hire a screenwriter who would stay true to the book. He made the right choice. Director Jon M. Chu and writers Peter Chiarelli and Adele Lim have done justice to his book and packaged the sprawling 544-page novel – replete with a huge panoply of interesting characters, abundant subplots, numerous diversions, and frequent tangents, not to mention copious footnotes and elaborate genealogical charts – into a neat, smart film that is even more intelligent, powerful and nuanced than Kwan's novel. 
Unlike the book, the movie does not satirise the culture of excess and, unlike traditional Hollywood, it does not celebrate it. Although full of many a sybaritic splendour, Crazy Rich Asians uses the trappings of ultra-rich life – luxury travel, expensive baubles, designer clothes, extravagant parties, fancy food, exotic getaways, ostentatious homes, batteries of servants – as a backdrop to Rachel and Nick's story, judiciously focusing on the romance, along with associated drama, intrigue and problems, and little else. 
The film is a love story, and a very good one, told with skill, intelligence and heart – a lot of heart. At the end viewers, who would undoubtedly have enjoyed the spectacular displays of wealth in the film, are likely to care only about the fate of the charming, endearing and, of course, very good-looking lovers, and take great pleasure in watching them fight fate, family and friends to come together to live happily ever after. 
Next