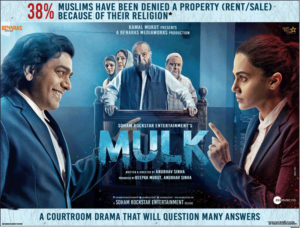 Mulk is undoubtedly one of the most significant films to emerge from Bollywood in recent years. This, primarily because of its courageous storyline. It dissects with biting honesty the plague of Islamophobia that has polarised a once-secular India which prided itself on being multi-ethnic and multi-cultural. 
The story of Murad Ali Mohammed (Rishi Kapoor) unfolds in the social milieu of a close-knit Hindu-Muslim community in Varanasi, Benaras. A well-respected lawyer and the patriarch of an extended Muslim family, Murad Ali has been residing harmoniously in the same ancestral home for decades with his Hindu neighbours, who affectionately call him "wakeel sahib." He is equally caring towards them, as he is with his daughter-in-law, Aarti (Taapse Pannu), who is also a Hindu.
Aarti, who lives in Germany, arrives in India for a family celebration at her in-laws which the entire mohalla participates in with equal gusto. Unbeknownst to the family and the neighbourhood, Murad Ali's nephew, Shahid Mohammad (Prateik Babbar) is involved in a bomb blast in a bus in Allahabad that kills 16 passengers. When Shahid is identified through CCTV footage, the security forces track him down in his hideout.
In an endeavour to make Shahid turn himself in, the anti-terrorist squad connect him by cellphone to his bewildered family members, who are still reeling from the shock of seeing his picture being flashed on every news channel as a terrorist. Murad Ali and his family beg and plead with Shahid to comply. He remains unconvinced, believing he is on jihad. He attempts to escape, but is killed by Investigating Officer Danish (Rajat Kapoor), who instructs his men to drag Shahid's corpse to the loading van, in full view of the Muslims who have thronged the street.  
Overnight, Murad Ali's peaceful world is shattered and he comes face-to-face with the harsh realities of the Hindu-Muslim religious divide that were simmering beneath the surface and are now out in the open. Murad Ali's long-term friends-cum-neighbours turn into foes as they succumb to the hate propaganda perpetuated by the media. Rocks are thrown over the boundary walls of Murad Ali's home; outside, he finds a wall-chalking telling him to go to Pakistan. During the course of the investigations, Bilal Mohammed (Manoj Pahwa) – Shahid's father and Murad Ali's younger brother – is also implicated in the crime and is taken into custody for interrogation.
When Murad Ali decides to fight the charges against Bilal, he is confronted with extreme prejudice yet again – this time in court. The prosecuting attorney personifies the entire gamut of anti-Muslim sentiment prevailing in India. He indulges in religious profiling of Muslims and uses an 'us vs. them' narrative to brand Murad Ali's entire family as terrorists. Alongside, there are those Muslims who tell Murad Ali that his nephew was right in undertaking the path of jihad. Murad Ali now not only has to prove his brother's innocence, but also show that he and the rest of his family are patriotic Indians and that terrorism has no religion.  
When the prosecuting attorney tries to implicate him in the crime as well, Murad Ali turns to Aarti, who is also a lawyer, to take up their case because he realises that he may be fighting a losing battle. Meanwhile Bilal, the simple man that he is, is unable to bear the interrogation in police custody and dies of a heart attack.
Mulk is a slow-paced yet powerful film that graduates into a dialogue-heavy courtroom drama. It is timely as it showcases only a fraction of the escalating marginalisation being endured by Muslims – and a few supportive Hindus in India. Cinema icon, Om Puri, was hounded by the Indian media for acting in Pakistani films and for lauding their hospitality; Indian cricket superstars of the 1990s – Kapil Dev, Navjot Sidhu and Sunil Gavaskar – were targeted for expressing a desire to attend their friend and Prime Minister-designate Imran Khan's oath-taking ceremony. Only Sidhu made it. And is facing the Hindu right-wing backlash.
Writer/director Anubhav Sinha deserves full marks for daring to make a film like Mulk – in such a hostile atmosphere. Rishi Kapoor's intensely moving portrayal of the self-respecting and determined Murad Ali may very well be one of his career's best. You could feel Kapoor's sincerity when, in a tweet in reference to Imran Khan's speech post PTI's win in Pakistan's general elections, he remarked, "I hope you succeed in making your Mulk have good relations with my Mulk."
The other key actors of the film – Taapse Pannu (as Aarti), Neena Gupta (as Tabassum, Murad Ali's wife), Manoj Pahwa (as Bilal) and Prachee Shah as Bilal's wife – deserve kudos for their honest portrayal of Hindu-Muslim relationships. Interestingly, all the Muslim roles in the film have been played by non-Muslims. The film has mostly received very favourable reviews in the Indian print media; most critics acknowledged that Mulk was the need of the hour in an increasingly intolerant India and, hopefully, will help jog the nation's collective conscience. 
The writer is working with the Newsline as Assistant Editor, she is a documentary filmmaker and activist.
Next