"I cannot and will not compromise on hygiene"– Shai, Professional Chef
Since cooking shows were launched on Pakistani television channels over 12 years ago, out of the numerous self-professed, even if arguably good in the kitchen, cooking 'experts' and 'chefs' that have appeared on screen, barely a handful have had formal training in culinary skills, let alone restaurant experience. After switching professions, Shai on the other hand, worked hard to qualify as a chef from a professional culinary school in Manhattan, US, before she felt ready to teach cooking in front of a camera. Based in New York with her husband, Shai spends several months in Pakistan every year to pursue her culinary passion.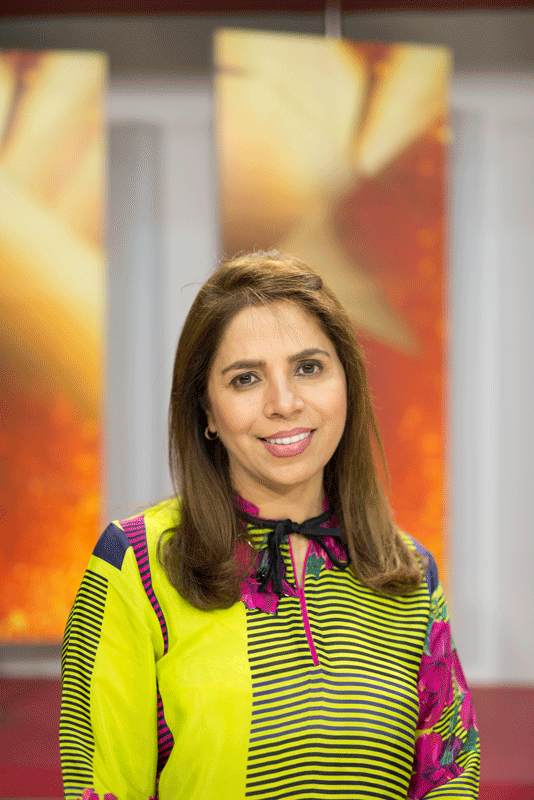 How did your interest in cooking develop?
My love for food started early. My family lived in Quetta and the climate there provided produce and dry fruits of quality. My father was fond of eating good food and our dining table was invariably laden with a large variety of dishes. I remember sometimes Dad would bring home unusual food stuff and request my Mom to cook it, which she would refuse to do point blank. He would then attempt to cook it himself. I was probably seven or eight years old when I saw my poor father struggling all by himself in the kitchen, and felt I had to help him.   
I moved to Karachi to study for my Masters and I stayed at the Karachi University girls' hostel. The food served there was so pathetic, and we actually noticed gross things appearing in our food. One day my friends and I had requested the kitchen to make bhagaray baingan (Hyderabad Deccan inspired cuisine with aubergine).  When it was served, each of us helped ourselves to a baingan. Then one of my friends started struggling very hard, while trying to break into her eggplant. It turned out to be a large cooked mouse. That was the day I decided to stop eating the food there altogether, and began cooking my own. For three years I cooked boiled rice and ate it with different types of vegetables and pickles.
After completing my Masters in Botany, I wanted to travel the world so I joined British Airways. It gave me the opportunity to try cuisines from across the world. We would be in Paris one day and I would be dining on French food; the next day, we would be travelling to Tel Aviv, and I was sampling Middle Eastern fare; I ate dishes like moussaka in Greece and my first lasagna and pizza in Italy. Senior flight attendants with more travel experience would guide, or take us to the best eateries in town, telling us which country had the best sea food, and where we could find other specialties.  
After I got married, I moved to New York in 1998, and there I discovered the most wonderful farmers' markets. I continued to work for two years into my marriage, until the airline signed for bankruptcy – and my colleagues and I were out of jobs. Thankfully, it happened at a time when I wanted to switch professions anyway. I had already visited about a 100 countries, and now wanted to do something different. And I was certain about one thing – it would not be a desk job.
In the meanwhile, I would often cook dinner for our family and friends and my husband's American friends loved my cooking so much, that they kept suggesting, I consider becoming a professional chef. It was an idea I thought worth pursuing, since I enjoyed cooking, and lived near an area where an unbelievable variety of ingredients and fresh sea food were available. After some research, I took a student loan to attend the Institute of Culinary Education in downtown Manhattan, New York, formerly known as Petercomes.
How long did it take to complete your chef's course?
It took a year. If you study full time, you graduate in a year. However, if you study part-time, it takes three years to become a full-fledged chef, after which there is internship, that is part of the training. It basically takes a while to learn enough to become a versatile chef.
I first thought of taking the three-year-route, but my instructors felt that for me, it would probably be a waste of time. Working part-time and training part-time is essentially full time very heavy, hectic work – even though you don't have to pay the fee, since it is automatically adjusted to the work you do. I felt my body would become too tired to absorb anything with such a demanding schedule, so I elected to complete my culinary arts education in one year by paying the full fee. I graduated from the Institute of Culinary Education in 2001.
How gruelling are these chef schools?
Very. I wanted to use my cooking skills to make Pakistani and Indian dishes, and fuse them with touches of Italian and French cuisine. So for my internship, my instructor recommended I work at Tabla, a French-Indian fusion restaurant in Union Square, Manhattan. It was there I discovered how crazy it was in the kitchen of a very busy restaurant – there was a lot of screaming and yelling, essentially it was utter bedlam. The only work space I could get was near the sink. That was where I set my cutting board and worked very hard, but nobody paid any attention to me. I was so shocked by my first experience in a professional restaurant, that I felt I didn't want to be a chef anymore if every kitchen was this chaotic. I started blaming myself for making a bad decision, and for wasting all my money on it – and that too while I was having such a wonderful life – but somehow I pulled through. Although after my internship I was offered a job in Tabla, I decided to take a break.
I wanted to return to Pakistan and thought of teaching cooking on television. But for that, I felt, I needed to be a versatile cook. I decided to return to Manhattan to hone my skills and so that I could also perform well in front of the camera. In the three following years, I first worked for Rock Centre Cafe American, which is located inside Rockefeller Center Plaza, whose head chef was a wonderful man – a relaxed, happy person with a laid-back disposition and I liked working in his restaurant. Later I joined California Pizza Kitchen, a casual dining restaurant chain, where the working experience was nice as well. My third stint was with Abigail Kirsch, a premier catering company in New York City. I worked in different restaurants in the US till 2005. Once I gathered the experience and mastered the skills, I felt ready to return to Pakistan to work on cooking shows on television.
Becoming a chef in America is a male-dominated profession – there are very few women engaged in that line of work. One reason is cultural, as many of these cooks are from South America – Puerto Rican, Spanish, Brazilian and Cuban. There is also drug abuse in the kitchen and most of all, it is physically, a very demanding job. The restaurant business has very odd working hours – 24 x 7 without any weekends. I was fortunate to be able to work in such restaurants, mainly because my husband was supportive, and also I did not have kids. 
Did everything go according to plan?
I met Nadia Khan somewhere on my return to Pakistan, and mentioned I was a trained chef from the US. She invited me to join her show. I think Zubeida Tariq had been the cooking expert on her show but had left for another channel, being in such high demand. As I was in the country only for two months, I didn't sign a contract.
 I made my first appearance on Geo's Nadia Khan Show in 2006, which had just started. It was the first morning talk show in Pakistan. I would be on the set at by 7 am sharp, which I found fun, but very demanding. When I started introducing foreign cuisine and recipes like Mexican Tostadas, the image of the show changed and the show did really well. Later that year I met with Sultana Apa before Masala TV was about to start.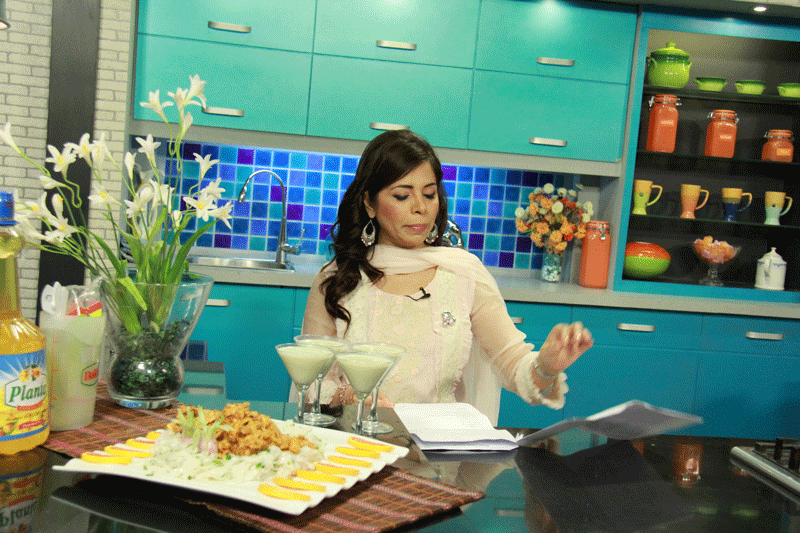 Did you ever want to have your own restaurant?
I never really want to go into the restaurant business because I know exactly how demanding it is – and I am the type of person who wants to be in control of everything. Each year, in New York City alone, 3,000 restaurants open and then shut down – primarily because they cannot maintain the quality they started with. It is imperative for a chef to maintain standard and consistency and very few survive. Those few restaurants who manage to maintain their quality, make a name and turn a profit.
You have to be on top of your game when you start a restaurant because the profit margin is very little. You have to ensure there is no wastage in the business; that the purchases are preserved properly – it is important that the produce you buy doesn't spoil and that you have the right supplier for the kind of food you serve, etc. Also you must know how to handle your staff. I mentioned the extent of yelling and screaming that goes on in the kitchen, which I would find very difficult because I have a soft nature.  
Since food television started in Pakistan, and over the years a whole range of new food has been introduced, do you think people's palate has changed?
It has definitely. People have gained knowledge of different cuisines – Japanese, Thai, the different types of pastas, pizza toppings, the fact that Mexican burritos can taste like Pakistani rolls, etc even if they don't know which ingredients make an authentic burrito. But generally, folks here prefer not to experiment with food. Experimenting means purchasing ingredients that are expensive, which people would rather not do, because if the food doesn't go down well, these ingredients could go to waste.  Another problem with our nation is that they want chatkhara (spice) in everything, so we are mostly stuck with original desi recipes like karhai.  
I usually introduce my own recipes in cooking shows, which is what I am doing currently in my cooking segment in Dawn channel's morning show. This week, however, it was about popular dishes from restaurants all over Karachi. There was a great demand for Kolachi ki karhai, rolls from Spicy, etc. Today I made Sulemani mutton karhai which I had ordered from Kolachi three days ago. I ate it every single day to dissect it with my palate and identify each and every ingredient. I examined its consistency, appearance, taste and the aroma, and figured out all the ingredients.  
When I reproduced the dish on the set and served it with whole wheat tawa naan – it was a super hit with the team on the set, who said it was better than the one made by Kolachi. That is because I added a bit of desi ghee that I made at home, while the restaurant used oil. I learnt in my initial cooking classes in the US, how in France they make clarified butter for cooking, which is basically like our desi ghee. It produces the best flavour and aroma. Most vegetable oils, except for olive oil, have a lot of chemicals – solvents and acid that are used to soften the hard vegetable seeds to extract their oil. Instead of making oils healthy, they do the reverse. That's what makes our bodies bloat and we are unable to burn the calories. But desi ghee is chemical-free and it is also full of nutrition because it is made from good quality butter.
In a show you had mentioned the dangers of microwave cooking. Could you elaborate?
It is fine to heat your food in the microwave for a short duration, even for five minutes – but dangerous to cook food in it. Moreover, food heated or cooked through microwave rays, especially those in plastic utensils, essentially changes the food – and those changes are harmful for the body, leading to different types of cancers. Now they are trying to make safer microwave ovens. There are different grades and qualities of plastics available in the market as well. Some plastics being manufactured now are microwave safe and sturdy, and don't fuse with your food while microwaving. Some take-aways or ordered food come packed in plastic containers, and the food is re-heated in the microwave in the same container. That is definitely dangerous as the utensil may not be of the right quality. If it melts enough to go out of shape while heating, it will make the food risky to eat. 
You must be trying out all the new restaurants whenever you visit Karachi?
Not really. I have a few favourites where I have been going for the last 15 years. There is a reason why I don't try out new restaurants. To judge their standard, I have to know how clean their kitchen is. One hears from others about the deplorable kitchen conditions, or dirty location of a restaurant, such as in the Boat Basin where the smell of the gutter is constantly wafting through. I just cannot go and eat in such places because I cannot and will not compromise on hygiene. For me, the food has to be hygienically prepared.  
There may be about five restaurants where I dine regularly, and a new one recently. Among the Chinese diners, I like Dynasty at Avari Towers because I know the chef and I've seen the clean kitchen. The quality, taste and service have remained consistent over the years. Among Japanese food, Fujiyama, located in the same hotel, is also great.  The appetisers of Cote Roti – the eatery inside the Alliance Francaise – is really very good and among the desi food restaurants, Kolachi situated on the top floor of the Ocean Mall is always consistent.
I have heard you sing on your cooking show 'Simply Shai.' Did you learn singing as well?  
I have been learning classical music for the last five-six years. Practicing classical music in the morning is a good form of meditation. A family man working in the office from morning till evening – who has a good home, provides well for his family, including good food on the table, and fine education for his children while having saved a comfortable amount for retirement – may not necessarily be a healthy man. You will find a classical musician, who works on the strings or plays the harmonium keys all day while sitting on the floor, far healthier. He has no pressures on his mind, and is happy with whatever he gets with his earnings. Classical musicians don't fall ill as frequently, they smile more often, eat simple food, stay away from negativity, stay young for a longer period of time and live longer. We don't listen to the needs of our body or mind because we are so busy with work. That is the reason why I don't do live shows anymore – they take up a lot of energy and are round the clock. You have to allocate time to relax and look after yourself. That's why hobbies are so important, especially for women. Women tend to become grouchy because they cannot do what they want. As soon as they are married, they have kids, whom they have to look after along with a demanding husband and the in-laws. Attending to innumerable other things, what do they have in their lives that they can do for themselves – usually nothing.
In there any interest left that you haven't pursued?
Oh yes. I am also learning Farsi and now I am at level two. But now I want to make a meaningful contribution to society. Working for street children is of particular interest to me. I want to be involved with something that would help change their lives and enable them to move out of the streets.
The writer is working with the Newsline as Assistant Editor, she is a documentary filmmaker and activist.
Next