Movie Review: Jawani Phir Nahin Aani-2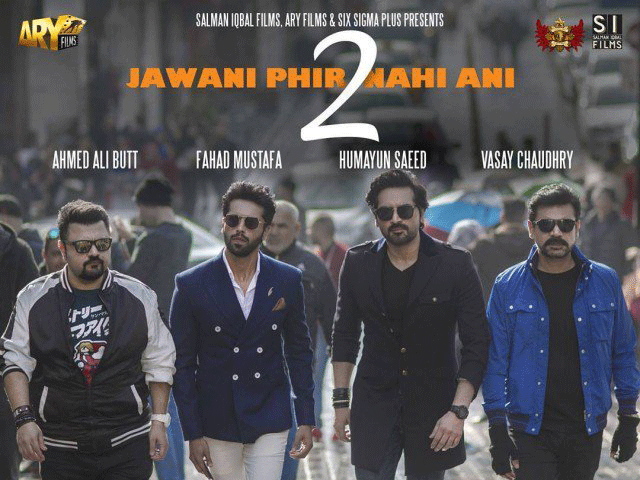 OMG, just so OTT. Or for the generationally challenged, Oh my God, just so over the top… So that's the short take on the very long (three hours, or almost, of viewing time) FAM (as in closest friends) flick, Jawani Phir Nahin Aani – 2.
Right through the film there was a distinct sensation of deja vu. Kinda been there, done that. And then the dawning – intentionally, inspirationally, or accidentally, coincidentally, JPNA – 2 and its forerunner are a home-grown take on The Hangover 1 and 2. But whatever… that's not all bad, and there's invariably fun to be had in the theatre of the absurd.
With an entirely 21st century setting, slick cinematography, contemporary music score, and mostly apt and attractive O(s)OTD – that's outfits of the day for the uninitiated – and the no-pancake, all good makeovers, courtesy designer Ali Xeeshan as couturier and Nabila's Salon, JPNA – 2 had lots of visual and audible stimulus. As for plot, script and arrangement, that brings us back to the theatre of the absurd. 
A loose, often far-fetched storyline, strung together by endless one-liners, all courtsey Vasay Chaudhry, some of them genuinely funny even if done to death (mujhe kyun nikala, for example) and almost forced multiple references to the man of the day – Imran Khan – with Hamza Abbasi's cameo adding some extra flavour,  the film was an unabashed, unapologetic experiment in farce – which somehow actually ended up being fun.
So there we were on this joyride in glorious Istanbul and glittering Dubai with the glitterati of Lollywood: Humayun Saeed, Vaasay Chaudhry, Kubra Khan, Mawra Hocane, Uzma Khan – and the real stars of the show: the effortlessly funny Ali Butt, as man, as woman, the brilliantly nuanced 'designer' of dubious sexual orientation,  Sohail Ahmed, and the convincing hustler with heart, Fahad Mustafa. Vaasay Chaudhry was understated and  natural. Real life Indian actor Kanwaljeet Singh as the reel life Indian nawab was a spot-on choice for the role, acquitting himself admirably, and the Pakistani-model Omar Shehzad, as a nawazada with perfect pecs, was great eye candy – and oh,  his acting wasn't bad either!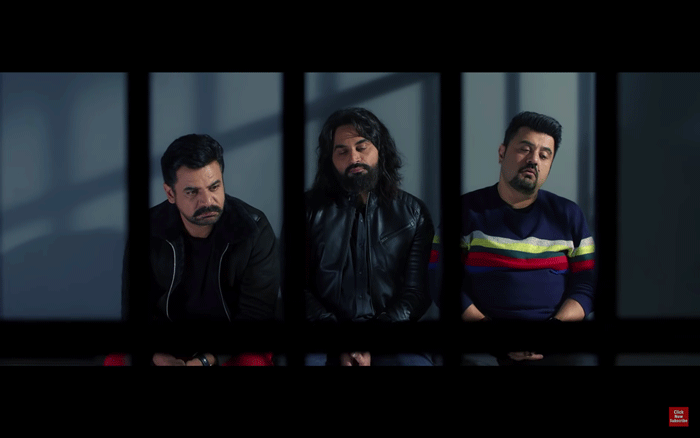 That rounds up the guys in this quintessential bromance. As for the girls, the effervescent Sarwat Gilani was most memorable as the Pathan – accent et al – Mawra less effective, Kubra Khan adequate, but not much more, and Uzma Khan was just plain forgettable. Apart from a few others, that leaves the leading man, Humayun Saeed. And he was the weakest link. 
The unarguably hunky hero of just a few years ago has gotten a little long in the tooth, even if still quite an eyeful, but if he made any impression, it was primarily that of overkill. From his insane in-your-face rendition of insanity in the first half,  to his sudden new avatar – the stereotypical, strong, brooding, honourable man in love, he ended up being entirely predictably, the good old-fashioned Pakistani ham- hero.
And yet, yet, over or under acting and far-fetched twists and turns aside, the film somehow worked. To begin with, it was something of a coming-of-age for Pakistani cinema of this feel-good, pure entertainment genre. Out of the shadows of Bollywood, the Pakistani film industry has developed an identity – good, bad or indifferent – quite uniquely its own. The Pakistani public – of all descriptions, pocket, class, age – is actually back and thronging  the new-age neuplexes for new-age Pakistani film magic. JPNA – 2 and the laughter it engendered in packed
cinema houses, was celluloid proof of that.
Next