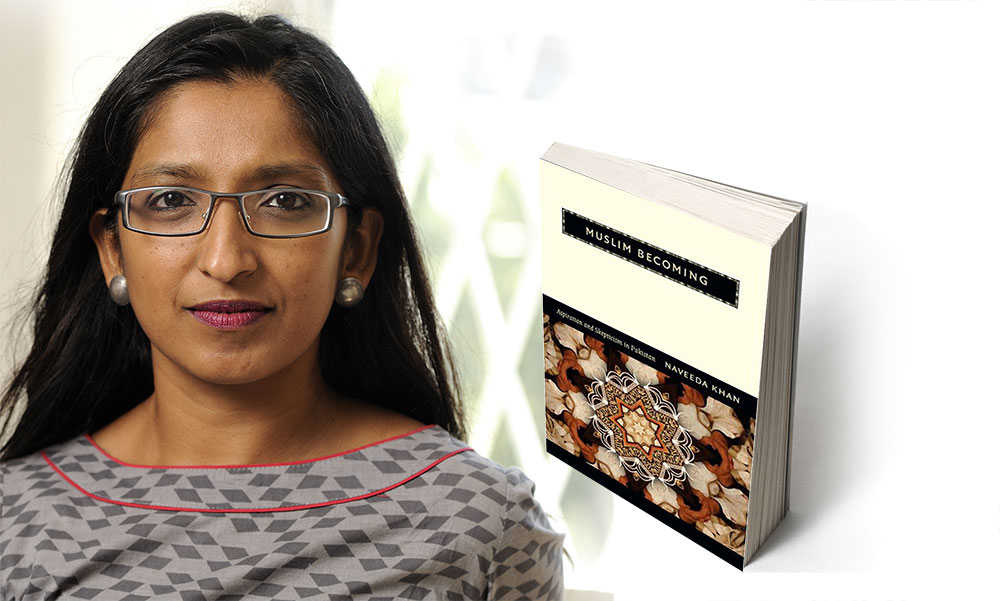 Naveeda Khan's Muslim Becoming: Aspiration and Skepticism in Pakistan is an extremely stimulating and thought-provoking book. It is likely to be read with equal interest by both the champions of theocracy as well as its opponents.
The author starts with a study of the increasing concentration on building mosques in Lahore after Partition: the large-scale construction of 'illegal' mosques, the appearance of qabza groups and the tussles between rival sects for possession of certain mosques. While analysing the literature on mosques, the author takes note of "the many efforts taken to apportion the space and prayer times of a mosque so that competing groups could be accommodated." She adds, "the Prophet himself learned, over time, how best to allow non-Muslim traveling contingents ingress to the Medina mosque for their worship." The reality in Lahore, however, was that the marble plate bearing the name of a mosque also declared that the mosque followed the tenets of Ahle Sunnah Wal Jamaat. The head of the mosque committee explained that those words had been added very recently to discourage anyone other than the followers of their maslak from entering the mosque.
This state of affairs raises many questions about the causes and consequences of factional conflicts among Pakistani Muslims, conflicts that have become bloody, but the author does not concern herself with these matters and she concludes that the activities around mosques represent the concerned communities' striving to become Muslim. (Reference is made to the slogan 'Pakistan is a mosque,' but, surprisingly Iqbal's reliance on the hadith describing the whole universe as a mosque is not recalled). This striving to become Muslim has been influenced by many scholars out of whom Khan chooses to examine three: Iqbal, Muhammad Asad and Maudoodi. In her view, it is Iqbal who has provided the strongest and most consistent stimulus to Muslim becoming.
According to Khan, as part of this striving to be Muslim, the Ahmedis were put outside the pale of Islam and this was strictly in accordance with Iqbal's argument. This argument was acknowledged by Liaquat Ali Khan while introducing the Objectives Resolution, by the authors of the Munir Inquiry report and, of course, by General Zia-ul-Haq. However, Iqbal's plea for showing tolerance towards the Ahmedis, after they had been declared non-Muslims, has not been accepted. If Iqbal had, indeed, provided the impetus for building mosques and expelling Ahmedis from the Islamic fold, it is necessary to undertake a thorough study of his thought.
Khan displays scholarship of a high order while delineating the influence of Bergson and Nietzsche on Iqbal, as we enter parallel discourses on aspiration and skepticism in Pakistan. The writings of Maulana Yusuf Ludhianvi and Dr Mufti Abdul Wahid are analysed, but there are not many scholars to pursue on Iqbal's skepticism till we come to Mumtaz Mufti's Talash.
The problem is compounded by the non-availability of a proper and widely acknowledged definition of a Muslim. The ulema offer little help and their credibility and influence have been undermined by a general ridiculing of 'mullaism'. Mumtaz Mufti's efforts to ascertain what is meant by a Muslim are obviously inspired by his realisation that many of those claiming to be Muslim do not deserve that title. The author herself does not try to explain the attributes of 'Muslimness,' beyond saying that the process of becoming Muslim is not directed towards a fixed end and that it is like a continuous struggle towards higher forms of 'Muslimhood', just as Iqbal's call to elevate oneself to the rank of 'Overman' (the expression used instead of the more common term of 'superman' for the 'Shaheen') implies endless striving for perfection.
After taking note of the expression of happiness by several Pakistanis at the steps taken by certain governments in Pakistan towards the enforcement of Sharia as "specific expressions to striving in Pakistan that have long histories," and conceding that many of these people "would likely be dismissive of each other," she asks, "what would it take to acknowledge the element of striving in each other's expressions, which is not necessarily to support it or allow it to be in its own place, as to see these expressions as belonging to Pakistan?"
Her conclusion is, "I see this mode of inhabiting Pakistan as one of allowing Muslims opportunities to reinhabit their tradition, to make it newly perfect, and, through the intervention of Muhammad Iqbal, opening it up for travels in the virtual. I also see this promise as teaching about living with doubts and skepticism and learning to acknowledge their presence and devastations in our midst." Quite a valid proposition, subject to the observation that doubts and skepticism, which most ulema do not wish to admit, are not always devastating. Indeed, striving towards a higher form of existence or Muslimness may not be possible without doubts about the state of living and belief itself.
Books like Naveed Khan's serve as useful catalysts to stimulate thinking, especially on matters that most Muslims take for granted or consider Islamic only because the semi-literate mohallah imam has so decreed. Whether one agrees or disagrees with the writer is a secondary issue.
However, two points need to be made.First, Iqbal has been interpreted by various scholars, including those who do not know or understand him, as pointed out by Dr Javid Iqbal. Any researcher basing his/her thesis on Iqbal's thought must ensure that the interpretation of Iqbal's argument is not influenced or dictated by their respective wishes or agenda.
Secondly, all the striving discussed in Khan's book is about becoming a Muslim in the religious sense (ibadaat) and about making an Islamic state with Islamic laws. This could be viewed as entertaining a narrow concept of being a Muslim. What does being a Muslim mean? The concept of Muslimness that is confined to rituals, or the use of law to make Muslims follow religious injunctions, can be challenged on the basis of Islamic literature. Even Iqbal would not be happy with a Muslim who is an incomplete human being.
Mr. I.A. Rehman is a writer and activist living in Pakistan. He is the secretary general of the Human Rights Commission of Pakistan Secretariat.
Next