The Agony and the Ecstasy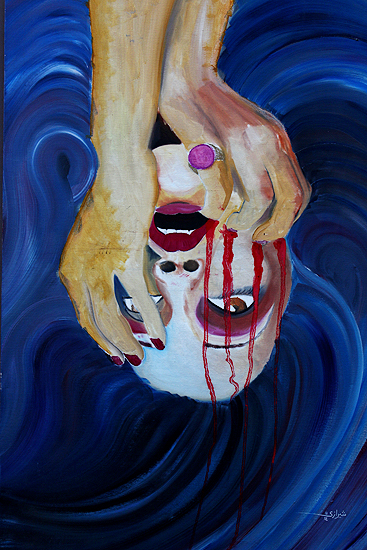 If art is a means of therapy and catharsis, there would be no better example than the recent exhibition titled Exposition at the Alliance Francaise in which 10 artists from Karachi's Central Prison Fine Arts School exhibited their best works. The artists included Hasnain Raza, Kazim Raza, Abdul Aziz Bugti, Fazal Raheem Yousufzai, Syed Jawad Ali Shirazi, Samar Abbas, Ghulam Mustafa, Ahsan Khairi, Mohammad Ashfaq Qureishi and Mohammad Kashif. Inspector Nusrat Mangan came up with the idea of the fine arts school in 2007, with the goal of rehabilitating prisoners and giving them a second chance at life.
Large cubist paintings, calligraphy and works that can only be described as absurdist adorned the walls of the gallery. There was abundant use of the female figure and it was interesting to see how male artists had used the feminine form to express their own torments and desires. Aziz Ali Bugti's 'Hope' was a portrait of a frail yet resilient-looking elderly woman. Jawad Ali Shirazi's 'Sometimes This Way; Sometimes That Way' portrayed a woman covered in rich swirls of bluish-black hair, clawing at her face in anguish. The image and style of the painting resembled Urdu pulp digest covers. Clocks were also a recurrent motif in his paintings, suggesting a countdown of days to release. 'Changing Times' depicted a clock with haphazard numbers, perhaps signifying the irrelevance and uncertainty of the passage of time in prison.
Some works also touched on socio-political themes such as Hasnain Raza's 'Career,' a painting of a young boy evidently of a poor background, and Sikander Ali's 'Target Killing.' Another piece, striking for its content rather than style, was Kazim Raza's painting of the words "Justice Delayed is Justice Denied" under a photograph of Supreme Court members.
Admittedly, some of the works were a bit disturbing, especially taking into account that a few of the prisoners were incarcerated for murder. One chilling piece, titled 'Karo-Kari,' in which a naked and bloodied woman sits in an office chair, stood out in particular. An axe covers her private parts, while the face of a man stares at her ominously.
Whether paintings like these are attempts at exorcising demons, reveling in fantasies or protesting against social ills, it is difficult to say. However, sometimes it is best to refrain from drawing any conclusions and judging the work on its own merit.
The writer is a journalist and former assistant editor at Newsline.
Next