It is a Friday afternoon and the parking lot of Noor Cultural Centre is filling up with cars, expensive BMWs and SUVs among them. Like other neighbourhoods around Toronto, people are arriving at the mosque for afternoon prayers.
Downstairs, in the prayer room of the spacious, modern building, men and women sit on Persian rugs laid out on the floor in the same room, though on different sides. The imam takes his position in front where all can see him. He calls out the azan and leads the prayer, bowing and rising, as the congregations follow suit.
After the prayers and sermon, some attendees rush back to work, but those who are able to take a longer lunch break, linger. Besides, coffee is brewing in the next room, accompanied by samosas and other snacks. Husbands and wives carrying cups of tea or coffee join each other at the round tables to chat with friends and nibble on cake. It is a convivial atmosphere and they value the opportunity to mingle with fellow Muslims and make new friends. A good number of those present attend Friday prayers regularly and are acquainted with one another. They also make time to introduce themselves to new faces, of which there are, interestingly, always a few including non-Muslim visitors.
Noor Cultural Centre opened as a mosque and cultural centre in September 2003, when its founder, businessman Dr Hassanali Lakhani acquired what was once the Japanese Cultural Centre. The square building of gray stone has strong, straight lines, huge glass panes in front and wide glass doors. The craggy look of the facade blends in with the natural browns of the landscape and the wooded area surrounding part of it. The building was reconfigured and made suitable as a place of worship for Muslims with changes to the interior, to make way for a prayer room and ablution areas, with the help of the original Japanese architect, Raymond Moriyama.
Samira Kanji is the soft-spoken, articulate Executive Director of Noor Centre, and it is her father who established the place. She describes the centre as a place that is open to the full breadth of the Muslim community.
"This is an Islamic centre that represents the Islamic values of being inclusive regardless of sect, ethnicity or gender. We seek to serve and represent the Canadian Muslim community in our mission and vision.
"There is growing awareness and appreciation of Noor Centre as evidenced by the increase in numbers attending our Eid prayers, and the feedback of people who will come and tell me they're visiting from Australia, or Morocco or wherever, and heard about Noor Centre and were told, 'When in Toronto you must see it.' They come for Juma prayers as well as other events."
"We are a mosque, but not only a mosque," says Kanji. "We are also a place of learning about Islam and Muslim societies, and where the diversity of arts of Muslim cultures is showcased and celebrated. That makes us interesting to non-Muslims who come for the educational programmes. We have a wider constituency than just the Muslim community. Non-Muslims also come here for Juma prayers because they like our atmosphere. Our khutbas are in English, and after prayers we have refreshments and socialising, and some of these people have become part of our community."
On this Friday, Faizal Kayum, is the imam leading the prayer. He is one of four lay imams on the roster who take turns at performing this duty. He addresses the 30 or so men and an equal number of women in a khutba on the importance of civility in Canadian society and links it to the Prophet's teachings. He speaks in English, the language common to all, since people come from Pakistan, East Africa, India and other parts of the globe.
He spends some time in conversation with his family and friends before he too heads back to work at the bank. Kayum has been part of the centre since 2006. He says he has seen the congregation grow and notes it is an intelligent group of people comprising doctors, lawyers and other professionals.
"I like it here. I try to come every Friday," says one woman who used to attend with her husband until he passed away. She comes on her own now, and is at ease in the atmosphere that is courteous and respectful. For single women, the mosque has provided a supportive community.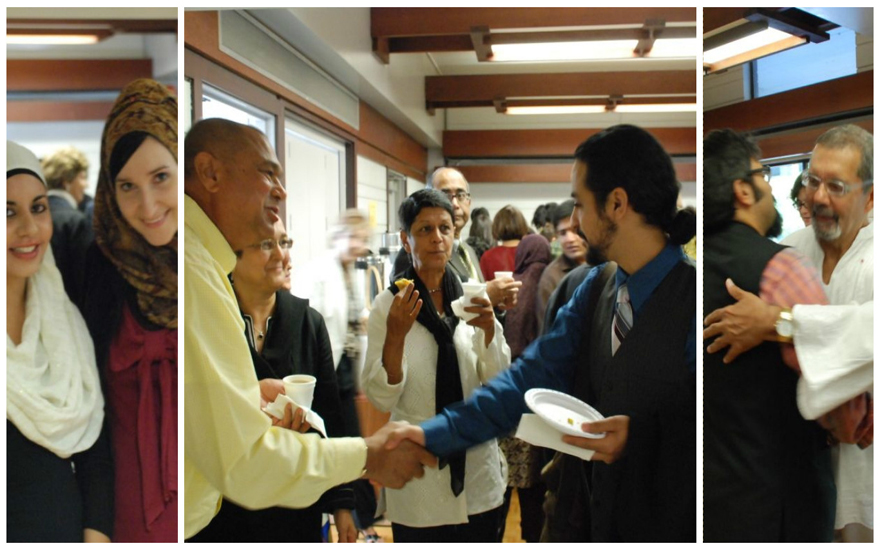 Samira Kanji explains the mosque's philosophy toward women. "We are fully inclusive. We want to be exactly equal for all brothers and sisters, side by side, in equal sight of the mimbar. It is being authentic to the teachings of Islam, which established the spiritual equality of men and women (Sura 33:35 of the Quran). My father was a devout Muslim and he felt that men and women should have equal access to prayer space. In several mosques women were given spaces that were inferior to the men's. It was very important to him to correct that. So the Noor prayer room was from the start set up to accommodate the female congregation in the same room and alongside the male, separated only by a three-foot aisle."
In some cities in the Muslim world, women do not go to mosques at all, only men do. In Toronto, women often go to their local mosque to attend prayers. But it can be a disconcerting experience. From working and studying together in other settings, the moment Muslim men and women enter a mosque, they are shielded from the opposite gender by the custodians of places of worship, with curtains strung up as barriers, or in separate rooms for women that are cramped or in cold basements.
Some in the community are critical of the way prayers are organised at the Noor Centre. They consider it wrong for women and men to be in the same room for prayers even if they are in separate groups. They object to the social mixing and to the fact that not all women wear a specific head covering. The inclusive nature of the centre, which is similar to other larger mosques in the city in welcoming people of all sects and cultures, is another aspect to which some people cannot relate. They prefer mosques where people present belong to the same sect or background as themselves. These objections are muted, however, since the various mosques in the city are free to choose their own way of worship.
"We have interaction with other mosques. I belong to a network of Muslims, including imams of other mosques. We do communicate; for example, we did a community-wide Call to Action to Eradicate Domestic Violence in November 2011, which got a lot of support," says Samira Kanji. "As long as we respect each other's rights to think and act differently on negotiable points of format and practice, we can be united without being unanimous."
"We want people to understand and adjust to our changes for greater inclusivity, and so we move slowly," Kanji continues. "Everything we have done has been studied for compliance with Islamic principles. We opened our first prayers with women and men side by side, over time we had women calling the azan, then we instituted a pre-khutba which women could deliver, and people got used to it, then the khutba. The first time we had a woman calling the azan some people walked out but they came back and our numbers keep increasing."
After September 11, 2001, York University saw an increased interest in Islamic studies and approached Noor founder, Hassanali Lakhani with a request to endow a Chair in Islamic Studies at the university. The university later gave him an honorary doctorate in appreciation.
"We are associated with a wide range of respected Islamic studies scholars through the Noor Chair in Islamic Studies at York University. The university brings in the scholars and we get access to mainstream academia and objective scholarship. By getting to know each other, and finding much in common, we can demolish barriers and hatred," says Kanji. School and church groups also pay visits to the centre. She estimates that 25 per cent of people that access Noor Centre are non-Muslim.
The centre engages in a number of interfaith relationships, such as participation in an international annual Twinning of Mosques and Synagogues event since 2008. One upcoming weekend, a rabbi is scheduled to do the khutba through a twinning with Temple Emmanuel, and in return an imam will visit a synagogue.
One Thursday evening, over a dozen women, Jewish and Muslim, a few wearing hijab, are seated at desks studying printed material. They take turns reading out from Roman historical texts, and Jewish and Muslim religious texts. There is a sense of curiosity combined with understanding when similarities are uncovered. The women are gathered at Noor Centre to do an interfaith study — part of a series that is taking place over several weeks at three locations, including University of Toronto and the Miles Nadal Jewish Cultural Centre.
Shari Goldberg, in her PhD studies at the University of Toronto, is studying feminist approaches to religious texts in Judaism and Islam. She became interested in exploring similarities between them in topics like common restrictions, modesty laws, marriage and divorce, political leadership and more.
"I came up with the idea of the series from a workshop I had organised," says Goldberg. "There is a shared kinship between Jewish and Muslim women. The male textual interpretations have marginalised them. Women are told what texts say and this is an opportunity to read it for themselves. When women have that experience it is very empowering for them, for both communities. Noor popped into my mind, they are always interested in pursuing interfaith relationships. We are building bridges of understanding. Most of our knowledge is filtered through the conflict of the Middle East. We can change that — have a more nuanced conversation. Jewish women have gained a better understanding of hijab and what it means. Some Muslim women don't appear orthodox but have a deep commitment, just as we have a range of Jewish practices. It is eye-opening and has potential."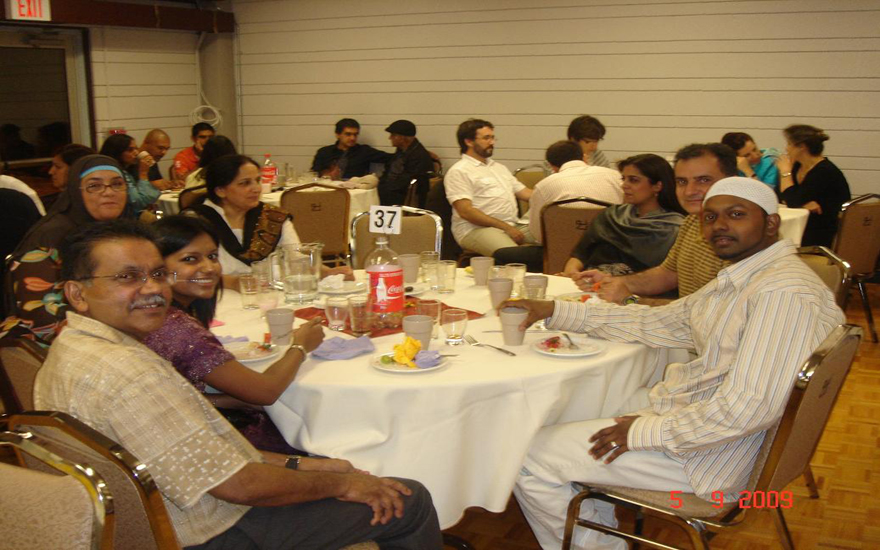 As a cultural center, Noor Centre plays an important role, celebrating the diversity of Islamic culture by showcasing art and music, dance and film, and holding two or three concerts a year. At the Eid-ul-Azha prayers the crowd is large, around 400 people. Although the people are mainly from Pakistan, India or East Africa, there is an eclectic feel with many ethnicities — black, Asian, and white — celebrating with relatives, friends and even small children.
Her co-facilitator, Nevin Reda, is an Assistant Professor in Muslim Studies at University of Toronto, Emmanuel College and knowledgeable on women's political representation in Islam. "The discussion is of religious value," says Reda. "It helps in my knowledge of what it means to be Muslim. You understand yourself better when faced with other traditions. In my experience, dialogue leads to understanding between people."
These relationships have enhanced the centre's position as a place for discourse about Islam and issues concerning Muslims in the West. Scholarly events, lectures and discussions take place almost weekly, like the series on food and environmental ethics.
"Halal also means not exploited, therefore we explicate it as an Islamic ethic for social justice that requires humane treatment of animals and food service labourers; care for the environment is an obligation."
As a cultural center, Noor Centre plays an important role, celebrating the diversity of Islamic culture by showcasing art and music, dance and film, and holding two or three concerts a year. Outside groups are allowed to rent the space. Some months ago, one group organised an evening of classical Indian dance and music.
At the Eid-ul-Azha prayers the crowd is large, around 400 people. Although the people are mainly from Pakistan, India or East Africa, there is an eclectic feel with many ethnicities — black, Asian, and white — celebrating with relatives, friends and even small children.
All become quiet when a meditative tape of Quranic verses from South Africa is played. Prayers begin.
Some in the crowd wonder what this year's khutba will be about. They recall the previous Eid khutba, in which the imam had spoken about the wrongness of marginalising groups, whether they are women or homosexuals. Noor Centre has been a place where the gay community has found acceptance in being able to follow their faith. That sermon sparked much discussion in the community afterwards about the ideas of tolerance and acceptance.
Although women cannot lead prayers at Noor Centre, they are allowed to give sermons. Today's Eid khutba is delivered by journalist and Quran scholar Afra Jalabi. She recounts her memories of going for Eid prayers as a young child with her family in Golan Heights, Syria, and the incongruity of seeing the Israeli and UN bases overlooking their spot. Despite having lived in the shadow of a military threat, she talks of wanting to see peace in her land again. The theme resonates with the worshippers, many of them having lived in war zones themselves and, like her, yearn for peace. They sit quietly, and reflect on her words.
Next