"The finance minister made no mention of the overall revenue shortfall."- Mohammad Zubair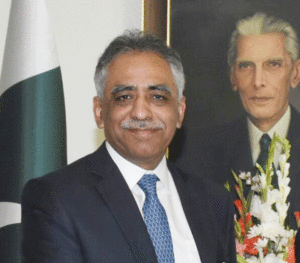 More than anything else, the January 23 mini-budget proved to be a political statement. The PTI government has been under immense pressure, especially on account of its wayward economic policies, which have crippled economic activity in the country. 
Pakistan was expected to grow at 6.2 per cent this fiscal year, but now we are talking about a barely 4 per cent economic growth. This, in itself, will have disastrous consequences for the economy: it will lead to a rise in unemployment, a massive slip in revenue collection targets and a widening of fiscal deficit.
The government came up with a feel-good package after months of being bashed continuously for its lack of action and policy direction. The January 23 package will result in a revenue reduction of Rs 7.0 billion. This is insignificant, but what the finance minister did not talk about is where we stand in terms of the overall revenue shortfall. By December, the revenue shortfall was Rs 175 billion. There was no mention of how this shortfall will be plugged. Plus, if the same revenue stream remains, our total revenue shortfall could be around Rs 300 billion or so. 
Additionally, the finance minister also did not give any revised revenue target. It is surprising as to how anyone could fail to mention such a shortfall in their budget speech; it is a subject that should have been at the heart of the budget speech. 
The finance minister also forgot – or deliberately avoided – talking about higher-than-stated expenditure figures. It is clear that our expenditure will overshoot by hundreds of billions. Firstly, we have a higher-than-planned defence spending. 
Secondly, as a result of devaluation and an increase in the discount rates, our debt servicing will overshoot by Rs 700-800 billion, from 5.75 per cent to double-digit figures. Again, along with revenue targets, expenditure is the other most important component of any budget, which was ignored in the finance minister's speech. 
The shortfall in revenue, along with increased expenditure, mean that the fiscal deficit will be significantly higher than planned earlier. There was no mention of how this increased fiscal deficit will be managed. 
Going forward, there are two possibilities. Firstly, the government may slap new taxes in the coming weeks. And if that is not done, this gap will be financed through borrowing. In either case, it will result in higher inflation. 
The benefits dished out to non-filers should be a cause of serious concern and this move contradicts PTI's stated policy. Why should non-filers get any benefits? Why would they be motivated to file their tax returns? How will it help increase the tax base? The PTI government has opted for an easy way out, and this demonstrates that it is merely trying to remain afloat.   
Further, the government also did not announce any plans to contain the circular debt, which has shot up from Rs 1.1 trillion to Rs 1.4 trillion, under the watch of the PTI government. In the absence of any concrete plan to meet the challenge of circular debt, we should expect a further rise in electricity tariffs.
 The PTI leadership has already indicated its intention of revising the NFC award to reduce money transfers to the provinces. This is based on its inability to expand tax revenue. Just for the record, the last PML-N government increased tax revenues at the rate of 20 per cent per annum during its tenure. The tax revenues almost doubled during the years 2013-2018, which meant doubling the money transfers to the provinces. 
And last but not least, let me talk about the credibility of this government. Since coming to power, it has taken constant U-turns and publicly defended them. Why should we trust the announcements of a government that justifies its tendencies to backtrack and break the commitments it has made on certain vital national issues.
Mohammad Zubair is the former Governor of Sindh and senior PML-N leader. 
Next