Acknowledging Hard Stories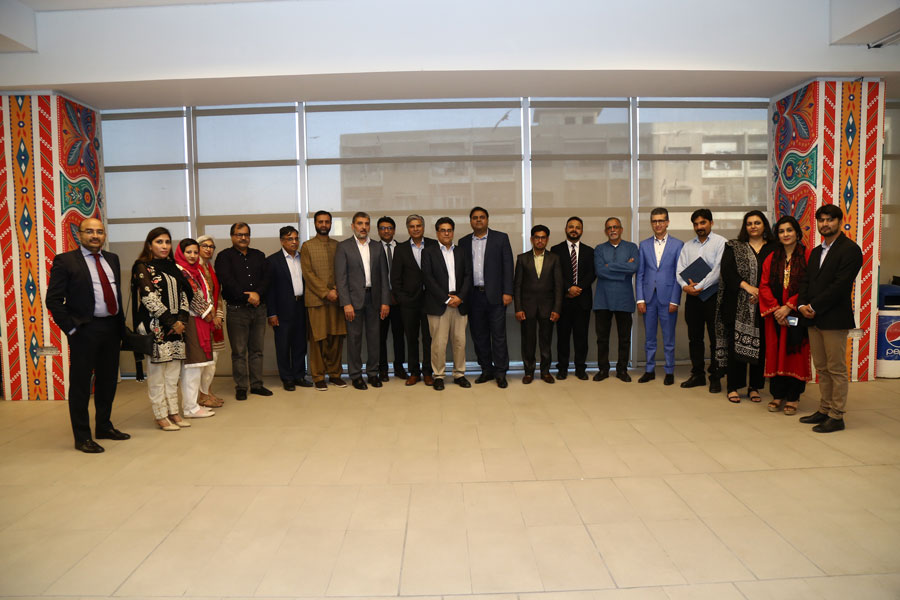 O January 15, 2019, the Centre for Excellence in Journalism-Institute of Business Administration (CEJ-IBA) hosted the third Lab Azad Awards to honour journalists across Pakistan who exhibited distinction in reporting on social issues. 
The awards are organised by the Centre for Excellence in Journalism (CEJ), in collaboration with the Centre for Communications Programmes Pakistan (CCP), and two non-profit organisations, Palladium Pakistan and the Sukh Initiative. This programme was initiated in 2016 to highlight rights-based reporting on social issues, especially those impacting the marginalised sections of society.  
The jury, comprising a panel of veteran journalists who assessed the shortlisted submissions, selected winners on the basis of a comprehensive criteria. Federal Minister for Information and Broadcasting, Fawad Chaudhry was the chief guest at the event, and members of the academia, the development sector and the corporate sector were also in attendance.  
In his welcome address, Director CEJ, Kamal Siddiqi shared that the idea behind these awards was to "institutionalise the values of accountability, humanity, neutrality, independence and, above all, focused journalism in Pakistan."  
IBA Dean, Dr Farrukh Iqbal, said, "Journalism has to be free, open and unrestrained, disciplined of course but allowed to roam into appropriate areas to the extent that some of the awards given out today are for interesting and innovative work and work done with a social purpose."
Thirteen journalists received awards in four media categories. Each category was further sub-divided into child rights, women rights and health rights issues. 
Zaibunissa Burki, the judge for news reports for English newspapers and online content, said about the submissions, "Going through 80 or so news reports and stories, what I was most reminded of was what real journalism actually means, because most of the stories were powerful storytelling. It also means that while most our mainstream media is battling a lot of challenges, we have independent voices out there who are still trying to make a difference."  
Xari Jalil received an award for Excellence in Reporting for English Newspapers and English Online Content for her story on the rape and killing of little girls in Kasur. While thanking the judges, Ms Jalil said, "Reporting is not just a job. You devote your life to this work and to bring change through your writings, so matters do not go unnoticed."   
Rizwan Safdar, another award recipient in the same category, made a very telling observation: "It is interesting and encouraging that out of the four awards given to stories on women's rights, three winners are men. Maybe Pakistan is on the right path. For our story, my fellow recipient Ghulam Dastageer travelled to districts of KP and Punjab, where women were not being allowed to vote. The story became a part of the media discourse. Consequently in the 2018 elections, women in these areas were able to cast their to vote." 
Rashida Sadiq Kiani won the Excellence in Reporting for TV and Radio award for her story which focused on government ghost schools of Rawalpindi, where teachers were not taking classes and yet drawing salaries. After the story went on air, the Punjab government took action against the staff." 
Saman Khan, another award recipient for Excellence in Reporting for TV and Radio, said, "It is very difficult to get space for such topics in the mainstream media. When we pitch a strong idea, say about a victim of child marriage or the working conditions of home-based workers, the first question we are invariably asked is, whether we want to highlight these issues because there is a special day coming up?"
Veteran journalist Ghazi Salahuddin dwelt upon the challenging times being faced by the media, "The freedom of the media is actually the freedom of society, in which everyone should participate… We give so much importance to politics that we are unable to focus on other things taking place in our society."  
Praising the CEJ's efforts, the Federal Minister for Information and Broadcasting, Fawad Chaudhry stated, "I think this is a brilliant initiative," and proceeded to speak about the media reforms his government hopes to implement in the near future.
The writer is working with the Newsline as Assistant Editor, she is a documentary filmmaker and activist.
Next