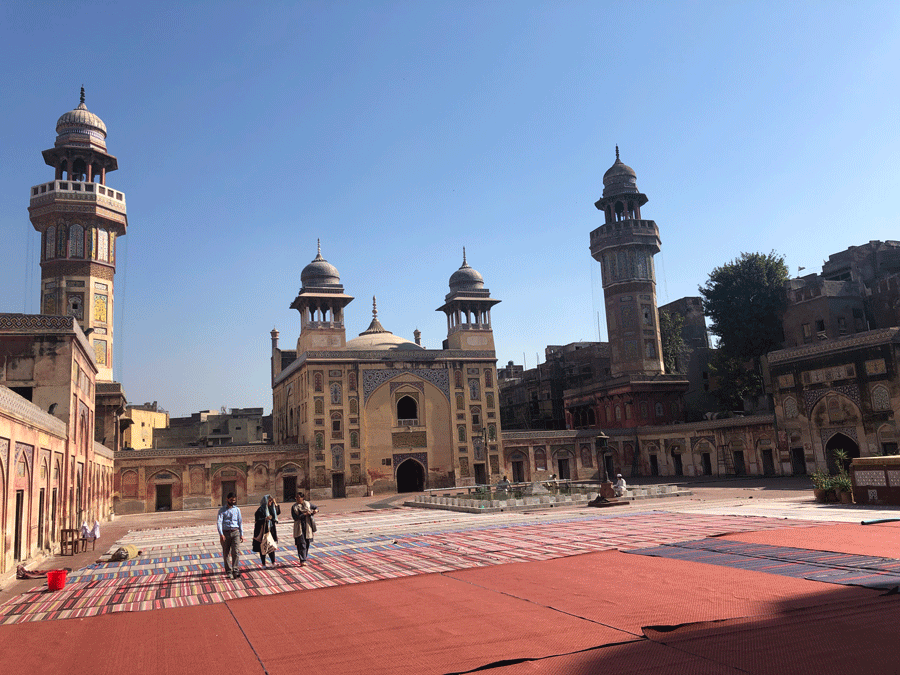 In 2013, Lahore Biennale Foundation (LBF) co-founders, Qudsia Rahim, then faculty member at the National College of Arts, and Osman Waheed, president of a pharmaceutical company, initiated Art for Humanity. This was a collaboration between the two institutions they represented, that involved taking students from the National College of Arts (Lahore) from across all disciplines to make art interventions in a public sector hospital. That this collaboration had a positive social impact, and sowed the seeds for recognition of the fact that art, besides its undeniable aesthetic value, is also important for social change, can be assessed by what it engendered: the creation of the Lahore Biennale Foundation in mid-2014.
The Foundation then began partnering with local institutions, including the city government of Lahore, to create art in public spaces. In 2018 the Foundation's flagship event – the inaugural Lahore Biennale (LB01) – -came to realisation. The focus of this Biennale was on the city of Lahore, and on the surrounding region of South and West Asia.
Biennales are large-scale public art exhibitions held in many cities across the world that take art beyond the realm of galleries and museums and directly into the public domain. Biennales can positively transform the perceptions of cities and nations that host them, and can play an important role in the promotion of contemporary art and culture.
Hoor Al Qasimi is a highly accomplished curator and arts professional. In her role as director of the Sharjah Art Foundation, she has promoted the art of the region encompassing South Asia, the Middle East and Africa, in large-scale, world-class exhibitions and programmes. The Sharjah Bienniale under her leadership has played an equally foundational role.
Her appointment as curator of LB02 will bring an intensified international perspective into the local ecosphere, informed by the needs and perspectives of our region. With such expertise, the artistic landscape in Pakistan will surely be enriched, and become more aware of regional and global conversations, as well as dialogues that are comparatist, or relational in other ways.
Al Qasimi's first visit to Lahore was a seven-day trip that allowed her to get a first look at the city's artistic and cultural communities. While in town, the curator met with numerous local artists, experts and academics, in keeping with her wide-ranging interests, including art, architecture, film, women's movements, and public engagement. These included meetings with members of the Women's Action Forum, faculty members at LUMS, leading art professionals, and members of the board of the Lahore Biennale Foundation, including author Mohsin Hamid, environmental lawyer Rafay Alam, and architect Nayyar Ali Dada. She visited LB01's venues and sites: the Lahore Fort, Shahi Hammam, Mubarak Haveli, Alhamra Art Centre, the Lahore Museum and Canal Road. She also toured the city's numerous historical layers, including areas of the walled city, colonial-era structures, and modernist architecture.
Although it is too early to say what the second Lahore Biennale will morph into, one expects it will likely be more expansive than an exhibition of purely visual arts. This, because in her work at the Sharjah Art Foundation, Al Qasimi has supported diverse forms of art, programming and community engagement. For example, the Sharjah March Meeting takes place every two years, and in 2018 was similar in ethos to the Academic Forum at LB01. The LB01 Academic Forum saw the participation of scholars working on Asia, who brought a strongly comparatist modality of vision to a public that hadn't had such intense proximity to leading scholars of Asian visual cultures earlier.
The most recent March Meeting – Active Forms (MM2018) – included a programme of talks, discussions and conferences, where panelists discussed issues such as the public, power, agency, authorship and notions relating to possibilities for the future. The Sharjah March meeting also saw the participation of important Middle Eastern and international artists in the exhibition, Active Forms that included work by Gulnara Kasmalieva, Hazem Harb, Simone Fattal, Bahar Behbahani, Halil Altındere, Basma Alsharif, Raeda Saadeh, Magdi Mostafa, Almagul Menlibayeva and John Akomfrah amongst others. Karachi-based Yaminay Nasir Chaudhri was present as speaker, as was Naeem Mohaiemen, who exhibited at LB01.
After her visit to Lahore, Al Qasimi stated, "I look forward to working closely with the Foundation to curate a programme that celebrates the richness of artistic practice in South Asia and the importance of strengthening cultural ties between this region, the Middle East, and the broader international arts landscape."
Next