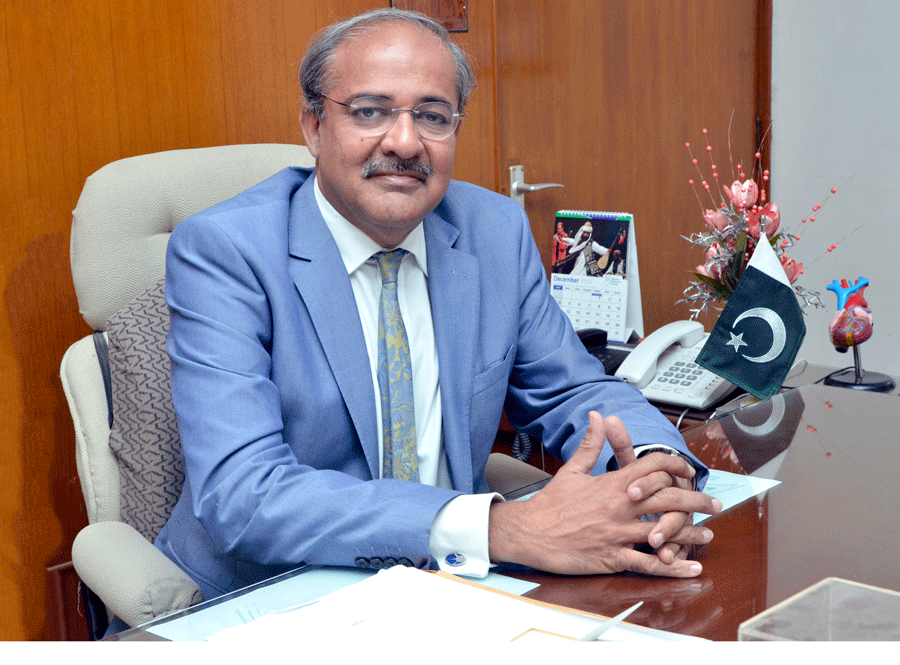 Although established 55 years ago in 1963, the National Institute of Cardiovascular Diseases (NICVD), a major medical city artery, was anything but state-of-the-art – until 2015, when it came under the stewardship of Dr. Nadeem Qamar. When the hospital was created, the services it provided were unarguably top of the line. However, gradually the institute went into decline for multiple reasons, among them the fact that it was taken over by the federal government. Alongside this, there was the growth of the private sector and private healthcare, and perhaps most important, the glaring lack of focus. In 2015, under the 18th Amendment, the NICVD came under the Sindh government, which was when Professor Dr. Qamar took over as Executive Director and started turning the NICVD around. Within three years, it had grown exponentially, going from a single hospital to 10 hospitals and seven Chest Pain Units providing the most cutting-edge cardiovascular treatments to the public – completely free. 
"Before I became the director of the NICVD in February 2015, I was never involved in administrative matters. But soon we realised that the treatment for heart attacks had changed. People were not given thrombolytic medicine (clot-busting drugs) any more. Instead, the new treatment was to open up the artery right away in the event of a heart attack – a procedure known as a primary angioplasty. The last time I checked, the NICVD Karachi ranked as the  world's largest centre for heart-attack angioplasty. In 2018 alone we performed over 6,600 primary angioplasties. There is no other centre in the world that performs that many heart attack angioplasties, all of them free of cost, using state-of-the-art, best quality, FDA-approved stents," said Dr. Qamar.
On average, the NICVD Karachi treats approximately 7,000 patients for primary angioplasties. If the number of patients from all of NICVD's eight peripheral satellite hospitals in Sindh is added to this, it  brings the total to 14,000 patients treated annually. With the exception of the institute's small executive clinic for those who can afford it, every single service provided by the NICVD is free, starting from the OPD to medicines, angioplasties, bypass surgery, pacemakers, even more expensive devices, and state-of-the art procedures, like valve replacement and cardiac treatments of adult children.
Keeping in mind Karachi's burgeoning population and the volume of patients in Karachi, NICVD introduced 'Chest Pain Units' (CPUs) in 2017, a new service for heart healthcare ie fully equipped refurbished containers that are stationed under flyovers all over Karachi. At present seven CPUs are parked under flyovers in Gulshan Chowrangi, Gulbai, Qayyumabad Chowrangi, Malir Halt, Nagan Chowrangi, and at the Railway Road near I. I. Chundrigar Road and the Sindh Government Lyari General and Teaching Hospital. In the last one year 115,000 patients from all over Karachi have been attended to in these seven units alone. Almost 5,000 people experiencing heart attacks went to these units and thereafter were transported to the NICVD. Dr. Qamar's target is the creation of about 25 CPUs in Karachi alone, and he has plans to soon open up 10 more, covering the different localities of the metropolis.
The CPU is a one-of-a kind service that is available 24/7 and designed to provide preliminary emergency care to heart attack patients who are stuck in traffic or are too far away to reach the NICVD in time. Each CPU is staffed with a cardiologist, a nurse and an ECG technician to provide prompt medical attention to people experiencing chest pain, chest discomfort or possibly other cardiac problems. These units are well-equipped, with the necessary diagnostic testing to identify patients with acute heart attacks, and to resuscitate patients who become unstable. After providing initial treatment, the patients are immediately shifted to the NICVD Cath Lab.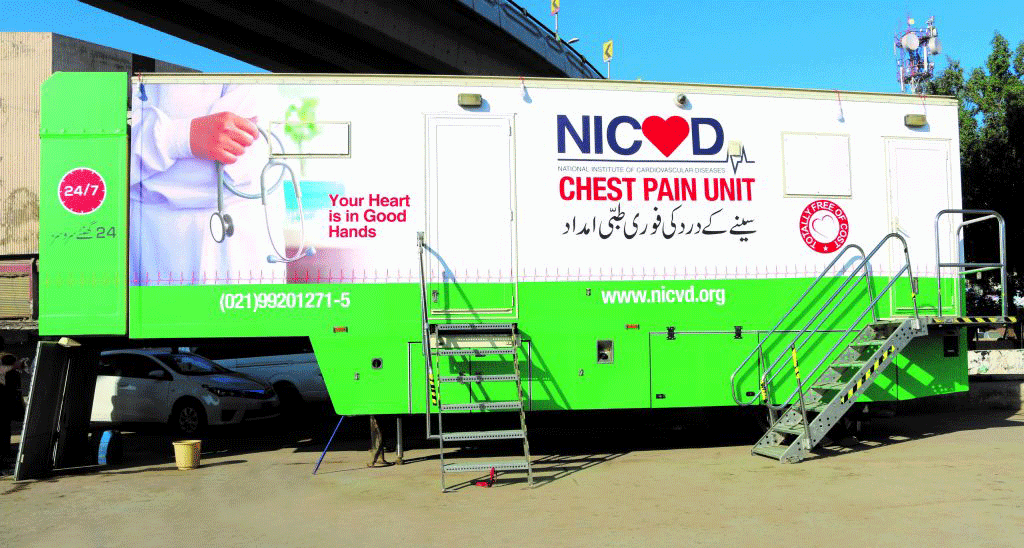 For the rest of Sindh, the NICVD has established a network of eight satellite centres which are, in fact, full-fledged hospitals. According to Dr. Qamar, "We provide exactly the same standard of treatment and care in all our satellite centres that we have set up in different parts of Sindh, starting from Sukkur to Khairpur, Larkana, Nawabshah, Sehwan, Hyderabad, Tando Mohammad Khan and Mithi. In other words, everybody in Sindh province today has access to at least one NICVD centre, where they will be provided advanced and comprehensive diagnosis and cardiac care services, including primary angioplasty."
He continues, "The NICVD Sukkur centre in particular, which is a 300-bed hospital, not only performs angioplasties,  but provides all the same cardio services provided in the NICVD Karachi, including bypass surgeries. In their first 100 bypass surgeries, the Sukkur facility did not lose a single patient – there was zero mortality," disclosed Dr. Qamar. The Sukkur NICVD also has a children's ward and conducts tests like echocardiograms (a test that uses ultrasounds to take images of the heart). "The Tando Mohammed Khan NICVD centre is a 100-bed hospital where they have started doing bypass surgeries and have performed more heart attack angioplasties than all the major private sector hospitals in Karachi."
The NICVD is perhaps the biggest centre, if not the only one, of paediatric cardiology in Pakistan, dealing with, among other heart-related medical conditions in children, holes in the heart – ie congenital heart disease. Said Dr. Qamar, "These children are born to the poorest of poor mothers, their condition owing to poor diet, malnutrition, and substandard ante natal care, often in addition to insufficient time spacing between children.  Resultantly, the children are born weak and their parents simply cannot afford to come to Karachi to provide them much-needed medical attention. Now for the first time we are providing paediatric cardiology in our satellite centres. Anyone living in Tharparkar can visit our Mithi centre, which is an island of excellence, and it belies the notion that no healthcare is provided to the people of Thar."
To cater to the sizeable volume of patients, the NICVD, a teaching hospital, trains its own pool of cardiologists. According to Dr Qamar, "We are aiming to produce a workforce for all of Pakistan and have fellows from all over the country. Presently we have 100 fellows who are training in basic cardiology, ie FCPS training. Once they pass that, some will apply for a second fellowship in the three sub-specialties taught at NICVD – interventional cardiology, which involves procedures like angioplasties, TAVI (Transcatheter Aortic Valve Implantation), etc; imaging, such as the echocardiogram and CT scans, and in electrophysiology, which deals with arrhythmia (rhythm problems of the heart).  After the completion of their two-year training, these fellows take the exams held by the College of Physicians and Surgeons Pakistan, and the best ones are absorbed into the NICVD system as consultants and senior registrars.
"I am amazed by the incredible work these boys can do; they are highly skilled. Technique depends on the volume of patients treated, and they deal with such a huge volume of patients that I believe they are far better than those of us who trained from the US, like me. We train medical students from all the four provinces and some return to their roots to work there. We are now going to start a foreign fellowship programme to train people from Central Asia, which will help us generate additional funding," stated Dr. Qamar.
He continued, "The number of patients is increasing drastically – which is worrisome – that is why we are in the process of expansion. Our average volume of patients at NICVD Karachi on a daily basis is 1,000 patients in the OPD; almost another thousand are attended to in our Emergency Room, and a large number of patients are admitted every single day. Patients arrive as early as 4:30 am to queue for admission – many with their children.
"There are eight other hospitals in the vicinity visited by the same number of patients. The best we can do is have more centres which we have done with our chest pain units around Karachi. We have increased our OPD hours which used to be till 2:00 pm, but now extend to 5:00 pm. My general instructions are that nobody who walks into the hospital will leave without being seen and getting the proper treatment.
"Although NICVD Karachi has 650 beds, we take in far more patients and the space is always overflowing. We have a plan to expand our general hospital to 1,000 beds. Presently a separate 250-bed children's hospital and another OPD building is being constructed on the same premises. My plan is to also refurbish our Executive Clinic and develop it into a proper private section, which will also help us generate substantial funds. We will still charge less than other private hospitals, but obviously our focus will be on excellence and quality healthcare rather than reduced price. Our plan is to expand NICVD Karachi into a 2,000 bed facility."
Speaking about the prevalence of heart disease in Pakistan, Dr. Qamar disclosed, "About half a million people die due to heart attacks every year. There is a higher incidence of heart disease among the South Asian populations than in other countries. The factors leading to coronary issues are either genetic, or the victims' lifestyles, such as smoking, unhealthy diets, lack of exercise, etc. Now we have started a preventive cardiology programme in Karachi. It is still in its infancy,  but we have hired a very senior professor from the Aga Khan University, who was head of department in the field there and has done a lot of work in prevention, to head this unit.  His first step will be to develop a department for prevention."  
The doctor continued, "The NICVD's patient population is growing all the time, so you can imagine what kind of financial strain it is. One way to reduce the numbers of patients is to educate people to modify their lifestyle and prevent heart disease. Our goal is to involve stakeholders, including the government, the cardiology community and the media and start a comprehensive programme that will have an impact. Hopefully in about five years' time we will be able to say our preventive cardiology programme has reduced the incidence of heart disease.
"We are also working on the lines of medical tourism, starting hopefully with the foreign fellows from Central Asia who will come here to train. Since now we are being recognised internationally, hopefully more patients will be coming to Pakistan from abroad for cardiac treatment. Short of heart transplants, we provide all treatment modalities that are available in cardiology, cardiac surgery and paediatric cardiology including TAVI (a minimally invasive procedure to replace the heart valve without surgery), PTCAs (an angiographic procedure for opening the narrowing blood valves without surgery) and LVAD (left ventricular assist device, which is a kind of mechanical heart pump)."
There is certainly cause for optimism. The NICVD has already started receiving invitations from abroad, including, for the first time, an invitation to be part of international multi-centre trials for heart attacks. This is a huge achievement, since the international medical community has not hitherto really recognised Pakistani hospitals as potential centres for trials.  Dr. Qamar says, "My hope for the hospital is that it will become the world's – not just Pakistan's – best cardiac centre –  and we are heading towards that. We are almost 75 per cent there."
The writer is working with the Newsline as Assistant Editor, she is a documentary filmmaker and activist.
Next