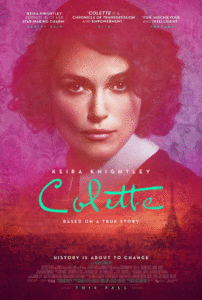 Born 145 years ago in France, Sidonie-Gabrielle Colette was a woman decades ahead of her time; that is why her story holds more relevance now than ever before. The firebrand woman lived an exuberant and full life – perhaps too full to be captured on screen. But Wash Westmoreland tries, and comes as close as anyone in capturing Colette's unmatched brilliance. 
A young and seemingly naïve Colette (Kiera Knightely) is enjoying a cup of tea with her parents and the delightfully charming Henry Gauthier-Villars (Dominic West), or 'Willy' as the world knew him. Much to her parents' surprise, who fail to understand what keeps bringing the man back to their daughter, who makes no promise of a dowry. They all chat for a while and then wave him goodbye. Minutes later, Colette walks to the barn, meeting her handsome suitor again, this time for some quick secret sex before he leaves for the city. That, in essence, is Colette: a woman with a life of her own choosing. 
A marriage is fixed and Willy whisks her away from the country life in Burgundy to the salons of Paris. But Willy's new bride is unimpressed by the ways of the city; she finds the people pretentious and is repulsed by her husband's flirting and philandering. She is, however, taken by Willy's 'factory,' where he employs young writers who allow him to publish their work under his own name, but all of them eventually leave the perpetually broke author when he fails to pays their dues. And that is where Colette's story begins as she picks up the pen to save her husband from bankruptcy. The city's bohemian lifestyle rouses her creative sensibilities, and she writes a novel Claudine at School based on her own experiences as a young schoolgirl. One which Willy first dismisses for its femininity, but ends up publishing out of desperation. 
The path-breaking novel with its lesbian undertones takes the city by storm – and Colette's life by extension. She finds herself liberated from her marriage; and thus begin her sexual trysts with Georgie, a young socialite from Louisiana, played remarkably well by Eleanor Tomlinson. She later meets the enigmatic 'Missy,' a female cross-dresser who encourages Colette to take back what's rightfully hers.
Colette is a dramatic but poignant exploration of the exploitative marriage between Colette and Willy brought to life by Knightley and West; their chemistry is palpable. He is believably insufferable as the unashamedly deceiving author who pushes his wife over the edge and she plays the firebrand author to perfection. Colette is undoubtedly a Kiera Knightely film; the actress seamlessly transitions from a doe-eyed country girl adjusting to life in the big city to a ferocious author who challenges the norms of her time. She successfully captures the irrepressible and inimitable spirit of the revolutionary author who made history. 
In addition to being inspirational, Westmoreland's period drama is also authentic. His attention to detail comes across in various scenes which highlight people's growing interest in electricity at the time, or see them passionately discussing the evolution of the bicycle. The rich art direction perfectly captures the glamour of Belle Époque Paris, which is where the film leaves Colette, with some of her most successful work yet to come. In that, Colette is not the story of the author's rise to fame, but of her metamorphosis. At its heart it sets out to inspire a young audience with the story of a remarkable woman who fought the oppression of a patriarchal system to claim the voice she had long been denied. A century later, her story still holds true – a testament to how far women's rights have come and how far they need to go. It is a film with what West's Willy describes as, 'personality with a capital P.'
A journalism graduate, Zoha's core areas of interest include human and gender rights issues, alongside which she also writes about gender representation in the media and its impact on society.
Next