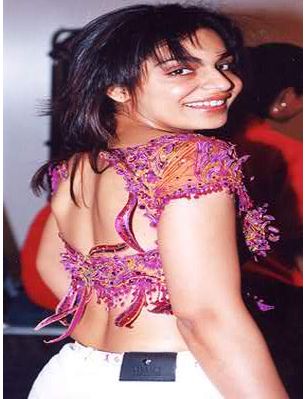 The date: 27th May, 2004. The venue: The World Trade Centre, Dubai. The people: 400 Pakistani celebrities and special representatives thronging lobbies and lifts, attempting to squeeze 48 hours of rehearsals and planning into 24. This was the day of the Lux Style Awards.
The whirlwind of activity had begun long before 1 a.m. Thursday morning, when a flight of journalists landed in Dubai to report on the much anticipated show. Walking into the hotel lobby, we were confronted by a roomfull of nervous stars. Models ZQ and Aminah Haq were frantically discussing their sequences with Frieha Altaf, pop stars Faisal Kapadia and Bilal Maqsood of Strings were crashed out in utter exhaustion and actress Nadia Jamil, the hostess of the ceremony, was nursing an aching tooth. The next morning started with breakfast, and two-dozen journalists on high alert, eager for some spice. Luckily they were not to be disappointed. Meera was missing for four hours after she landed in Dubai, and had remained absent for essential rehearsals. Kiran was to perform a solo dance, leading some to incredulously exclaim, "Which field of showbiz does she represent?" Nirma had retired to her room, the threat of being upstaged by Kiran too grave to bear! Not bad for starters, given that more than half of the Pakistani contingent were due to land later that afternoon.
As the day wore on, loyal groups subtly congregated together, but the demarcations were obvious. It was this year's team against last year's. The atmosphere was thick, made cloudier by the hundreds of cigarettes on fire. Thanks to Dubai's flexible smoking laws, nicotine addicts could puff their lungs away, while sipping on a fashionable cup of decaf to appear health-conscious. Celebrities began to emerge, in various stages of dress and undress: Natasha and Nadia sporting big hair, Frieha Altaf and Resham looking resplendently Mediterranean in white-is-right ensembles, and a smattering of celebs favouring the east-west fusion look, teaming traditionally embroidered kurtas, with trousers.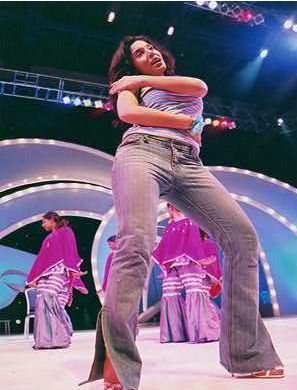 But just when it seemed too calm to be true, a loud screech resonated backstage, courtesy Meera, who wanted make-up applied all over her body, leading Tariq Amin's frazzled helpers to scramble here, there and everywhere, for cover. Finally, the high-strung star grabbed a pair of scissors and cut a couple of inches off her hemline. "My dress is too long," she exclaimed and, without missing a beat, began to pose in her skin-tight capris, asking a photographer if her back looked sexy!
Despite the antics of attention-hungry stars, Tariq Amin was every inch the professional. However, the minute he saw two make-up cabins marked 'Priyanka Chopra' and 'Sonu Nigam,' it was his turn to throw a royal fit. "I don't see a board marked 'Resham' or 'Ali Zafar,'" he bellowed. Furious to see Indian celebrities given priority over Pakistani stars, he demanded, "Take them off, or I'll leave…right now!" Of course, his outburst proved a big hit. With Sony TV involved so deeply and the show director, Tarun Chopra, flown in from India, allegiances were expected to get a bit lop-sided.
Even though the hustle bustle and hyperactivity backstage proved contagious for just about everybody, not so for Sadia Imam and ZQ. Our lovely icons of beauty lounged out lethargically, desperately seeking a caffeine high. "Can't someone get me just one cup?" asked ZQ, to discover that four gigantic flasks had already been ordered and consumed. Someone eventually brought in a platter of sandwiches which went untouched. Bread before a show? Don't these people know anything?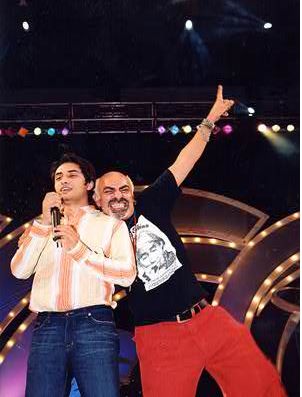 Suddenly it was seven and time for final touches. Despite the complaints, tantrums and asinine demands experienced earlier, everyone was now on a pre-show adrenalin high. The beautiful people were happy to be there, as part the fashion, showbiz and entertainment industry of Pakistan, making a small contribution to the promotion of it all. Of course, the show was not only about showcasing Pakistani talent. A big chunk of Bollywood had come in with Sony, to direct and produce the show. Though the concept, 'Faces of Beauty' was created by Asiatic, it too had been Indianised by having Neeta Lulla, the stylist for Devdas, design most of the costumes for the icons and the dancers — a fact that didn't go down too well with some of the top guns of the local fashion industry,who felt they could have done equally well, perhaps even better. However, no one questioned the worth of Indian choreographer Terence Lewis and his dance company who performed truly professionally — and beautifully.
At 9 p.m. a stream of celebrities walked into the theatre, on the red carpet laid out for them. Some looked good, others better — and others not-so-good, rather disastrous.
The evening merged into a night of glamour and drama. ZQ, representing Nefertiti, and dressed in full mummy garb, did not expect to appear onstage to receive the Best Model Award. The organisers, who were in-the-know, courted pandemonium, when they gave the model only 15 minutes to change into her glamorous self. Needless to say, all hell broke loose as soon as Nefertiti proceeded to transform back to ZQ.
The show concluded in the early hours of the next day, but the final act was yet to come…
Meera refused to return her dress, claiming she had nothing else to wear. Nirma disappeared with gems worth a million rupees, prompting an all-party search for the missing actress. Jewellery recovered, the party shifted to the dining hall, until hotel management suggestively turned off the lights around 3 a.m. and opened the doors, ushering everyone out.
Aamna Haider Isani is a leading fashion writer and an editor at Instep, the fashion and entertainment section of The News.
Next