"All these federal ministers who talk about a deal, day in and day out, cannot produce a single piece of paper"

– Hamza Sharif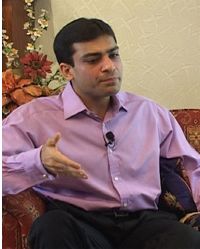 Q: Now that Shahbaz Sharif has been deported, do you have a future plan of action?
A: This deportation should be seen as part of a vilification campaign launched by the government. Shahbaz Sharif has just got a new lease on life. He was afflicted with a dangerous disease, but he always wished to return to Pakistan. And when he attempted to do so, he was deported.
To return to Pakistan is his fundamental right. It has been endorsed by the Supreme Court of Pakistan, under Article 15. The Supreme Court states that Shahbaz Sharif can come back and settle anywhere, and if a case is brought against him, he should go to the court of law and face charges. Shahbaz Sharif wishes to return and face trial in order to reveal the truth, and the liars. He is the first absconder in Pakistan's history to have a non-bailable warrant of arrest against him and still wants to return. The government, instead of arresting him, puts him on a plane and deports him.
Q: But the whole family went abroad under an agreement signed and delivered to the foreign guarantor, the government of Saudi Arabia. The family cannot come back into politics for at least 10 years.
A: How can a prisoner strike a deal, when he is incapable of even stepping out of jail? What sort of agreements are signed between the jailer and the jailed? And if there is indeed a deal, why has it not been presented before the Supreme Court in the recent case?
Q: Is this not because, according to the terms of the deal, making it public will nullify the agreement?
A: There is no witness. It's been four years and there is no material evidence. All these federal ministers who talk about a deal, day in and day out, cannot produce a single piece of paper. The Supreme Court is well within its rights to call for the papers of this so-called deal. However, nothing has been brought forth yet.
Q: If there was no deal, why did it take Shahbaz Sharif four years to attempt a comeback?
A: Politics has its own compulsions. We have Benazir Bhutto and Altaf Hussain's examples before us. However, in the case of Shahbaz Sharif, the decision to allow him to return was not that of the sessions court magistrate. This was an order of the Supreme Court of Pakistan, and the government flouted it. There is no justice here. Those who have made deals are sitting in the cabinet; for others, there is no justice.
Q: Shahbaz Sharif's return was essentially a political stunt. He knew he would be deported and that his deportation would make a political martyr out of him.
A:Why would anyone leave the comfort of a life in London and do something like this. Even if he was moderately certain that he would be deported, he still did not know what would actually end up happening. He could have been put behind bars, like Asif Zardari, for years. Everybody knows that Shahbaz Sharif, who was chief minister of the biggest province of Pakistan, was a clean minister and there was no corruption case against him. There is a fake case against him in the anti-terrorism court. It takes a lot of courage, to return in the face of fake cases for alleged crimes, the punishment for which could be death.
Q: There is a case registered against him with NAB.
A: Whatever the case, he will come back — if the government allows him to.
Q:Why has there been total silence from Nawaz Sharif's side? Does he have any disagreements with Shahbaz Sharif?
A: I know this theory by heart now. Shahbaz Sharif's point of view is very clear: Nawaz Sharif is his elder brother and like a father to him. Shahbaz Sharif has always maintained that if he cannot be loyal to his brother, how he can be loyal to anybody else? It has been four years since these rumours started to fly, and they should end now.
Q: But why has Nawaz Sharif kept silent?
A:Look, it's part of the government's propaganda to promote the idea that the two brothers have had a falling out. It's a useless campaign. It's immaterial to us, and we do not want to get involved in giving any explanations.
Q: There is the feeling that while the Sharif family lives comfortably in Saudi Arabia, the workers suffer. They say the Sharifs have let them down.
A: We are grateful to our workers for standing by the party, especially since the leadership is not around. The Muslim League is very strong — in the last elections it got around 37 lakh votes. This proves that the Muslim League is a grassroots party, and also that the Sharif family's vote bank is still intact. We admit that we have made mistakes in the past, and it takes courage to accept one's mistakes. Today, both the Pakistan People's Party and Pakistan Muslim League Nawaz accept the omissions of the past. That is why the two parties are now fighting an ideological battle.
Q: This talk of ideology is old hat. Politics is said to be mostly about personal benefits. Reportedly, the Sharif family has made a lot of money in all these years.
A: Mian Nawaz Sharif became finance minister in the '80s and it's a fact that even at that time the Ittefaq foundry turnover was in the billions, and it was paying revenues to the government and Wapda. Nawaz Sharif was not a big political figure at the time that his father was an industrialist. I remember my grandfather telling me that they started this business with 500 rupees and worked really hard, and that God had been very kind to them. At any rate, if factories have been established in Pakistan, it is to the benefit of the people. They have got jobs. The Sharif family's wealth is the result of sheer hard work and dedication.
Q: Even then, the reward has been exceptionally high, something rarely seen in Pakistani businesses.
A: : This is not true, especially since we have been in business for a very long time. Moreover, there are several instances of people who worked hard and made fortunes.
Q: The Sharif family is moving into second-generation politics. By grooming their sons, the Sharifs are perpetuating an unfortunate political tradition that allows families to maintain a hold over national politics.
A: For the time being, my responsibility is to take care of the family business. However, if I do get the opportunity, I would like to take an active part in politics. It is the right of every citizen of Pakistan.
Q: What is it that you expect from the Supreme Court of Pakistan?
A:Justice. They should take suo moto notice of the contravention of their verdict by the government.
The writer is former executive editor of The News and a senior journalist with Geo TV hosting a prime time current affairs program.
Next