In a tiny mud house in the dusty farming village of Rirka Balani in Punjab, 61-year-old Bibi Bakhtaran quivers with grief as she looks upon a framed photograph of her deceased son, Muhammad Riaz. Thirty-year-old Riaz was one of the six Pakistanis gunned down by special Macedonian police over two years ago in Rastanski Lozja, five kilometres north of the Macedonian capital, Skopje.
Macedonian authorities initially claimed that the men were terrorists plotting to attack western embassies. They displayed uniforms and badges bearing the insignia of the National Liberation Army, the ethnic Albanian rebel force that had fought government troops. Ethnic Albanian politicians, however denied any links to the seven men. A subsequent police investigation revealed that all seven of the murdered men, one Indian and six Pakistanis, were innocent of the allegations made against them. Instead, in a staged encounter, Macedonian police lured Omar Farooq, Syed Bilal Hussein Shah, Asif Javed, Khalid Iqbal and Ijaz Ahmed into Macedonia from Bulgaria before coldly gunning them down.
On May 1, the Macedonian government issued a statement condemning "the monstrous killing of seven economic migrants" and admitted that the incident was "staged." "The whole affair was set up to score political points with the international community," said Mirjana Kontevska, a spokesperson for the Macedonian Interior Ministry. The killings, he added, were part of an attempt to "present themselves as participants in the war against terrorism and demonstrate Macedonia's commitment to the [US led] war on terrorism." Macedonian officials implicated former Interior Minister Ljube Boskovski and framed charges against the four police officers involved in the killings.
In the first week of May, Macedonia issued warrants of arrest for the minister, after he failed to appear before court. According to the latest media reports, he is believed to have crossed the border into Croatia, where he is also a citizen. "We cannot arrest him unless Macedonia allows Croatia to take over the case," stated Croatian police spokesman, Zlatko Mehun. "We have informed Macedonia of that but have received no reply so far." Meanwhile, the Pakistani government has condemned the incident as "hideous." "The crime was even more shocking because these murders were premeditated," a foreign ministry spokesperson said.
All the deceased belong to poor farming families in Punjabi villages. In Rirka Balani, the squalor of mud houses inhabited by the Mussali caste (Hindu converts engaged in menial jobs) is broken every so often by incongruous grand houses with huge pillars and marble finishings, built with repatriated earnings by former villagers working illegally in the United States or in Europe as labourers, cabbies or technicians.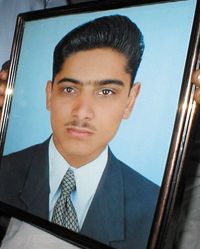 Riaz was born into one of the village's poorer households. In pursuit of a better life, and with dreams of possessing a big house, like the ones he saw around him, Riaz decided to travel to Europe. His family borrowed 90,000 rupees from a local landlord to finance his journey, out of which an amount equivalent to 850 dollars were paid to a travel agent in Mandi Bahauddin to arrange for a visa and passport. Riaz kept the rest for travelling expenses. "So many people have gone abroad on fake documents," says Bakhtaran. "We didn't think it was wrong. Everybody was doing it." Having borrowed heavily to finance Riaz's journey, the family will be in debt for many years to come.
Whereas acquiring a European and American visa was comparatively easy during the late '70s and early '80s, the business of human trafficking flourished in the upper Punjab districts of Mandi Bahauddin and neighbouring Gujarat subsequent to the 9/11 immigration clampdown. Unconfirmed news reports in the local media suggest that Gujarat's traffickers have arranged passage to Greece, Italy, Spain and other countries for at least 200,000 Pakistanis during the last decade, using routes through Iran and Turkey.
Riaz began his journey to Turkey via Iran in November 2001, where he was waiting to be taken to Greece by an operator of his Pakistani travel agent. "Riaz called from Turkey and told us he was fine," recalls Mehr Din, Riaz's 70-year-old father. "We didn't hear anything else till his body came back to us in a wooden coffin on September 9, 2002."
Sabir Hussein, a labourer from Dheerke Kalan village in neighbouring Gujarat district, speaks of his 21-year-old son, Omar Farooq, an auto-mechanic who desperately wanted to go abroad. "I didn't want him to go but he cried for two days. I couldn't see him cry," says Hussein ruefully. Like many others, Hussein took a loan of 8,650 dollars to finance his son. He, too, last heard from Omar when he called briefly from Turkey. "We had not even heard of Macedonia. What could we possibly know about Al-Qaeda?" asks Hussein.
Back in Mandi Bahauddin, Azhar Javed, a 33-year-old cab driver from Sivia village, mourns for his younger brother, Ijaz Ahmed, 21, who dreamed of breaking the shackles of poverty. Ijaz's family belongs to the marasi caste, traditional singers and dancers in rural Punjab. His 66-year-old mother, Ghulam Fatima, still weeps at the mere mention of her son. "At least 300 people from our village of 6,000 are working abroad and sending money back home," says Javed. "Ijaz wanted to earn money like them so he could arrange for the weddings of his four sisters. He wasn't a terrorist." Mohammad Mehdi, 47, a retired army wireless operator from Sohawa Diloana in Mandi Bahauddin, also believed that sending his 18-year-old son Asif Javed abroad, would improve his family's living standards. Asif left Pakistan in August 2001 and last contacted his family from Turkey. News of his son's death reached his father eight weeks later, on April 28, 2002. Adjusting a garland on Ijaz's grave, he tells me, "I now warn people to eat dirt rather than send their children to the west."
Says Ansar Burney, the civil rights activist who arranged for the victims' bodies to be brought home, "They had been pinpointed, kidnapped and later brutally killed in what Ljube Boskovski and his police team claimed was a coup against global terrorism. Arms were planted on the scene to make the men seem like terrorists." On May 7, the Ansar Burney Welfare Trust International served a legal notice to the Macedonian government at the Macedonian Embassy through its ambassador in London. "We plan to sue the Macedonian Government for damages between two to 12 million dollars per family," Mr. Burney stated. He reveals that the Indian Sikh, whose particulars are still under investigation, also wore a beard. "The Macedonians shot him too, thinking he was a Muslim."
The Pakistani government has demanded a formal apology, full compensation to be paid to the families of the victims, and for exemplary punishments to be meted out to the perpetrators of the crime. While Pakistan does not have a diplomatic mission in Macedonia, the Pakistani Embassy in Ankara is concurrently accredited to Macedonia. Sher Afgan Khan, the Ambassador of Pakistan to Turkey, has held discussions with various Macedonian officials including the Deputy Minister for Interior, Hasbi Lika, the Deputy Minister for Foreign Affairs, Fuad Hasanovic, a spokesperson of the Ministry of Interior, Mrs. Mirjana Kontevska, and the State Secretary of the Ministry of Foreign Affairs, Igor Gundovthe. The Deputy Minister for Interior has since offered apologies to the government and the bereaved families for the premeditated murder of the innocent Pakistanis. Claims for compensation, however, will only be settled after the charges are confirmed in a court of law.
Next