Thousands beat their breasts in grief as the charred and mutilated bodies draped in white lay in front of the Ali Raza mosque. At last count, 22 innocent people, including a 10-year-old girl, had lost their lives in the suspected suicide bombing targetting Shia worshippers. With bloodstains and human flesh still clinging to its roof, the mosque was a macabre testimonial to the brutality of sectarian violence which hit Karachi once again on May 31 — and a grim reminder of May 7, when a police constable, in the garb of a Shia cleric, blew himself up at the Hyderi mosque on the premises of the Sindh Madrassatul Islam on I.I. Chundrigar Road, killing 23 people and injuring 30 others.
As relatives of the victims fainted in grief, emotions ran high and the crowd resorted to violence. Enraged young protesters threw rocks and exchanged fire with the police and paramilitary troops, ransacked shops and set cars ablaze. Fumes from heavy teargas shelling and thick clouds of smoke from vehicles set on fire enveloped the neighbourhood. Five protesters were killed at the hands of police and paramilitary troops, and Karachi was once again engulfed by a fresh wave of sectarian and political violence.
A day earlier, prominent Sunni preacher and ideologue , Mufti Nizamuddin Shamzai, had been assassinated. The 52-year-old Sheikh-ul Hadith of the country's second largest Islamic seminary, Jamia Islamia Dar-ul Uloom Binoria Town, a close aide of the spiritual leader of the Taliban, Mullah Omar, was killed by four attackers, probably backed by another group of gunmen. The assassination led to mayhem as madrassa students, armed with sticks, rods and guns, ransacked shops, buildings and an American fast food outlet. Chants of "Down with America, down with Bush, revolution, revolution, Islamic revolution," echoed across the city.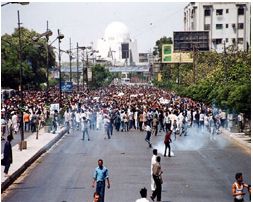 On May 26, suspected Al-Qaeda men carried out twin car bombings near the US Consul General's residence, killing a police constable on duty and injuring 30, mostly photojournalists, as the second bomb went off moments after they reached the spot. On the same day, two porters at the Karachi Port Trust lost their lives when a parcel bomb exploded.
The bombings, however, were not the only factor signalling Karachi's descent into anarchy. The local bodies bye-elections to the Sindh and National Assembly seats had already triggered a chain of violent incidents earlier that month, with street gunbattles between the workers of the MQM and the Jamaat-e-Islami, old political foes, claiming 12 lives.
The recent killings sparked fear among citizens that the vicious cycle of violence that had once earned Karachi the reputation of being one of the deadliest cities in the world, has begun once again. "My brother was running for shelter but was killed by police. My shop was ransacked by angry protesters. I have nothing now," says Mohammad Faiz, a shopkeeper in the troubled Guru Mandir area that was the focal point of recent riots. Faiz has changed his residence at least three times during the past 10 years. "I still have nightmares of fights between the masked militants and police on Kaali Pahari in Orangi Town. I have witnessed the deaths of police and party workers in North Karachi. I moved to Guru Mandir in search of peace but lost everything here."
Faiz's neighbour, Mohammad Siddiq, accuses law-enforcing agencies and the administration of failing to provide security to the people of Karachi. "They are all busy hunting down Al-Qaeda to appease President Musharraf and the US, but they don't care about us," he says. "Does it make sense to fight an international war against terrorism and let the city of Karachi burn?"
Says a senior cleric of the Shia Pasban-e-Aza group, "We have no faith in the police and the rangers because they failed to protect our mosques. We demand that the government deploy the army to ensure their security and safety."
Senior provincial government and police officials term the violence a conspiracy by sectarian militants backed by Al-Qaeda, to destabilise President Musharraf's rule. "It is a punishment to Pakistan for being a frontline state in the war against terrorism," says Sindh home advisor and MQM senior leader, Aftab Ahmed Sheikh. Says Kamal Shah, IG of Sindh Police, "There is an ongoing war against terrorists." Police investigators believe that the attacks on Shia mosques and the murder of Shamzai are acts of sectarian militants enraged at the recent arrests of their comrades, including Kamran Atif, a ring leader of the Harkat-ul Mujahideen al-Alami. The activists of this splinter group of a banned Kashmiri militant outfit have been convicted of the US Consulate bombing that killed 12 Pakistanis in June 2002, and the failed assassination attempt on President Musharraf in April 2002.
A senior police investigator claims that the recent attacks in Karachi may have been planned by Amjad Farooqui, believed to be the mastermind behind the two assassination bids on Musharraf's life in December last year, with the help of low-ranking air force and military personnel and fellow jihadis. The 30-year-old Farooqui hails from Toba Tek Singh in the Punjab, and belongs to a Sunni extremist group, the Harkat-e-Jihad Islami. Believed to have close links with Al-Qaeda leadership, he is an absconder in the kidnapping and murder case of the Wall Street Journal reporter, Daniel Pearl. "He [Amjad Farooqui] may want to divert the ongoing hunt launched against him by planning terrorist attacks in Karachi with the aim of destabilising the Musharraf government," says the investigator.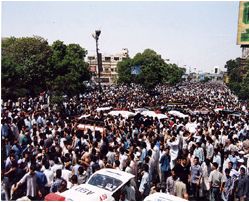 Police claim to have arrested more than 150 militants belonging to sectarian and local jihadi groups since 2003, but sources say groups of dangerous militants are still operating in the city. "They are brainwashed and ready to sacrifice their lives by strapping explosives to their bodies. They are like ticking bombs. They have arms and funding from Al-Qaeda, which wants to take revenge against Musharraf for his efforts to eliminate terrorism," says a security official.
With Karachi now a hub of terrorist activity, around 20,000 personnel of the police and rangers have been deployed in the city. The police intelligence branch of the Crime Investigation Department (CID), a large network of the Inter-Services Intelligence, Military Intelligence (MI) and the Intelligence Bureau (IB) also function in the city, but law enforcement agencies have failed to restore peace so far.
The city, with a population of more than 14 million, has a history of more than a decade of political, ethnic and sectarian violence. Over a million Bengalis and Afghans live illegally in its squatter settlements. Land grabbers, gun-runners and drug-traffickers, who have joined hands with hundreds of independent criminal mafias, operate with impunity and get away by bribing corrupt police officials and politicians. "Karachi not only fulfils the dreams of illegal immigrants and fortune- seekers from other provinces, but provides a home to hundreds of criminal mafias, and ethnic and sectarian militants," says sociologist, Razi-ul Hasan. "The labyrinth of slums can provide a safe haven to smalltime criminals and fugitives from justice. It is very easy to hide in this sea of human beings, especially when there is no rule of law." He maintains that sectarian and jihadi groups, with headquarters in the Punjab, maintain a presence in Karachi because of the easy availability of money. Every month around 10 million rupees are pocketed by criminals in the name of donations."
While the Jamaat-e-Islami holds the reins of city government, and the MQM is now in the provincial coalition, both parties have only managed to fritter away their energies squabbling, instead of working for the betterment of Karachi. The self-exiled leader of the MQM, Altaf Hussain, maintains that the recent violence is an engineered conspiracy to deploy the army in the city, impose Governor's rule, suspend the Sindh government and impose emergency in the province. "The people of Karachi are fully aware that for the past month, hidden hands, in connivance with religious extremists and jihadi outfits, are destroying the peace of Karachi. It is an open secret as to who attempted to assassinate President Musharraf," he said casting aspersion on the role of the law enforcement agencies.
The deadly sectarian attacks and political violence have sent alarm bells ringing in Islamabad and there are reports that President Musharraf is planning to take important decisions regarding Karachi's worsening law and order situation. Major changes have been announced in the top police forces, with Karachi police chief, Asad Ashraf Malik, and two other senior police officials being removed, and there are rumours of a possible change of Chief Minister in Sindh.
While some political pundits speculate that Islamabad will impose Governor's rule in Sindh, others maintain the move would hurt Musharraf's political plans.
"Musharraf will have to play his cards carefully. If he decides to impose Governor's rule in the province, he will lose the MQM's support not only in Sindh but at the centre as well. That would further weaken the shaky political set-up at the centre as well as the fragile coalition in Sindh," says an analyst.
As Newsline goes to press, a solution to Karachi's grave problems is still being thrashed out in Islamabad. Meanwhile, violence continues to extract a heavy toll on both the city and the country. Officials at the Federation of Pakistan Chamber of Commerce and Industries (FPCCI) estimate that around five million daily-wage workers lose their earnings whenever there is a strike call causing heavy losses to the country's exchequer."Disturbances in Karachi hit business and industry hard," says FPCCI President, Riaz Tata. "Every strike results in losses worth seven to eight billion rupees to industry." Close to all the Middle Eastern and Central Asian countries, the city provides an ideal place for investment, but peace is the need of the hour, says Tata. "If Karachi is not peaceful then Islamabad's business-friendly policies will suffer."
Next